Retribution Paladin DPS Artifact Talents/Traits and Relics (Legion 7.0.3)
Table of Contents
General Information
This page shows you how to level up the Artifact and how to choose the right Relics for your Retribution Paladins. It is updated for World of Warcraft Legion 7.0.3.
The other pages of our Retribution Paladin guide can be accessed from the table of contents on the right.
About Our Reviewers
This guide has been reviewed and approved by Fardion, a top Retribution Paladin. You can follow him on Twitter.
1. Artifact Progression
There is currently a single recommended artifact progression strategy for Retribution Paladins, but it is quite complex as it involves a trait reset for maximum efficiency. We provide an alternative way to reach your goals, in case you do not wish to go for the reset.
The main idea of the strategy is to rush to the

Ashes to Ashes trait on the shortest path possible, and then save up 64,000 Artifact Power. Once you have this amount, you should reset your traits and re-take Ashes to Ashes via a different route (which skips out on a number of traits that are not useful to your DPS output), before going on to take a few important traits. If you do not wish to reset your traits, then simply go for the post-reset path from the beginning.
This strategy is recommended on the Retribution Paladin Discord, and we take no credit for it.
1.1. Pre-Reset Path
Your first goal is to rush to

Ashes to Ashes on the shortest possible path.
1.2. Reset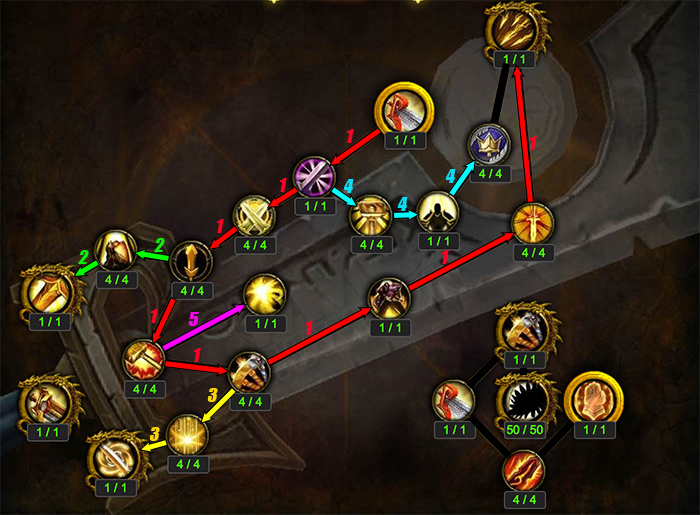 Once you have saved up 64,000 Artifact Power, you should reset your traits and choose your traits in the following order.
2. Relic Choice
When choosing which relics to use, always take the one that grants you the highest item level, regardless of the benefit it offers. When having to choose between relics that grant the same item level, use the following priority of enhanced traits to choose.
Improving your

Might of the Templar and

Righteous Blade is also preferable when faced with traits that do not increase your damage.
The above priorities were provided by Mserrano, a Retribution theorycrafter on the Retribution Paladin Discord.
3. ChangeLog
20 Sep. 2016: Updated the amount of Artifact Power you should save up before resetting to 64,000 (down from 67,000).
29 Aug. 2016: Added.