Retribution Paladin DPS Artifact Talents/Traits and Relics (Legion 7.1)
Table of Contents
General Information
This page shows you how to level up the Artifact and how to choose the right Relics for your Retribution Paladins. It is updated for World of Warcraft Legion 7.1.
The other pages of our Retribution Paladin guide can be accessed from the table of contents on the right.
About Our Reviewers
This guide has been reviewed and approved by Fardion, a top Retribution Paladin. You can follow him on Twitter, and you can also reach him on the official Paladin Discord channel if you have any questions about the spec.
1. Artifact Progression
We currently recommend a straightforward artifact progression path that will lead you to the

Ashes to Ashes trait (which is very important).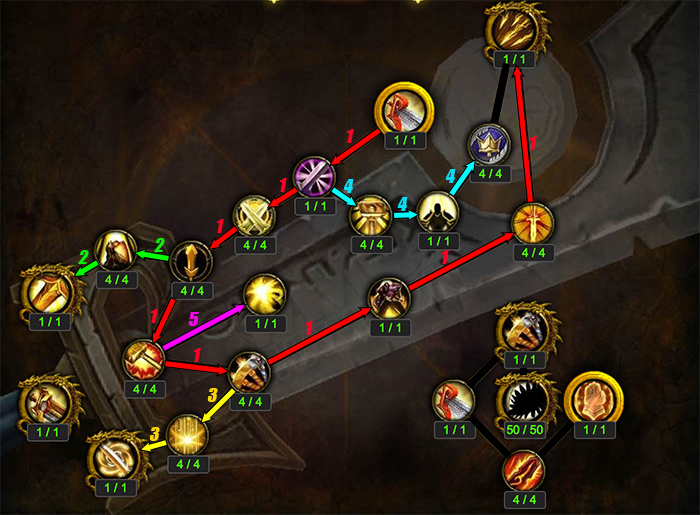 2. Relic Choice
When choosing which relics to use, always take the one that grants you the highest item level, regardless of the benefit it offers. When having to choose between relics that grant the same item level, use the following priority of enhanced traits to choose.
Note that the

Wrath of the Ashbringer relic is worth 24 relic item levels more than other relics. Namely, an item level 800 Wrath of the Ashbringer-enhancing relic is the equivalent of a different relic being item level 824 (relic item levels, and not item level bonus from the relic).
Improving your

Might of the Templar and

Righteous Blade is also preferable when faced with traits that do not increase your damage.
The above priorities were provided by Mserrano, a Retribution theorycrafter on the Retribution Paladin Discord.
3. ChangeLog
14 Nov. 2016: Removed the artifact path that suggested resetting your artifact, as it is no longer relevant.
31 Oct. 2016: Added a mention of the value of the Wrath of the Ashbringer-enhancing relics.
20 Sep. 2016: Updated the amount of Artifact Power you should save up before resetting to 64,000 (down from 67,000).
29 Aug. 2016: Added.