Survival Hunter DPS Gear and Best in Slot (Legion 7.0.3)
Table of Contents
General Information
This page is a gearing up guide for Survival Hunters. It is updated for World of Warcraft Legion 7.0.3. It first presents the best in slot items before listing, slot by slot, all the items, with a level higher than 640, that you can acquire in the game. We also explain how you will be competing for loot with other classes.
The other pages of our Survival Hunter guide can be accessed from the table of contents on the right.
About Our Author
This guide has been written by Azortharion, the main theorycrafter of the spec. He is also an accomplished player who raids in Vanguard. You can also watch his stream on Twitch.
1. Trinket Rankings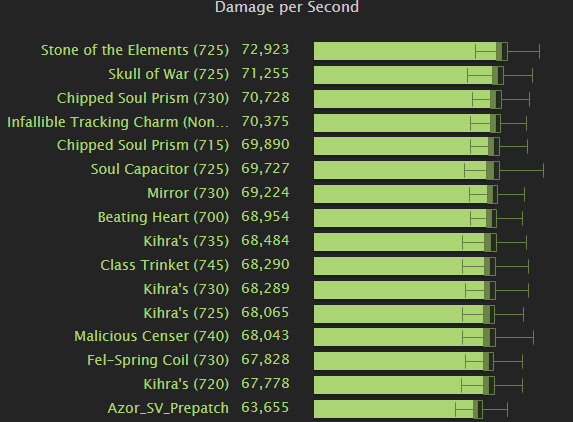 For the rest of your equipment, you should look for upgrades that match your stat priority. For that, we advise you to Ask Mr. Robot, by filling the form below.
2. Loot Competition
Regarding the loot you will get from raid or dungeon bosses, you will compete with other classes in the following cases:
Item Type
Competing Classes
Tier Tokens

Beast Mastery/Marksmanship Hunters

,

Monks

,

Shamans

, and

Warriors

Mail Armor

Beast Mastery/Marksmanship Hunters

and

Shamans

Everyone
Trinkets

Havoc Demon Hunters

,

Feral Druids

,

Windwalker Monks

Beast Mastery/Marksmanship Hunters

,

Rogues

, and

Enhancement Shamans
3. ChangeLog
18 Jul. 2016: Updated for the Legion pre-patch.
CONTENTS
FROM THE FORUMS
Latest Hunter Topics
Raid Advice
RECENT FORUM POSTS

VISIT FORUMS
POPULAR FORUM THREADS

VISIT FORUMS