Enhancement Shaman DPS Gear and Best in Slot (WoD 6.0.3)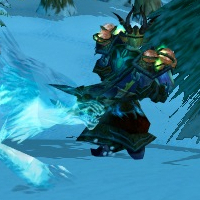 This page is a gearing up guide for Enhancement Shamans. It is updated for World of Warcraft WoD 6.0.3. It first presents the best in slot items before listing, slot by slot, all the items, with a level higher than 346, that you can acquire in the game. We also explain how you will be competing for loot with other classes.
The other pages of our Enhancement Shaman guide can be accessed from the table of contents on the right.
This guide has been reviewed and approved by Purge, one of the best Enhancement Shamans in the world, who often contributes to the Enhancement Shaman section of Totem Spot.
If you want to read all about the Patch 6.0.2 changes and learn how they affect your character, make sure to read our Shaman Transition Guide!
1. Best in Slot Advice↑top
We will update the BiS advice section before Highmaul opens. In the meantime, you can use the gear listing on this page.
For the rest of your equipment, you should look for upgrades that match your stat priority. For that, we advise you to Ask Mr. Robot, by filling the form below.
2. Weapon Choice↑top
Two constraints will condition your choice of weapons:
You have the Dual Wield proficiency and some of your main abilities, like Lava Lash, require you to have an off-hand weapon. Therefore, always use two weapons.
All your special attacks deal a percentage of your weapon damage. Therefore, you will prefer slow (speed 2.60) but hard hitting weapons.
The weapons that meet these constraints are: Fist Weapons, One-Handed Axes, and One-Handed Maces.
If one weapon of your two weapons does higher damage than the other, use it as your main hand weapon, as the combined damage (melee attacks + abilities) you get from your main hand weapon is usually higher than what you get from your off-hand weapon.
3. Gearing Up↑top
When gearing up, we advise you to always prioritise pieces of Tier sets over non-set pieces of higher item level.
In each table, the items are ranked by item level and then alphabetically.
3.1. Head
3.2. Amulet
Level
Item
Source(s)
602
Sunbleached Warsong Chain
The Friend of My Enemy (Nagrand) and Golmash Hellscream (Nagrand)
602
Warsong Wolfrider's Gorget
The Friend of My Enemy (Nagrand) and Golmash Hellscream (Nagrand)
615
Gorget of Whirling Blades of the Decimator
created by Create Neck
615
Torq of Noble Primacy of the Decimator
created by Create Neck
640
Dark Night Choker
Challenger's Strongbox
640
Mordant Gorget
Challenger's Strongbox
645
Gorefeather Pendant of the Decimator
created by Create Neck
645
Lightbender Locket of the Decimator
created by Create Neck
650
Drov's Durable Gorget
Drov the Ruiner
650
Earthcaller's Charm
Drov the Ruiner
660
Primal Gladiator's Choker of Endurance
1250 from High Warlord Volrath (

A

/

H

) in Ashran
660
Primal Gladiator's Necklace of Cruelty
1250 from High Warlord Volrath (

A

/

H

) in Ashran
660
Primal Gladiator's Necklace of Prowess
1250 from High Warlord Volrath (

A

/

H

) in Ashran
665
Battle Hardened Gorget
Tenderhoof Meadowstomper in Nagrand
3.3. Shoulders
3.4. Cloak
3.5. Chest
3.6. Wrists
3.7. Hands
3.8. Waist
3.9. Legs
3.10. Feet
3.11. Ring
Level
Item
Source(s)
600
Seal of Rumbling Earth
Earth, Wind and Fire...and Water (Nagrand)
600
Seal of the Ancient Flame
Earth, Wind and Fire...and Water (Nagrand)
605
Trophy Band of Telaar
Telaar Defender Shield (Nagrand)
605
Trophy Gemstone of the Elements
Elemental Shackles (Nagrand)
605
Trophy Signet of the Sabermaw
Polished Saberon Skull (Nagrand)
620
Consort's Promise Ring
Felfire Consort in Talador
630
Pit Fighter's Punching Ring
20000 0 0 from Paul North (

A

/

H

)
630
Pit Fighter's Punching Ring
20000 0 0 from Quackenbush (

A

/

H

) in Deeprun Tram
640
Dark Night Band
Challenger's Strongbox
640
Mordant Signet
Challenger's Strongbox
640
Solium Band of Dexterity
Khadgar's Task
640
Solium Band of Endurance
Khadgar's Task
660
Primal Gladiator's Ring of Cruelty
1250 from High Warlord Volrath (

A

/

H

) in Ashran
660
Primal Gladiator's Ring of Prowess
1250 from High Warlord Volrath (

A

/

H

) in Ashran
660
Primal Gladiator's Ring of Prowess
1250 from High Warlord Volrath (

A

/

H

) in Ashran
660
Primal Gladiator's Signet of Endurance
1250 from High Warlord Volrath (

A

/

H

) in Ashran
665
Callie's Charred Seal
Rukhmar
665
Fire Eye Ring
Rukhmar
680
Timeless Solium Band of the Assassin
Power Unleashed
680
Timeless Solium Band of the Bulwark
Power Unleashed
3.12. Trinket
3.13. Main-Hand Weapon
Level
Item
Source(s)
605
Void-Warped Oshu'gun Mace
The Dark Heart of Oshu'gun (Nagrand) and The Dark Heart of Oshu'gun (Nagrand)
609
Gorestained Hatchet
Black Iron Apprentice in Upper Blackrock Spire
610
Skullthumper of Trials
Proving Grounds and Proving Grounds
615
Munificent Warmace of the Decimator
created by Create Weapon
620
Hellscream's Cleaver
Garrosh Hellscream in Siege of Orgrimmar
620
Hellscream's Cleaver
Garrosh Hellscream in Siege of Orgrimmar
620
Hellscream's Cleaver
Garrosh Hellscream in Siege of Orgrimmar
620
Voidreaver's Axe
Voidreaver Urnae in Shadowmoon Valley and Spires of Arak
630
Turbulent Warmace of the Decimator
created by Create Weapon
640
Expeditious Axe
Challenger's Strongbox
640
Expeditious Knuckles
Challenger's Strongbox
640
Expeditious Mace
Challenger's Strongbox
645
Grandiose Warmace of the Decimator
created by Create Weapon
660
Primal Gladiator's Cleaver
1750 from High Warlord Volrath (

A

/

H

) in Ashran
660
Primal Gladiator's Pummeler
1750 from High Warlord Volrath (

A

/

H

) in Ashran
660
Primal Gladiator's Ripper
1750 from High Warlord Volrath (

A

/

H

) in Ashran
3.14. Off-Hand Weapon
Level
Item
Source(s)
605
Void-Warped Oshu'gun Mace
The Dark Heart of Oshu'gun (Nagrand) and The Dark Heart of Oshu'gun (Nagrand)
609
Gorestained Hatchet
Black Iron Apprentice in Upper Blackrock Spire
610
Skullthumper of Trials
Proving Grounds and Proving Grounds
615
Munificent Warmace of the Decimator
created by Create Weapon
620
Hellscream's Cleaver
Garrosh Hellscream in Siege of Orgrimmar
620
Hellscream's Cleaver
Garrosh Hellscream in Siege of Orgrimmar
620
Hellscream's Cleaver
Garrosh Hellscream in Siege of Orgrimmar
620
Voidreaver's Axe
Voidreaver Urnae in Shadowmoon Valley and Spires of Arak
630
Turbulent Warmace of the Decimator
created by Create Weapon
640
Expeditious Axe
Challenger's Strongbox
640
Expeditious Knuckles
Challenger's Strongbox
640
Expeditious Mace
Challenger's Strongbox
645
Grandiose Warmace of the Decimator
created by Create Weapon
660
Primal Gladiator's Cleaver
1750 from High Warlord Volrath (

A

/

H

) in Ashran
660
Primal Gladiator's Pummeler
1750 from High Warlord Volrath (

A

/

H

) in Ashran
660
Primal Gladiator's Ripper
1750 from High Warlord Volrath (

A

/

H

) in Ashran
4. Loot Competition↑top
Regarding the loot you will get from raid or dungeon bosses, you will compete with other classes in the following cases:
Item Type
Competing Classes
Tier Tokens

Hunters

,

Monks

,

Elemental/Restoration Shamans

, and

Warrior

Mail Armor

Hunters

and

Elemental/Restoration Shamans

Feral/Guardian Druids

,

Brewmaster/Windwalker Monks

,

Hunters

, and

Rogues

Trinkets

Feral Druids

,

Windwalker Monks

,

Hunters

, and

Rogues

Weapons

Brewmaster/Windwalker Monks

and

Combat Rogues
Latest Shaman Topics
Raid Advice