Restoration Shaman Healing Rotation, Cooldowns, and Abilities (MoP 5.4)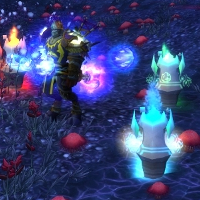 On this page, we list your Restoration Shaman core abilities and how they should be used together (rotation) in World of Warcraft MoP 5.4. We also explain when to use your various cooldowns. Then, we go deeper and present all the subtleties that you will need to know if you want to excel at playing a Restoration Shaman.
The other pages of our Restoration Shaman guide can be accessed from the table of contents on the right.
For 10-man raiding, this guide has been reviewed and approved by Zetian, who raids in MCO, one of the most efficient 10-man guilds in the world (top 100 with a 13-hour a week schedule).
For 25-man raiding, this guide has been reviewed and approved by Sonie, one of the best Restoration Shamans in the world, who raids in Method. You can watch his stream on Twitch.
1. Rotation↑top
Healing is in great part based on your ability to react to the damage that the raid takes, and as such there is no set rotation. Rather, you must understand what spells are best suited to the different situations that can occur during a raid encounter.
1.1. Shield and Weapon Imbue
Use
Water Shield and
Earthliving Weapon.
Water Shield lasts for 1 hour and damage does not cause it to drop. Water Shield increases your mana regeneration and, thanks to
Resurgence (a Restoration-specific passive ability), your critical heals with single-target spells will also cause you to recover mana.
1.2. Additional Actions To Perform
2. Cooldown Usage↑top
As a Restoration Shaman, you have 4 healing cooldowns that are granted to you by default (technically, there are 5, but
Healing Stream Totem is already covered in the rotation section).
When you want to get the highest throughput possible, try using
Spirit Link Totem together with
Ascendance or
Healing Tide Totem, as Spirit Link Totem causes these two abilities to do no overhealing. That said, using 2 healing cooldowns at once may not always be the optimal way to keep your raid alive. Sometimes, it is better to spread them out.
Spiritwalker's Grace is not a healing cooldown per se, but it will be useful in movement-heavy encounters. This ability should be used when you need to move and heal at the same time. You can also use it to cast
Lightning Bolt during periods of movement where there is no damage to heal. Finally, Spiritwalker's Grace can be really useful when you need to use
Ascendance during a time of heavy movement.
In addition, your talents grant you a number of DPS cooldowns that you can use to contribute DPS to the raid. We give more details in a subsequent dealing damage as a Restoration Shaman section.
Finally, your talents grant you a number of cooldowns, as we explain in our talent cooldown section.
3. Optional Read: Mastering Your Restoration Shaman↑top
Restoration Shamans are a sort of hybrid healing class. They shine when they have to combine single-target healing and raid healing, thanks to the way their single-target heals interact with their AoE heals, and vice versa.
Therefore, it is important to understand the various mechanics of your heals and how they work together. This way, you will know how to efficiently combine your single-target and raid healing capabilities.
3.1. Procs and Mechanics
3.1.1. Mastery: Deep Healing
Mastery: Deep Healing is your Mastery as a Restoration Shaman. It causes your heals to be more powerful on low health targets.
Your mastery heavily influences the way you play a Restoration Shaman.
When raid healing, you should focus on low health targets more so than any other type of healer, as you have the most efficient tools to heal them.
When single-target healing, your mastery has less influence because you should give priority to your assignment and cannot freely choose low health targets. By being aware of how much damage your assignment will take, you can optimise your heals to benefit from your mastery. For example, Healing Wave is more mana efficient than Greater Healing Wave, but not so efficient that you should cast 3 or 4 Healing Waves to keep your assignment topped off when you can just let it take damage and then heal it with one Greater Healing Wave.
In addition, you have smart healing mechanics, such as
Chain Heal and
Ancestral Awakening, that always heal the players that are lowest on health. These heals benefit from your mastery and contribute to making it very desirable, as we will see in the Statistics article.
3.1.2. Riptide and Chain Heal
Riptide and
Chain Heal have an important synergy. Whenever you cast Chain Heal on a target on which you have an active Riptide, it will cause your Chain Heal to be 25% more powerful.
Therefore, you should always cast
Chain Heal on targets with an active
Riptide. See our Addons article for addons to track Riptide on multiple targets.
Note that
Chain Heal is a smart heal. It will always try to jump to the player in range (12.5 yards) with the lowest health.
3.1.3. Tidal Waves
Tidal Waves is an important mechanic for a Restoration Shaman. Every time you use
Riptide or
Chain Heal, you get the
Tidal Waves buff. The buff lasts for 15 seconds and has two charges. Each charge enables you to cast
Healing Wave or
Greater Healing Wave 30% faster. Tidal Waves also buffs your
Healing Surge spell by increasing its critical strike chance by 30%; this can be useful when the buff is up and you need to use Healing Surge for an emergency.
If you are focusing on single-target healing, keeping a good uptime on
Tidal Waves (with
Riptide) is important as it makes it easier to react to damage (since your main spells are cast faster).
If you are focusing on raid healing,
Tidal Waves is less of a concern, as you will cast
Healing Wave,
Greater Healing Wave, and
Healing Surge less often. Moreover, your frequent casts of
Chain Heal will enable you to keep a high uptime on Tidal Waves without really focusing on it.
Note that when you use
Glyph of Riptide, you can maintain a 100% uptime on
Tidal Waves, which is not otherwise possible because of
Riptide's 6-second cooldown.
3.1.4. Earthliving
The
Earthliving effect is triggered by any of your heals, thanks the
Earthliving Weapon buff on your weapon. This effect has no internal cooldown, meaning that it will sometimes be refreshed to its original duration. It can also proc on different players at the same time.
When you cast a single-target spell on a player who is below 35%,
Earthliving will always be triggered.
You have no real control over
Earthliving, as it randomly procs. However, when the raid is stacked, using
Healing Rain will give you a good chance to have
Earthliving up on almost every raid member.
3.1.5. Earth Shield
Earth Shield places a 9-charge shield on a friendly player. You can only have one Earth Shield active at a time and only one Earth Shield can be active on the same target at a time. Every time a shielded player takes damage, the shield will heal them for a small amount, losing a charge in the process.
Even though
Earth Shield is tailored for tank healing, you should still have it up when raid healing. In the latter case, simply choose a target that will take constant damage (usually the tank, if no other Restoration Shaman is shielding them).
Casting
Earth Shield on a target already shielded by another Restoration Shaman will cancel the previous shield and create a new one with 9 charges. Therefore, discuss with other Restoration Shamans in your raid to decide who will cast Earth Shield on whom.
3.2. Mana Management
As with all healing classes, you will need to carefully choose your spells so that you avoid overhealing your fellow raid members, thus wasting your mana.
Your mana pool will remain constant at 300,000 mana at level 90. So your entire mana regeneration will depend on
Water Shield and the amount of Spirit you have.
To use your mana efficiently, you should be aware of two mechanics that can make your life easier.
3.2.1. Telluric Currents and Lightning Bolt
If you have chosen
Glyph of Telluric Currents as a major glyph, you will be able to regenerate 2% mana every time you deal damage with
Lightning Bolt. The amount of mana you will regenerate is very small because casting Lightning Bolt costs for most players 1.42% of their maximum mana. Therefore, the only time when you can realistically use this spell as a mana regeneration means is when there is no damage to heal and you have a target you can attack (thanks to
Spiritual Insight, you will never miss with Lightning Bolt).
3.2.2. Unleash Weapons and Direct Heals
Unleash Elements provides you with
Unleash Life, a temporary buff. This buff increases the efficiency of your next direct heal. It even increases the potency of
Healing Rain, even though this spell is not exactly a direct heal.
Using
Unleash Elements does not increase your healing throughput. Indeed, the increased efficiency of your next direct heal does not make up for having wasted a global cooldown casting Unleash Elements.
You should usually use
Unleash Elements with mana management in mind and preferably in combination with
Greater Healing Wave.
You can sometimes use
Unleash Elements with
Riptide, in case you will not be able to heal for a given period of time and want to leave a strong HoT on a player.
3.3. Dealing Damage as a Restoration Shaman
Thanks to
Spiritual Insight, your casts of
Lightning Bolt,
Lava Burst, and
Flame Shock will never miss their targets. Therefore, you can easily contribute DPS to your raid by casting Lightning Bolt (which can regenerate mana, thanks to
Glyph of Telluric Currents), and Lava Burst, all the while keeping Flame Shock on the target (your Lava Burst will always crit if Flame Shock is applied on the target).
In addition, you should keep
Searing Totem (single-target damage) or
Magma Totem (multiple-target damage) down at all times. Also, use your
Fire Elemental Totem and
Earth Elemental Totem on cooldown because it only takes a global cooldown to cast them and they will deal, over the course of their duration, a high amount of damage (especially your Fire Elemental).
Stormlash Totem is a raid-wide DPS cooldown that causes every players within 40 yards of the totem to deal additional Nature damage for 10 seconds.
These 3 Totems have a 5-minute cooldown, which means that you will usually only be able to summon them twice per fight. Plan their usage ahead of time.
Finally, Tier 6 talents give you the
Elemental Blast ability, which will deal a bit of damage every time you use it.
3.4. Talent Cooldowns
3.4.1. Tier 4 Talents
Ancestral Swiftness gives you an emergency heal if you combine it with
Greater Healing Wave (see our macro).
Elemental Mastery greatly increases your healing throughput (and your mana consumption in the process) for 20 seconds, so you should keep it for times of high damage.
3.4.2. Tier 5 Talents
Ancestral Guidance is a very powerful healing cooldown. You can combine it with your other cooldowns to get the highest possible healing throughput, but, in the general case, we advise you to simply spread your cooldowns out during the encounter.
3.4.3. Tier 6 Talent: Primal Elementalist
If you chose
Primal Elementalist as your Tier 6 talent, you can get your
Earth Elemental Totem and your
Fire Elemental Totem to stop attacking and channel a spell on you that increases your healing done by 10%:
Reinforce for your Earth Elemental and
Empower for your Fire Elemental.
Your Earth Elemental does little damage, so you will most likely prefer letting it boost your healing all the time.
Your Fire Elemental does a significant enough amount of damage that you may want to turn on Empower when you need to do more healing, and turn it off when you want to do more damage.
3.5. Play Style Differences Between 10-man and 25-man
The main difference between 10-man and 25-man is that you will cast
Chain Heal and
Healing Rain a lot more in 25-man. In 10-man, there are less potential targets to heal, so the efficiency of Chain Heal and Healing Rain is reduced and you will find yourself casting more single-target heals.
Ancestral Awakening, one of your passive abilities, only procs from your single-target heals, so it has a higher chance to proc in 10-man than in 25-man, because you will cast more single-target heals. This means that the Tier 15 4-piece bonus is very valuable for 10-man raiding.
In 25-man, your frequent casts of
Healing Rain make
Glyph of Telluric Currents more interesting than in 10-man. Also, you can more easily interrupt your healing to cast
Lightning Bolt, since there are 3, 4, or 5 other healers that will continue healing during your break. In 10-man, especially if you are 2-healing fights, it is much more difficult to find a proper timing for your casts of Lightning Bolt.
4. Changelog↑top
05 Dec. 2013: Cleared up an explanation about having 100% uptime on Tidal Waves.
18 Sep. 2013: More updates from Sonie.
10 Sep. 2013: Patch 5.4: there have been significant buffs to many spells, but this does not really change the way you play the class.
19 May 2013: Patch 5.3 update: nothing to change.
22 Apr. 2013: Improved rotation and cooldown sections (added several tips for using spells optimally).
15 Mar. 2013: Added tip for using Riptide on a target that may soon require urgent healing, so that Tidal Waves is up, which grants Healing Surge a higher critical strike chance.
Latest Shaman Topics
Raid Advice