Vengeance Demon Hunter Tank Artifact Talents/Traits and Relics (Legion 7.1.5)
Table of Contents
General Information
This page shows you how to level up the Artifact and how to choose the right Relics for your Vengeance Demon Hunters. It is updated for World of Warcraft Legion 7.1.5.
The other pages of our Vengeance Demon Hunter guide can be accessed from the table of contents on the right.
About Our Reviewer
This guide has been reviewed and approved by Munkky, a respected Vengeance Demon Hunter theorycrafter.
1. Artifact Progression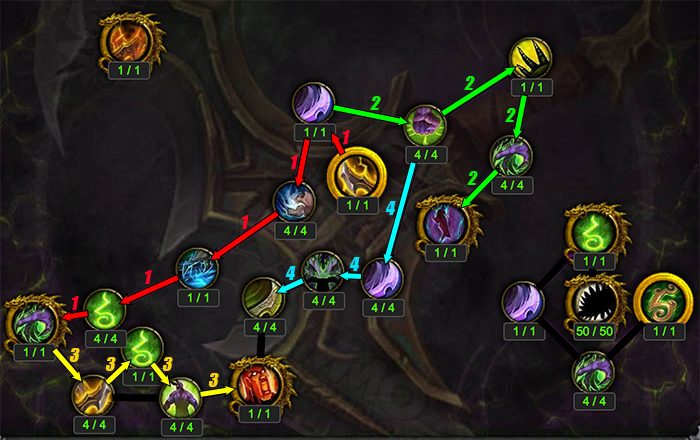 There is currently just one, straightforward artifact progression path as a Vengeance Demon Hunter.
2. Relic Choice
When choosing which relics to use, always take the one that grants you the highest item level, regardless of the benefit it offers. When having to choose between relics that grant the same item level, choose based on the following trait enhancement priorities, depending on whether you are interested in maximising survivability or DPS.
2.1. Survivability
2.2. DPS
For DPS, the best trait depends on what type of DPS you are interested in. The best overall DPS (single target and AoE) trait to buff is

Aura of Pain.

Honed Warblades is a good choice for only single target, while
Fiery Demise is best for single target burst.
3. ChangeLog
10 Nov. 2016: Removed a mention about the value of the Burning Alive talent being increased by the Fiery Demise relic.
04 Sep. 2016: Updated the DPS relic recommendations.
01 Sep. 2016: Altered the artifact path after Charred Warblades (point 10 in the list), and slightly tweaked the relic priorities.
29 Aug. 2016: Added.
CONTENTS
FROM THE DEMON HUNTER FORUMS
RECENT FORUM POSTS
VISIT FORUMS
POPULAR FORUM THREADS
VISIT FORUMS