Kupo of Fortune Rewards and Guide
Kupo Of Fortune is a new minigame available to DoH/DoL players giving some unique rewards for the players crafting items and exchanging them for stamps. This guide explains how the minigame works and also what rewards are available.
TABLE OF CONTENTS OF THIS PAGE
1.
The Kupo of Fortune and How It Works
When you complete crafts with this icon beside them, you will receive stamps on a card. After five stamps, the card is completed and you can store up to ten cards. These cards are used to play the Kupo of Fortune minigame.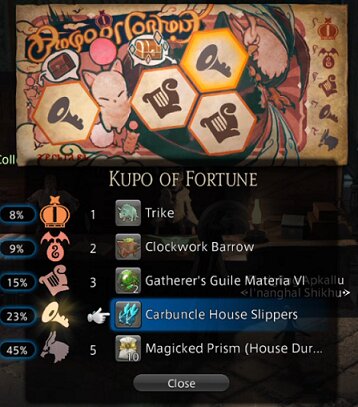 To play, you select a space on the scratch card which reveals a stamp. These stamps relate to a different item on the table below, alongside your odds to gain said stamp on the scratch card.
You have two choices when playing this game: you can select the space on the left, which removes your chances at the most common item, at the cost of also removing the rarest item. This can be useful if you are trying to target specific items. Otherwise, you can select any of the three spaces on the right, which have the same odds to give you the stamp you are aiming for.
Your potential rewards will change with each scratch card, making some items fairly rare, as at best you only have an 8% chance to gain that item and that is only when it is available on the rewards list.
2.
Rewards From Kupo Of Fortune
The list of first place prizes are often the most valuable, offering the best materia, some rare glamours, and a few cool mounts/minions.
The First Place (8%) rewards are as follows:
With the second place items only offering a 1% (9% chance) difference, there are still many items that potentially have lots of value, such as the partitions and parasols.
The third place (15%) items are nice for a boost in Materia as you are progressing or as a side benefit while farming Skybuilders' Scrips to make gil and can potentially have use, meaning there is potential for a little market value, especially on new patch days.
The Fourth Place (23%) items are often cheap furnishings that are not worth much, but because it is all carbuncle-themed, you can use them consistently in housing. Aside from that, the cordials have a lot of use to help speed up Gathering and to get more yield.
The Fifth Place (45%) items are just the consolation prize for losing, but they can be fun to play around with in city areas. Aside from that, they have no value.
For more information on the Ishgardian Restoration and its various rewards, be sure to check out our dedicated guide hub linked below.
10 Dec. 2021: Guide added.
Show more
Show less