Thorim Encounter Guide: Strategy, Abilities, Loot
Thorim is the ninth boss of Ulduar. This boss' hard mode is activated by running through the gauntlet in less than three minutes. Do not forget to be aware of the various Raid Buffs and Debuffs as you work to optimize your Raid Composition for this encounter's mechanics!
1.
Overview of Thorim in Wrath of the Lich King Classic
Thorim is the second Keeper you encounter in Ulduar and has multiple Lightning-based attacks and abilities. Players will first need to battle with multiple waves of enemies while Thorim watches you, refusing to fight. The raid must be split into multiple groups, one fighting the enemies in the arena. In contrast, the other group works through a gauntlet to force Thorim from his throne and into the fight.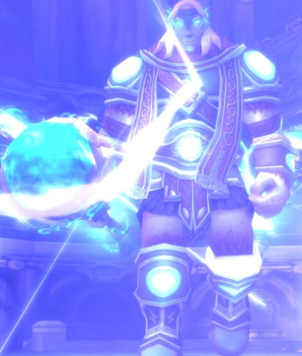 2.
Role-Specific Tips for Thorim
3.
Thorim Encounter Abilities
3.1.
Thorim Phase 1 Abilities
3.3.
Thorim Gauntlet Adds
3.4.
Thorim Phase 2 Abilities
3.5.
Sif Hardmode Abilities
Before actually engaging with Thorim, you will first need to split your raid group into 2 "teams ."One of these teams will be assigned to staying in the arena and defeat the constant waves of enemies that Thorim sends; while the other team will need to run through a gauntlet to reach Thorims throne and force him to join the fight.
Both teams will need a tank and a couple of healers. Typically your gauntlet team will consist of most of your ranged DPS, as there are multiple mobs in the gauntlet that are deadly to melee DPS via different abilities, such as

Whirling Trip and

Runic Barrier. Ranged caster DPS will also prefer not to be in the arena, as Thorim will frequently target random areas with

Stormhammer, stunning and silencing all players in the area. For this reason, you will want to keep your melee DPS in the arena team and your ranged DPS in the gauntlet team.
In both the arena and the gauntlet, the tanks will need to keep all mobs faced away from the raid group, and there are multiple deadly, frontal cone-based attacks in both areas. Be sure to give the tanks a few seconds to gather the mobs and establish threat, using any threat redirection abilities available.
The arena team will want quickly focus down any Dark Rune Evokers to prevent them from healing, followed by any Dark Rune Champions to stop their severe AoE damage. These are the 2 most essential mobs to handle in the arena; be sure to quickly kill both of these mobs whenever they appear. Healers and any ranged DPS staying in the arena will want to spread out around the room, with healers remaining more towards the center as adds will likely target you as they first spawn in.
Thorim himself will also attack players in the arena with a couple of abilities. The main reason healers and ranged DPS will want to spread out is for the

Stormhammer. This will get thrown at a random player, stunning and silencing all nearby allies near the target. Next, Thorim will frequently use

Charge Orb, powering up one of the Lightning pillars in the arena. After a short delay, it will shoot nearby players with

Lightning Shock. Move away from this pillar and any others that become active to help mitigate this avoidable damage.
The gauntlet team will, as the name suggests, be fighting their way through a timed gauntlet. Be sure to frequently use any threat redirections to the tank, as they will constantly be getting stunned by the many different mobs. For this reason, it is essential to watch your threat while still pushing serious damage to make it through the gauntlet quickly and regroup with the rest of your raid.
The first hallway in the gauntlet will constantly be swarmed by enemies until you can reach the Runic Colossus at the end of it and stop it from continually spawning in new enemies. In addition to the Runic Colossus continually spawning enemies, it will also shoot

Runic Smash from either its left or right arm, covering half of the hallway on the same side. The raid must constantly move to whichever side the

Runic Smash is not covering to avoid taking serious Fire damage and getting knocked back a great distance.
After engaging the Runic Colossus in combat, it will stop using its

Runic Smash and spawning in fresh enemies. Instead, you will need to worry about its deadly

Charge and

Runic Barrier. Have your raid stack up behind the mob to prevent it from using

Charge. Be mindful of your health when attacking the Colossus, as the

Runic Barrier can easily kill anyone with high Attack Speed, including tanks.
Rounding the next corner, you will find a much shorter hallway protected by a Ancient Rune Giant. Have your tank put their back against the nearby wall to avoid the constant knockback from

Stomp. The rest of the raid will want to spread out and be away from anyone targeted with

Rune Detonation. This will root the player in place and, after 4 seconds deal serious Fire damage to all nearby allies. Move away from the player rooted by this spell quickly to avoid the damage and finish off the Ancient Rune Giant.
Once the Ancient Rune Giant is defeated, the door it was previously guarding will open, exposing Thorim as he spectates the other group down in the arena. The open space now between you and Thorim is rigged with multiple traps that will trigger from any player stepping on them. You will want to hug the walls as closely as possible to avoid these traps and reach Thorim safely. Dealing any damage to Thorim will force him into the fight, where you can also jump down and return to the rest of your raid group.
The gauntlet group must be mindful of how quickly they run through the gauntlet, as this is how the hard mode of Thorim is activated. If Sif is still channeling her

Touch of Dominion spell on Thorim, attacking Thorim will activate the hard mode. If you do not wish to do this boss on hard mode, you will need to wait for the channel to finish before attacking Thorim and forcing him into the arena.
Finally, you will now be dealing with Thorim himself. Quickly finish off any remaining adds and get in position. Keep Thorim in the center of the room while your ranged DPS and healers spread throughout the area. Your melee DPS will want to split up into 2 or 3 groups around Thorim depending on how many melees you have, similar to the Kel'Thuzad fight in Naxxramas.
The main danger of this phase is the constant

Chain Lightning that he will cast, which deals 50% more damage each time it bounces. This is why your melee needs to split up into multiple groups, and your ranged are spread out completely around the room. This mustn't be allowed to bounce too many times each cast; even if it is not killing people, the increased damage will increase over time, overwhelming your healers.
Thorim will also frequently power up a random pillar in the arena, causing it to shoot a

Lightning Charge out, dealing severe Nature damage to all enemies in the area in front of that pillar. Each time Thorim charges a pillar, and he absorbs a bit of the Lightning; he gains a stack of

Lightning Charge, increasing his melee Attack Damage and Attack Speed by 15%, and his Nature damage dealt by 10% per stack. This acts as a soft enrage timer. After gaining multiple stacks, people will slowly start dying off to the numerous sources of damage going out.
As the

Lightning Charge stacking buff that Thorim gains increase his Nature damage dealt, the

Chain Lightning and

Lightning Charge damage will increase the longer the fight lasts. This is why it is crucial to be spread out throughout the room, as the

Chain Lightning can easily start killing people after only a few bounces late into the fight. That also makes

Lightning Charge almost a guaranteed one-shot death in the later stages of the fight, making it important to avoid the longer the fight goes on. Try to save as many defensive and immunity abilities available as late as possible to ensure you and your raid's survival.
Lastly, tanks will need to worry about the dangerous

Unbalancing Strike spell that Thorim will frequently cast on his current target. This deals double his melee damage and reduce the current tank's defense by 200, making them vulnerable to crits and greatly reducing their avoidance and mitigation stats. Tanks will need to be ready to taunt swap Thorim whenever he applies this debuff to one of the tanks. Towards the end of the fight, this ability will start hitting very hard as Thorim gains stacks of

Lightning Charge. Be sure to save cooldowns for your tanks to help them survive this.
As mentioned above, Thorims hard mode is activated by having your gauntlet team complete the gauntlet while Sif is still channeling her

Touch of Dominion spell on Thorim. This will activate the hard mode of the fight, greatly increasing Thorims health and damage.
Sif will join in the fight, bombarding the raid with spells for the rest of the fight. The main threat from her spells is having them coincide with Thorims spells. Getting hit by a combo of

Frostbolt or

Frostbolt Volley at the same time as a

Chain Lightning or

Lightning Charge will almost certainly kill any player without a defensive ability ready. Sif will periodically root nearby players with

Frost Nova, which can be deadly when combined with a

Lightning Charge, as you will not be able to move without being dispelled or waiting out the debuff duration.
You will want to use all major offensive cooldowns as soon as Thorim is attackable and fully debuffed while you still have as many people alive as possible, as deaths throughout the fight are almost guaranteed. Save as many raid defensive abilities as possible till later into the fight to try and keep DPS players alive, and be sure to rotate tank defensive cooldowns once Thorim starts meleeing for deadly damage.
5.1.
Thorim 10-Player Normal Loot
5.2.
Thorim 10-Player Hardmode Loot
5.3.
Thorim 25-Player Normal Loot
5.4.
Thorim 25-Player Hardmode Loot
Thorim is just one of the 14 encounters present in the Ulduar raid of Wrath of the Lich King Classic. If you would like to learn more about the other fights and their respective loot, please see our Ulduar Raid Hub page below.
18 Jan. 2023: Page added.
Show more
Show less