The Shattered Halls Dungeon Guide
The recommended level range to run this dungeon on Normal is 68-70. Heroic mode will require Level 70 and the

Flamewrought Key to enter.
This dungeon will take approximately 35-45 minutes to complete with an average group. This dungeon is commonly abbreviated as "ShH" or "shatt halls". To enter the dungeon, you will need someone to unlock the gate with the

Shattered Halls Key or a Rogue with

Pick Lock.
In this guide, we will cover dungeon quests, the layout of the dungeon, an overview of trash mobs, tactics for each boss, loot that can be obtained, and ideal group compositions.
TABLE OF CONTENTS OF THIS PAGE
Before heading into The Shattered Halls, we advise you to get all the dungeon quests related to it. To make this process easier, we have written a separate guide for the quests and their chains.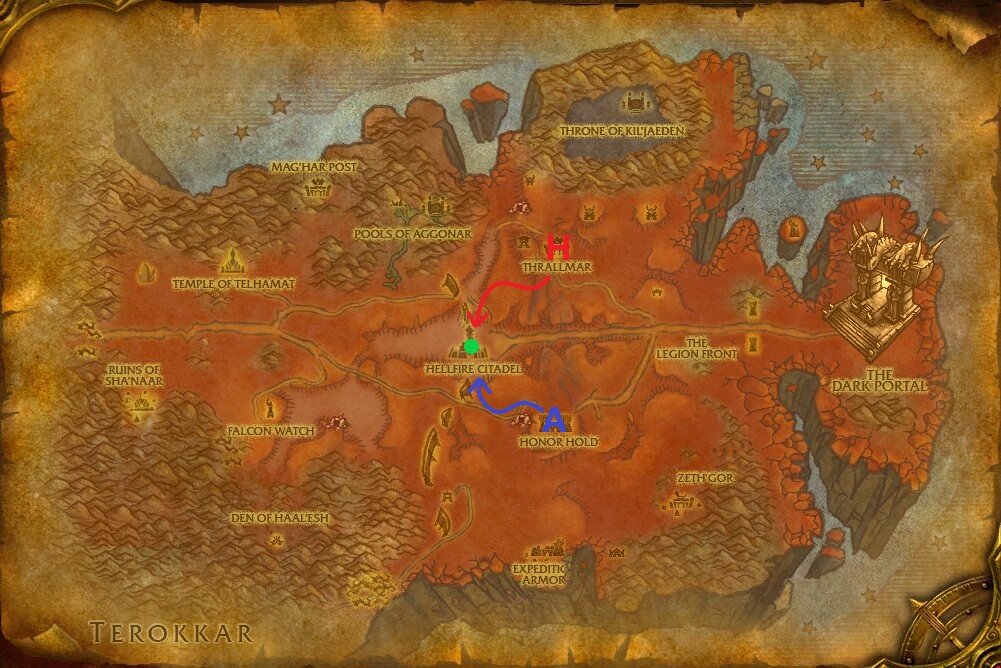 Conveniently, all dungeons in Hellfire Peninsula are located in one centralized location: Hellfire Citadel. This structure can be easily found in the very center of the map and can be reached by using one of the two connecting bridges found on either the North or South side.
Unlike the other two dungeons in this area, The Shattered Halls is found behind a locked gate which requires a key from a quest chain to open. Check out The Shattered Halls Quests section above to learn how to obtain this key.
The dungeon portal for The Shattered Halls can be found at coordinates (48,51). The summoning stone is located directly next to the Ramparts dungeon portal.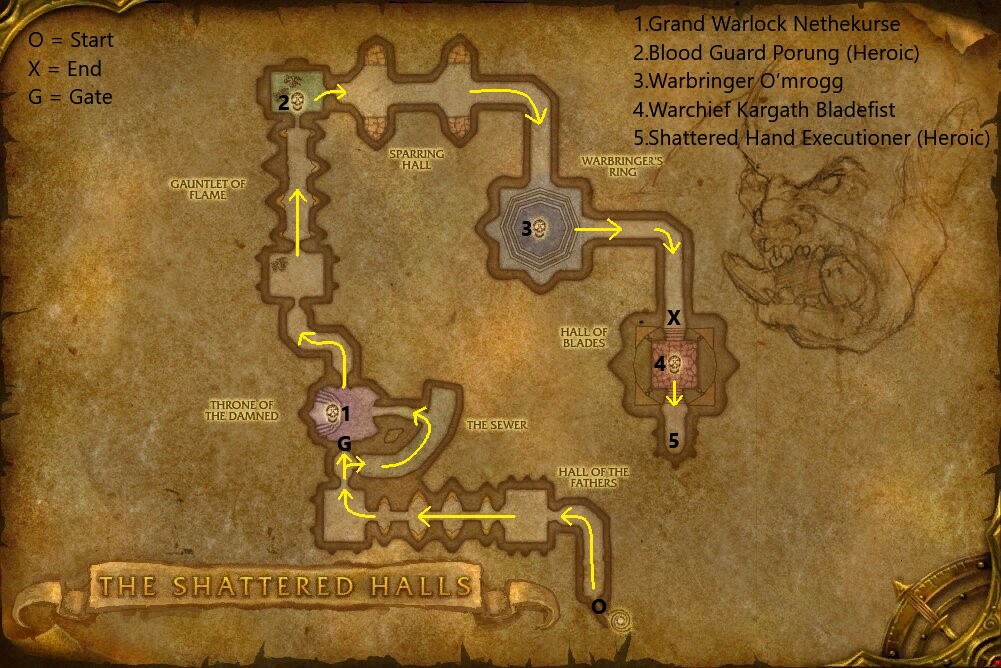 The layout of The Shattered Halls is almost completely linear, following a one-way path. The only deviation possible is at a locked gate found before Grand Warlock Nethekurse. If you can

Pick Lock the gate open, you can skip the gauntlet on the right and save some time.
Killing mobs in this instance grants either Thrallmar or Honor Hold reputation.
Most orcs grant 12 reputation each.
Each boss grants 120 reputation.
A Normal run of The Shattered Halls will give around 1,350 reputation.
Reputation gains in Normal go all the way up through

Exalted

.
Most orcs grant 15 reputation each.
Each boss grants 250 reputation.
A Heroic run of The Shattered Halls will give around 2,200 reputation.
In this section, we will briefly go over each of the trash mobs that pose a threat to you in this dungeon.
These need to be focused first, as the reinforcements summoned in are essentially a replacement to the mob killed previously. Focus these down and avoid any additional reinforcements. Tank these away from casters to prevent the

Pummel from interrupting them.
These deal massive damage. Aim to crowd control and stun these as much as possible to avoid their massive damage output.
These can be quite dangerous as they have very high attack speed when buffed with

Slice and Dice and

Enrage. These should be a high priority to kill early or crowd control whenever possible.
Ideally you will focus on interrupting these as their healing can be quite annoying if left alone. Try to line-of-sight these to force them to come into melee range.
Try to interrupt the

Fear and

Rain of Fire if possible. Utilize line-of-sight to force these to engage in melee combat.
Be mindful of these throughout the entire dungeon as they can be hidden in corners you previously thought were safe. Tanks may get

Sapped at the start of combat with these, try to CC, stun, or kite them until the tank is free.
These can be quite deadly with

Thrash. If possible, keep

Curse of the Shattered Hand removed from the tank at all times as the increased damage taken can be quite deadly when facing so many mobs at once. Tank these away from casters to avoid them being interrupted by

Kick. Prioritize killing these early on or using crowd control on them.
These consistently deal high damage to random players in their range. The entire party should use line-of-sight as much as possible to avoid as many attacks as they can. Use any resources your party has to remove the

Viper Sting as soon as possible to keep the group's Mana high;

Cleanse,

Abolish Poison, and

Poison Cleansing Totem are all great counters to this spell.
These are the creatures you will need to fight if you cannot open the gate found before Grand Warlock Nethekurse. Avoid standing near them as the attack and movement speed slow can add up quickly. The Creeping Oozeling should be AoEd down as soon as possible while the tank focuses on the Creeping Ooze.
Fires flaming arrows down the hallway, leaving sections of the ground covered in fire.
These are found at the end of the gauntlet and are responsible for the patches of fire that are on the ground. Engaging these in combat will stop them from placing new patches of fire.
These can be quite annoying to gain initial threat on as the

Concussion Blow can easily prevent a tank from getting decent threat early on. Make sure to avoid standing near these as a caster, as the

Shield Bash will lock you out of casting for 8 seconds.
This is the enemy needed for multiple quests as mentioned above. He is only available in Heroic difficulty. He drops various primals and potions if you kill him before he begins to execute his prisoners.
Here we will give you a full rundown of what you can expect from each of the bosses found here on both Normal and Heroic difficulties as well as the items they drop.
This is a fairly easy boss. Move out of the Fissures as soon as possible to avoid taking unnecessary damage. Try to save cooldowns for when the boss reaches low health, as the

Dark Spin can be punishing if it takes too long to kill him.
As with most end game Level 68+ dungeons, Rare drops are the same between Normal and Heroic difficulties. In this section, we will list the items specific to Heroic mode only.
Blood Guard Porung can only be found in the Heroic difficulty. He is at the end of the gauntlet where players must dodge flaming arrows and patches of fire while fighting through continually-spawning waves of Shattered Hand Zealots.
Make sure to not be in front of him to avoid his large

Cleave. Typically you will want to kill or crowd control the two Shattered Hand Archers that are linked with him, as they deal high damage and have some AoE. Be cautious to not run too far into the area he is located as there may be a Shattered Hand Assassin nearby in hiding.
As this boss is specific to Heroic difficulty only, he only has a Heroic loot table.
You will want to start off by clearing the pack of two Shattered Hand Champions nearby and scouring the area surrounding Warbringer O'mrogg for any hidden Shattered Hand Assassins. These can cause a wipe if pulled by a player attempting to run away from the boss or if accidentally pulled by someone during a

Fear.
Warbringer O'mrogg consists of two phases. The first phase is very straightforward, requiring no special treatment. The second phase begins with O'mrogg turning red and resetting his threat. He will use

Beatdown on a random player, giving them a high amount of threat right after resetting all previous threat. This person will need to kite the boss until the tank can regain threat, or kite in a manner so that other DPS can still reach O'mrogg and keep DPSing.
During this phase he will cast

Blast Wave, slowing nearby players. He also deals very high damage as he ignites his weapon with

Burning Maul and deals splash damage to anyone around his target if his melee attacks land.
As with most end game Level 68+ dungeons, Rare drops are the same between Normal and Heroic difficulties. In this section, we will list the items specific to Heroic mode only.
When engaging the boss, it is important to move up together at the same time as a group. When the boss is engaged, Shattered Hand Assassins will spawn at the bottom of both ramps, effectively preventing escape from Warchief Kargath Bladefist. Make sure to move up together and not leave anyone behind including any pets, totems, or anything similar that might draw the assassins' attention.
Warchief Kargath Bladefist deals very large amounts of AoE damage with all of his abilities. As such, it is very important to spread out as much as possible. Melee DPS should attempt to stand at max melee range and be as spread from others as possible, while ranged players should look for a corner of the room currently not occupied by anyone else. It is very possible to die in a matter of seconds from the

Blade Dance if your party is grouped up too much.
Periodically throughout the fight, adds will be called in to aid Warchief Kargath Bladefist You will typically want to have the tank pick these up and keep nuking the boss down, or use some form of crowd control on them. If your group is melee-heavy, it may be beneficial to have one melee DPS stick to the adds to help spread the

Blade Dance damage out. The adds spawned during the fight can be found below:
As with most end game Level 68+ dungeons, Rare drops are the same between Normal and Heroic difficulties. In this section, we will list the items specific to Heroic mode only.
The Shattered Halls consists of mostly trash pulls that have six or more mobs in them. For that reason, a Protection Paladin is the most desirable tank for this dungeon. That being said, this dungeon can still easily be completed by any tank. As mentioned, the packs are fairly large so AoE damage is preferable.
A minimum of one form of crowd control is strongly advised for this dungeon, and any more beyond that will be put to good use as the packs are extremely large here. On Heroic difficulty, this is almost essential to completing the dungeon safely.
A Hunter is a strong addition to any Shattered Halls group, as

Misdirection helps greatly with pulls and either

Frost Trap can be used to slow the mobs or

Freezing Trap can be used to crowd control one instead.
A Shaman is also another great addition to the party, as

Poison Cleansing Totem,

Earth Shock, and

Bloodlust /

Heroism can be utilized to great effect in this dungeon.
Finally, a Mage is a very solid pickup for their consistent crowd control with

Polymorph and ranged interrupts via

Counterspell.