Old Hillsbrad Foothills Dungeon Guide
The recommended level range to run this dungeon on Normal is 66-70. Heroic mode will require Level 70 and the

Key of Time to enter.
Old Hillsbrad Foothills will take approximately 20-30 minutes to complete with an average group. This dungeon is commonly abbreviated as "OHF", "Old Hillsbrad" or "Escape From Durnholde".
In this guide, we will cover dungeon quests, the layout of the dungeon, an overview of trash mobs, tactics for each boss, loot that can be obtained, and ideal group compositions.
1.
Old Hillsbrad Foothills Quests
Before heading into Old Hillsbrad, we advise you to get all the dungeon quests related to it. To make this process easier, we have written a separate guide for the quests and their chains.
2.
Old Hillsbrad Foothills Entrance Location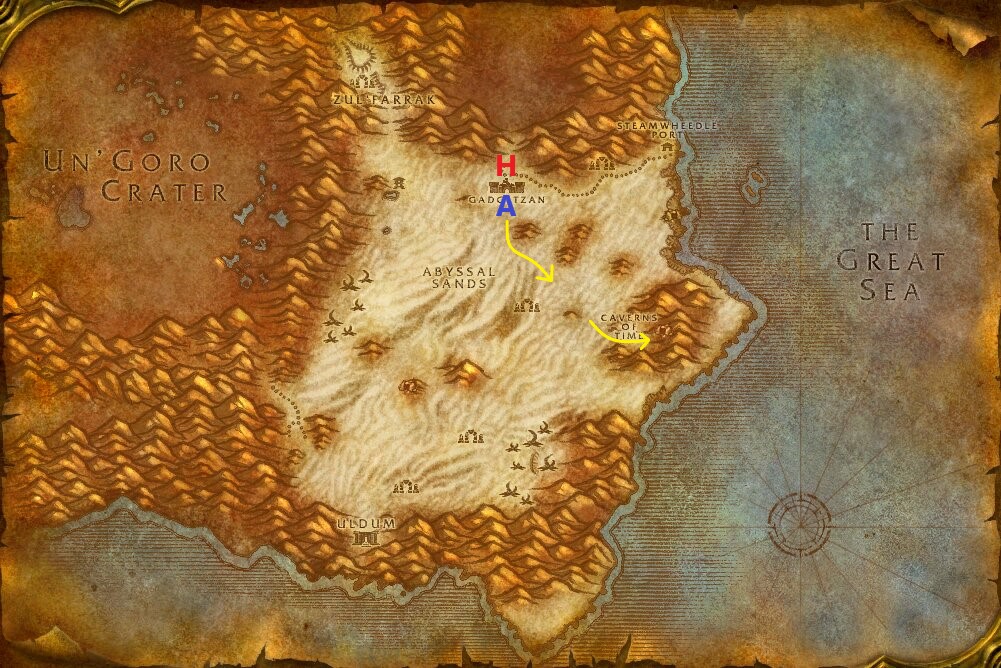 The fastest way to get to the Caverns of Time for both Alliance and Horde will be to fly to Tanaris. From there, follow the imagine shown above until you find the Steward of Time, who will offer you a quest and fly you down into the caverns.
When you land, follow the picture below to find the dungeon. You will want to turn in To The Master's Lair and do the follow-up escort quest before heading into Old Hillsbrad. Check out the quest section above for more information on the entire quest chain.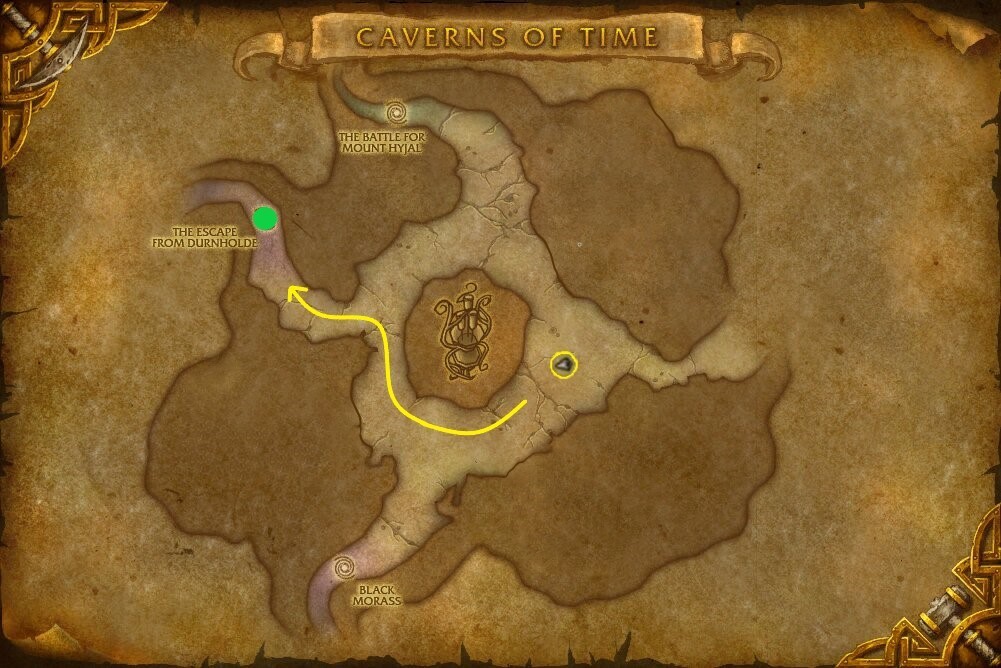 3.
Layout of Old Hillsbrad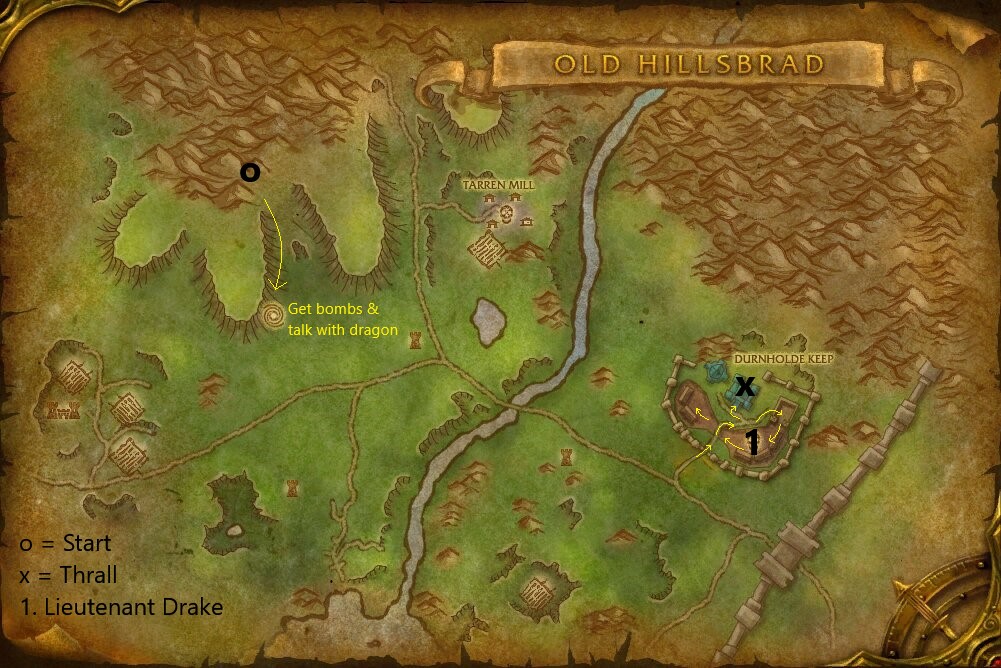 When you first enter Old Hillsbrad, mount up and run through the tunnel in front of you. At the end of it, you will find Erozion, offering you a quest. Next to him is Brazen who will fly you to the actual start of the dungeon. When you land, follow the arrows as shown above, burning all the houses. Afterward find your way to Thrall, who is locked in a cage in the basement of the keep. Make sure to let everyone in the party accept the next quest before freeing him.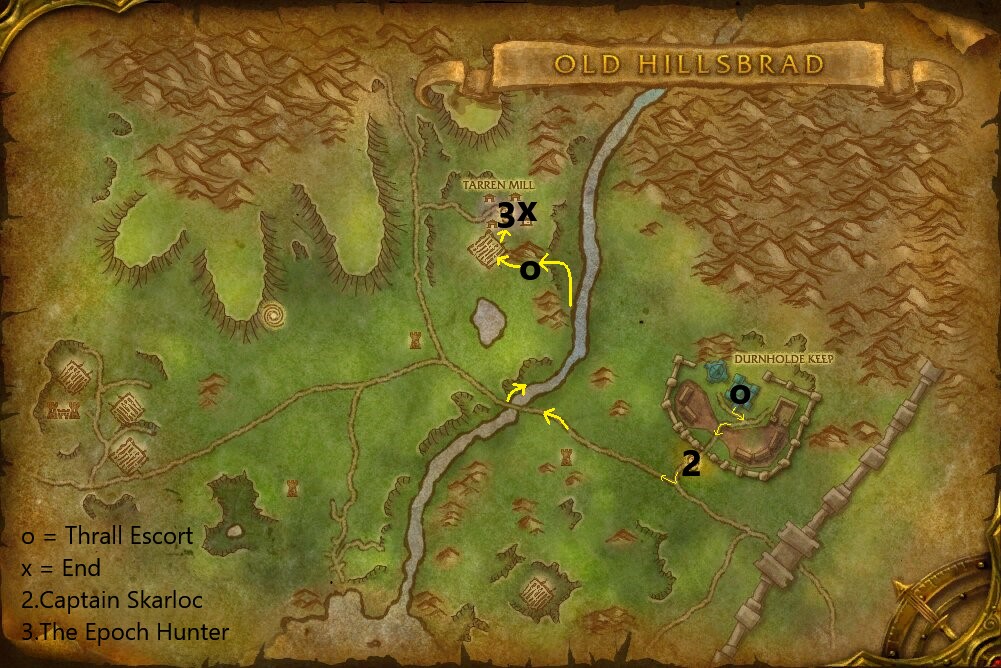 Follow the path, escorting Thrall through the dungeon. It is advised to let Thrall pull initially, then come in and assist him as needed. After you finish the first part of the escort by killing Captain Skarloc, talk with Thrall again, mount up and follow him to the next circle.
Keep escorting Thrall from building to building until he finally reaches Taretha at the top of the house. When your group is ready to proceed, talk with Taretha to begin the encounter with Epoch Hunter.
4.
Reputation from Old Hillsbrad
Killing mobs in this instance grants Keepers of Time reputation.
Most monsters grant 8 reputation each.
Each boss grants 80 reputation.
A Normal Old Hillsbrad run will give around 900 reputation.
Reputation gains in Normal go all the way up through

Exalted

.
Most monsters grant 15 reputation each.
Each boss grants 250 reputation.
A Heroic Old Hillsbrad run will give around 2,000 reputation.
5.
Overview of Old Hillsbrad Trash Mobs
In this section, we will briefly go over each of the trash mobs that pose a threat to you in this dungeon.
These can be dangerous sometimes with a well-timed

Scatter Shot. Typically you will want to kill these early on or use any available crowd control on them.
You will most likely be killing these first to avoid the

Heal and the fear from

Psychic Scream. The Dispel may also remove any crowd control from other nearby NPCs.
Be aware of these enemies'

Cleave when positioning them.
5.4.
Tarren Mill Guardsman
These can deal somewhat high damage if they live long enough to use their abilities multiple times. Aim to kill these early or use some crowd control on them.
5.5.
Tarren Mill Protector
You will most likely want to kill these early to prevent their high damage, healing, and cleansing potential.
6.
Overview of Old Hillsbrad Bosses
Here we will give you a full rundown of what you can expect from each of the bosses found here on both normal and heroic difficulties as well as the items they drop.
While this fight is very straightforward mechanically, the boss can deal very high burst damage when hit with multiple abilities at the same time. A well-timed

Exploding Shot or

Frightening Shout can spell disaster for some groups, especially on Heroic difficulty. Try to use any form of fear-preventative measures, such as

Fear Ward or

Berserker Rage to prevent the Frightening Shout.
Captain Skarloc begins the fight joined by a Durnholde Warden and a Durnholde Veteran. Focus them down first, as the Warden can heal for quite a lot and be very annoying with

Psychic Scream and

Dispel Magic.
Remove the

Hammer of Justice from the tank if possible. It is advised to move Captain Skarloc out of his

Consecration as Thrall will also take this damage if he is attacking Skarloc. If Thrall dies from this damage you will need to start the escort over again entirely.
You will first have to fight three waves of Infinite Defiler, Infinite Slayer, and Infinite Saboteur. After beating the third wave you will have a few seconds to eat and drink before the boss flies down and engages in combat.
Tank with your back against a wall to prevent the knockback from

Wing Buffet. Protection Paladins may have a difficult time tanking this boss if their

Righteous Fury constantly gets removed by

Magic Disruption Aura. Make sure to face the boss away from the group to avoid the

Sand Breath.
7.
Recommended Old Hillsbrad Group Composition
Old Hillsbrad Foothills is a fairly easy dungeon. There are no large pulls that require AoE. One form of crowd control is advised for this dungeon to deal with the Durnholde Rifleman and Tarren Mill Guardsman, as their abilities can cause some trouble if timed well.
Bringing at least one class that can remove magic debuffs, such as a Paladin with

Cleanse or a Priest with

Dispel Magic will also help smooth things out, as there are a lot of magical-based debuffs in this dungeon.
26 May 2021: Guide added.
Show more
Show less