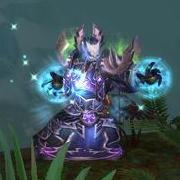 ---
Recently Browsing

0 members

No registered users viewing this page.

Similar Content

By CaperfinWoW

About                                                                                                        
I'm Caperfin. Shaman tank, Rogue Raid Tank, warlock tank among others are my speciality. I've culminated years of work into a guide to help others on their tanking journey. If a topic is not addressed or you have questions, drop by my Twitch Livestream to chat.
Table of Contents
Introduction Race Profession Shaman Tank Threat Threat Diminishers Totems Talents Rotations Buffs Debuffs Gear Enchants AoE Tanking Raid Composition Burning Crusade Preparations Introduction
Can Shamans tank in original World of Warcraft? The short and to the point answer is, yes. You might be rubbing your eyes right now in disbelief of this answer. Perhaps concocting up an entire ten page manifesto around how only warriors can and should tank. Although, I can go on a long rant about how there are many other classes that can tank, today, I'll be focusing on our totemic friend, the shaman.
The topic of viable and optimal is controversial as some don't see the difference or mix them up and impose a misguided philosophy onto it. Put simply, optimal is the most efficient and foolproof solution to solve a problem that eliminates as many negative variables as possible and favors a more easy going route. Next, is Viable or often referred to as: possible, which is seen as the more challenging path to take but to many feels like a greater personal achievement. Shamans are classified into viable.
Many shaman tanks will agree their motivation comes from the glory of accomplishing a feat the rest of the realm population dares not try. If this sounds like you, I encourage you to continue reading on. To restate my point, you shaman tank if you want a challenge and a refreshing perspective from a 15 year old game.
If it wasn't obvious before, shield bearing is a sizable undertaking. When experienced players pick up a shaman tank and put in the effort, it shines tenfold. Shamans can fully tank 5mans, 10mans, off-tanking and main-tank raids. But, this is reliant on personal and guild experience. I should point out, a shaman's overall defensive statistics will never approach a warrior's. However, it isn't necessary to do so to tank.
Race
Video: https://www.youtube.com/watch?v=WHDrGXq4qxY
Shamans don't exist on the Alliance faction, therefore, we are being relegated to spend our fighting days with the Horde. As for race, choose wisely as once the decision is made there is no going back. Remember, you'll be staring at your character for a long time. Therefore, players may want to consider their character's appearance as a key factor as it may entice them to play more. All races have their advantages but in the grand scheme, they're minor compared to other notions. There is no wrong race selection when it comes to shaman tanking. Also, feel free to watch the video on the left to learn more about the race options.
Professions
Video: https://www.youtube.com/watch?v=WHDrGXq4qxY The most beneficial profession to tanking is Engineering. It will grant access to valuable tools, ex: Goblin Sapper Charge, Masterwork Target Dummy, Gnomish Battle Chicken as well as many others. The second most useful profession, is whatever profession grants the highest amount of gold on your realm. Large amounts of gold allows you to buy useful potions, ex: Flask of the Titans, as well as meaningful consumable food, ex: Dirge's Kickin' Chimaerok Chops, among many other items. In conclusion, one profession for generating a lot of gold and Engineering for its many tools.
Threat
The four most impactful threat generating Shaman spells are: Earth Shock, Stormstrike, Rockbiter Weapon and Lightning Shield. Consumable items also deal threat, ex: Major Rejuvenation Potion based on the Health & Mana replenished. In general, Health gained will deal threat based on a quarter of the amount replenished and Mana half. Next, damage dealing items, ex: Goblin Sapper Charge dishes out threat equal to the damage. Similarly, so do reflective type effects, ex: Thorns. Lastly, certain items induce pure threat each time their Debuff is triggered, ex: Gift of Arthas.
Threat Diminishers
Install a threat tracking addon, ex: ThreatClassic 2, which will show the threat of your group/raid. Classes can reduce threat with items ex: Fetish of the Sand Reaver, with talents, ex: Burning Soul. Reduce the threat of others thanks to spells, ex: Tranquil Air Totem. Wipe all threat with abilities, ex: Vanish & items, ex: Flask of Petrification. For a while, prevent Aggro, ex: Limited Invulnerability Potion. Lastly, redirect aggro, ex: Masterwork Target Dummy (taunts the target). Finally, classes within the 30-40 yard range won't draw aggro until they outweigh the threat level of the mob's current target by 30%, as opposed to 10% for melee classes.
Totems
Video: https://www.youtube.com/watch?v=NGqY05WzUbA Totems trigger the Global Cooldown (1.5 sec) during this time it's not possible to cast shaman spells, therefore, be sure you don't have anything urgent to cast. Contrary to popular belief, Totems are incapable of generating threat that is redirectable to you. The most common totems are Grace of Air Totem, Stoneskin Totem and Mana Spring Totem. Only one totem type can be active at a time per Shaman. If two totems with the same effect are placed their effects will not stack. Try and coordinate totems with other Shaman in the group if any. Fire totems offer no value other than some clever techniques around aggro through damage. See the video to learn more.
Talents
Video: https://www.youtube.com/watch?v=DW7rOdYMNrs Dungeon tanking become easier with practice eventually you'll reach a point tanking can be safely done with any talent setup possible. However, I still recommend having tank gear on you. If you are Shaman tanking for the first time, it's recommended to go (16/35/0) which grabs, Stormstrike. This talent setup provides consistent threat per second for raids and strives on short boss fights. The second setup is (21/30/0) focusing more on magical damage with key talents as: Elemental Fury. It will demand many prerequisites to unleash its potential but will yield good results on long boss fights.
Rotation
Pre-Pull: Cast Lightning Shield. Have all Buffs your group or raid can provide on you. Cast Rockbiter Weapon. Place totems, typically: Stoneskin Totem, Grace of Air Totem & Mana Spring Totem. Take a second to mark the mobs in front of you by right-clicking their portrait, pick Raid Target Icon and choose from either a Skull = kill first, a red X = kill second, a blue square = Hunter trap and lastly is a moon = Polymorph.
Pulling: Begin by casting Lightning Bolt, followed after by as many Lightning Bolt possible to potentially activate the talent, Elemental Focus. Finally, cast an Earth Shock.
Combat: If the raid has many well geared damage dealing classes, use Nat Pagle's Broken Reel to assure the first few Earth Shocks hit. Throughout the fight, use the appropriate rank of Earth Shock that reflects your mana and threat situation. Although, Stormstrike can't be downranked, it also will be used in similar situations. If Lightning Shield disappears, reapply it. If your facing all of a sudden potential death, swap to a defensive weapon, ex: Spineshatter be sure it has Enchant Weapon - Agility & Rockbiter Weapon, use Masterwork Target Dummy (will aggro the boss), use Juju Escape, potentially use, Major Rejuvenation Potion & Major Healthstone in quick succession.
Buffs
Video: https://www.youtube.com/watch?v=Jqai5bITZyI There is a max of 32 Buffs, avoid getting close to the max as it may result in Buffs getting accidentally pushed off. Talents, Set bonuses and Equip effects don't count. A Buff Cap Calculator is used to see how many you have and what stacks. Prioritize stockpiling defensive Buffs, ex: Rumsey Rum Black Label before getting Threat Buffs, ex: Juju Might. Here's a link to Realistic Defensive Buffs. Next are consumables, which also provide passive Buffs but some have instant active effects, ex: Goblin Sapper Charge, Major Healthstone as well as Dark Rune, Major Rejuvenation Potion among others.
Debuffs
Video: https://www.youtube.com/watch?v=1FrsQ7rfSj8
A maximum of 16 Debuffs can be on a target. Having as many Debuffs possible is negligible for dungeons but paramount for raids. There are defensive Debuffs, ex: Insect Swarm and threat Debuffs, ex: Faerie Fire among others. With the raid leader's permission offer recommendations on optimal Debuffs that suits your needs without overstepping. As Shaman tanks, we can dispense Gift of Arthas and Stormstrike, which will result in a higher damaging Earth Shock and therefore more threat. Keep in mind, Stormstrike's Debuff can perish by Lightning Shield among other nature damaging effects.
Gear
Video: https://www.youtube.com/watch?v=1FrsQ7rfSj8
When gearing, concentrate at cementing your survival before improving threat. It's recommended to have 4k HP & 5k Armor unbuffed for Molten Core. Blackwing Lair, ~4800 to 5k HP and 6500-7k Armor. For reliable threat, 3% melee Hit is advised for dungeons. Melee Hit for Raid tanking, 6%. 10%-12% Spell Hit for raid tanking is advised, Nat Pagle's Broken Reel helps. Gearing to bolster threat can start becoming complex, if Buffs are involved, I suggest Jannon's TPS Simulator. You cannot swap gear in combat, except for a weapon & shield. Enabling the swapping to a defensive weapon, ex: Spineshatter, if survival seems grim.
Enchants
Enchants enable us to further round out our character. There are two categories of enchants for Shaman tanks, defensive, ex: Enchant Gloves - Superior Agility. And offensive, ex: Enchant Gloves - Threat. Acquiring Enchanting is not necessary to benefit from the profession's advantages. Simply, give the Enchanter the required enchanting materials and they will enchant your gear for a small gold tip. Getting all your gear enchanted can end up being very costly, I suggest enchanting gear, if you're absolutely certain it wouldn't get upgraded for a long time.
AoE Tanking
Video: https://www.youtube.com/watch?v=yJcEj5DpNjg
When it comes to AoE tanking, a Shaman must go above and beyond since it not only requires a prerequisite understanding of how to tank one target but many at a time. Thankfully, there are measures to help maintain AoE scenarios better, such as: Oil of Immolation, Thorns and Force Reactive Disk among others. Furthermore, it's important to switch and attack some other target periodically. AoE raid tanking is demanding and many who want to solidify their execution may want to go a talent build with Eye of the Storm to Chain Lightning if Elemental Focus pops. A single Chain Lightning can go cleanly due to Masterwork Target Dummy aggroing mobs.
Raid Composition
Video: https://www.youtube.com/watch?v=BSmrU3T25wg
With the raid leader's permission offer your advice on an ideal raid composition that suits to your needs without overstepping. Within our group, we appreciate a warlock with Blood Pact a warrior with Battle Shout, a hunter capable of dispensing us Trueshot Aura, etc… (see video). If we can choose the damage dealing classes to bring to the raid, we prefer ranged classes over melee. If melee classes are required, we opt for rogues. Groups with warriors and warlocks should preferably have a shaman providing Tranquil Air Totem. And finally, a druid is welcomed for a potential Innervate sent our way.
Burning Crusade Preparations
Video: https://www.youtube.com/watch?v=BcglggmJNMQ
The expansion The Burning Crusade "TBC" is looming and being prepared is wise. Gold is still a beneficial asset, especially a lot of it, since we have many different gear setups that will require: repair, enchants and gems. As well as buying potions, bind on equip gear, etc… Working on a positive reputation on your realm will help open many doors in the future as players will notice your name. Similarly, find a guild that will be accommodating of your future tanking ventures and has warlocks with Fetish of the Sand Reaver. In terms of gear, you should have going into TBC, Nat Pagle's Broken Reel is suggested.
____________________________________________________________________________________________________________________ Have questions? Ask me live: https://www.twitch.tv/caperfin

By positiv2

This thread is for comments about our Battlegrounds Spell Tier List guide.


By positiv2

This thread is for comments about our Thrall guide.