Musket Weapon Guide and Builds in New World
Unleashing bullets from long range, the Musket is a fearsome weapon in the hands of a player with good aim. As the only weapon with hitscan attacks, the Musket can easily pick off foes at an incredible distance.
TABLE OF CONTENTS OF THIS PAGE
1.
Musket Patch 1.1 Changes
With Patch 1.1 of New World having been released on the 19th of November, we have prepared patch notes with commentary for the Musket weapon. Please follow the link below for more information.
Shooting bullets, this weapon is primarily focused on delivering single target damage from a distance. Musket shots are all hitscan so you do not need to account for gravity when aiming. This Weapon requires precise aim to maximize damage.
3.
Musket Strengths and Weaknesses
Weaknesses
Reloading is slow and interruptible

Requires good aim

Player nameplates can make it hard to see heads when grouping

Weak early leveling

Weak against Angry Earth and Lost
3.1.
Bullets and Reloading
One of the primary mechanics of playing a Musket is firing and reloading your Weapon with bullets. After each shot, you will have to reload your musket which takes approximately 2-seconds. If you are interrupted during this process by crowd control or dodging then you will have to restart the reload. The Musket also has a several Abilities that load a special ammunition in for your next shot. Using these Abilities always forces you to reload, even if you just reloaded, so it is best to use them directly after firing. You can bypass the 2-second reload time by weapon swapping for at least 2-seconds. Once you switch back to your musket it will be reloaded.
You can make your own bullets but one of the harder to find materials is

Saltpeter, which can be found in caves on the ground. To fire bullets you must equip them on your equipment bar by double clicking them in your Inventory. You can also buy bullets from the local Trading Post or Faction vendor. Note that bullets each weight 0.1 Weight making a full stack of 500-bullets weigh 50-Weight; however, bullets that are currently equipped in your equipment slot weigh nothing. You can find

Mercenary's Burden on bags which reduces the Weight of Weapons and ammunition by a percentage. This might be a nice perk to invest into if you find yourself carrying large amounts of ammo.
The Musket scales primarily with Dexterity and secondarily Intelligence, so you can effectively use either Attribute. Each of the Dexterity breakpoints provide a substantial benefit to your damage or survivability, with the final breakpoint guaranteeing a critical strike after dodge rolls. It is somewhat important to get some Constitution, especially if you plan to PvP, because you will eventually take damage and we recommend looking out for gear that provides a mix of Dexterity and Constitution.
Faction armor in particular does a good job of providing a balance of Dexterity and Constitution. If you want to use Light armor, you can change the Attributes on the Faction armor by using a Seal such as the

Syndicate Brigand Seal. Take this Seal and the piece of faction gear that you want to Attribute swap to its corresponding crafting bench and there should be a new recipe for you to complete.
5.
Recommended Musket PvE Builds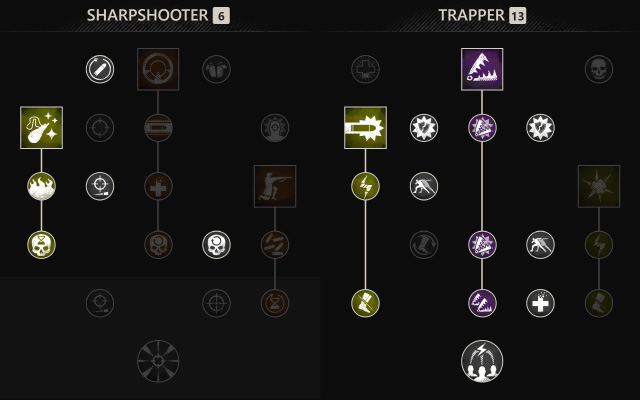 In PvE, your role is to damage foes while also staying alive. In group play the Musket does not really have many area of effect options, so focusing on single target is the best path. In solo content, you are going to want Abilities that help you deal damage while keeping your foes at bay, so we recommend using

Traps,

Stopping Power, and

Powder Burn. While the Sharpshooter tree does have a lot of damage options, generally it is difficult to land consistent headshots in PvE. Even in an Expedition it can be hard to see through your allies' name plates to get head shots.
The best gem for your Musket is

Cut Pristine Onyx, because you will likely be able to open with a devastating headshot against full health foes. For group play

Cut Pristine Diamond is best since your ability to attack at range will make you able to stay at full health frequently.
For armor gems we recommend either

Cut Pristine Onyx,

Cut Pristine Malachite, or

Cut Pristine Diamond to provide generic damage absorption.
We recommend taking the following mastery points:
6.
Recommended Musket PvP Builds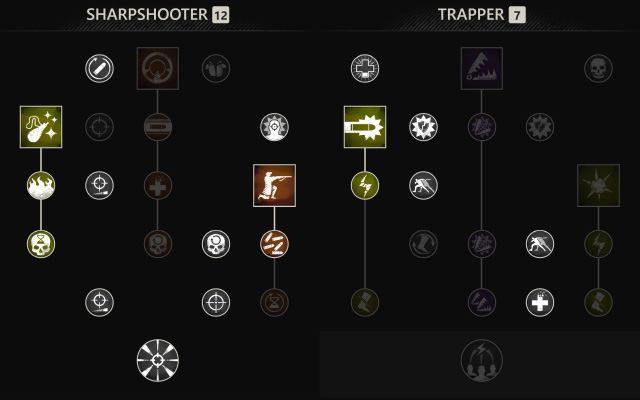 In PvP the Musket's greatest strength is its ability to blast players who are at a distance or are operating siege weapons and are sitting still. A good sniper can wreak havoc on an enemy Fort by killing those who are operating cannons and preventing anyone from repairing them. To that end we recommend taking

Powder Burn,

Shooter's Stance, and

Stopping Power. Stopping Power is especially nice when fighting forts because the knockback will push cannon operators out of the seat, preventing them from firing for a moment.
The best gem for your Musket is

Cut Pristine Onyx, because you will likely be able to open with a devastating headshot against full health foes.
For armor gems we recommend either

Cut Pristine Onyx,

Cut Pristine Malachite, or

Cut Pristine Diamond to provide generic damage absorption.
We recommend taking the following mastery points:
The Musket, like all other Muskets, has six abilities; however, you can only use three abilities at any give time on your action bars. While you can spend Mastery Points on more than 3, it is a waste of points since respeccing is rather cheap to do.
8.
Musket Mastery Overview
Like all other Weapons, the Musket has two Mastery Trees. You can spend Mastery Points in either Tree but must have a Mastery from the preceding row to select deeper Masteries. Likewise, if a Mastery has a vertical line connecting it to a Mastery above it then you must first select the higher Mastery in order to unlock the lower ones. These-linked together Masteries typically support Abilities which are denoted by a square-shaped icon.
While you can unlock all six Abilities at once, you will only be able to place three Abilities on your action bar at a time. It is unwise to invest in more than three Abilities, because it is easy to respec when needed.
This Tree focuses on hitting headshots at range. Its Ultimate Mastery,

Sniper, not only allows you to zoom in but also increases headshot damage.

Ballistic Advantage is nice for hitting distant targets without having too much damage fall off.

Called Shot Resupply is strong for resetting your cooldowns each time you hit a headshot.
This Tree is more about close range combat and mobility.

Hustle provides a speed boost after every dodge roll which is rather easy to keep active while traveling.

Tactical Reload is amazing because it allows you to skip a reload animation every 6-seconds.

Traps are interesting because it allows you to bait enemies into them or give you a spot that you can kite around in PvP.

Scent of Blood is powerful because you can regen a dramatic amount of life to trapped targets. You can even weapon swap and drop heavy attacks or Abilities and still be healed. Its Ultimate Mastery,

Lethal Combo, makes you do more damage to foes afflicted by your traps or your Stopping Power debuffs.
Every Weapon Ability in New World has a corresponding Perk that can be found on armor and Weapons. Most perks scale in power with the Gear Score of the item they are on. You can only benefit from one instance of a Weapon Ability Perk at a time. These can be rare to find on gear and are mostly just a bonus.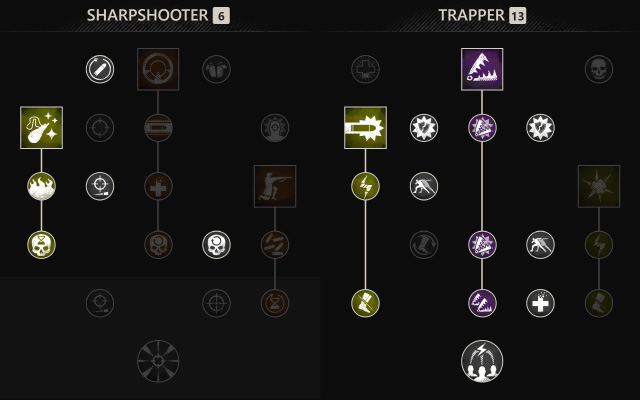 Musket leveling is a bit difficult due to the lack of area of effect damage and lack of damage when not hitting headshots. The Musket generally does not feel all that strong until you have a rather high mastery level, so we recommend pairing it with a melee weapon like the Hatchet to deal with foes who get too close. Start off with taking

Traps and

Stopping Power for Abilities. Traps will help you keep foes at bay while you shoot them and Stopping Power is nice for slowing down foes as well. Next

Hustle for speed and

Tactical Reload for quick reloads every 6-seconds from dodging. You should try and shoot and then dodge right away whenever Tactical Reload is up. Next, upgrade Traps with

Trapped Damage,

Scent of Blood, and

Double Trap.

Weakened Defense helps you penetrate armor and deal with annoying foes who block. Next grab

Lasting Impression,

Kick 'em When They're Down,

Lethal Combo which will proc whenever you hit a foe who is trapped or that has been hit by Stopping Power recently. Next,

Critical Reload allows you to get an instant reload when you land three headshots in a row. Grab

Powder Burn and completely upgrade it with

Backdraft and

Chronic Trauma. Lastly finish up with

Ballistic Advantage,

Called Shot Resupply,

Empowering Weakness, and

Supplementary Repulsion.
12.
Where do I Get Bullets?
You can loot bullets off of foes or find them in boxes. You can also craft at the Workshop crafting bench. You can buy bullets from your Faction vendor or the local Trading Post.
13.
How do I Aim a Musket?
Holding right-click will cause you to aim down sights with the Musket. Left-clicking will fire. The Musket is hitscan meaning that the bullet will instantly shoot forward to whatever you clicked on.
14.
Why are Bullets so Heavy?
All bullets weigh the same; however, any bullets that you have equipped on your character will not weigh down your bags at all.
19 Nov. 2021: Added link to Patch 1.1 Musket changes.
06 Oct. 2021: Guide added.
Show more
Show less