Eredar Twins Encounter Guide: Strategy, Abilities, Loot
The Eredar Twins are the fourth boss you will encounter in Sunwell Plateau on the Isle of Quel'Danas. This encounter will test your raid's reaction time and your ability to adapt to a less than conventional tanking job, but will reward you with unique loot geared toward both PvP and PvE. Check out our in-depth guide below to prepare as much as possible for your encounter with the Eredar Twins.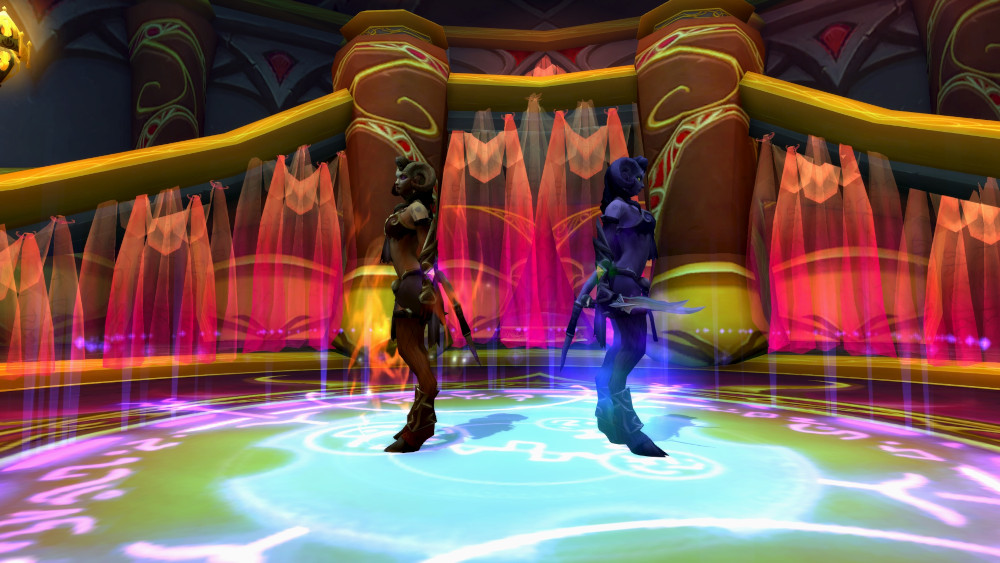 The Eredar Twins are the fourth boss fight you will encounter in the Sunwell Plateau raid instance. This encounter features two different bosses, Grand Warlock Alythess and Lady Sacrolash, both with unique abilities and independent health pools to burn through. This encounter will test your raid's ability to react quickly and a tank to handle Alythess being a bit of an untraditional boss. Check out the mechanics listed below so you will know how to properly handle these bosses.
2.
Role-Specific Tips for Eredar Twins
Range is the most difficult aspect of this boss for Healers. It is important to communicate and ensure that the person tanking Grand Warlock Alythess is aware of their range relative to the stack where the Healers and Ranged DPS will be located.
Ensure there is a clear and emphasized way to tell who is going to be hit with

Conflagration to avoid wiping the raid. If multiple people end up getting hit it will almost certainly be a wipe.
This fight can require two or three tanks depending on if you choose to use a Warlock to tank Grand Warlock Alythess. Tanks should position Lady Sacrolash in a way that they have easy access to the puddles of fire left over by

Blaze to clear their stacks of

Dark Touched.
3.
Eredar Twins Abilities
3.1.
Grand Warlock Alythess
4.
Strategy for Eredar Twins
This encounter can take advantage of using a Warlock to tank Grand Warlock Alythess but can also be done by a Protection Paladin. If your group decides to go the route where you use a Warlock ensure they are NOT specced into the talent

Nether Protection as it will cause Alythess to change targets. Any additional resistance is ignored by Alythess so it does not help, and the focus should be on raw health and any flat-percent damage mitigation.
The Eredar twins are both located standing on a circular platform below a set of stairs that overlooks the encounter area. All of your ranged DPS and Healers should remain on top of this ramp and stand on the lip where they can reach the bosses and members of the raid still while avoiding several mechanics as a result. The tank who is in charge of Grand Warlock Alythess should pull her a slight bit away from Lady Sacrolash toward the southern part of the room so they have clear space to place the patches on the ground from

Blaze, while keeping them in range for people to clear their

Dark Touched debuffs. The Melee DPS should stack behind Sacrolash initially and then behind Alythess after Sacrolash has been defeated.
The Eredar Twins is a single-phase encounter that gets considerably easier once the first of the two bosses is killed; the raid should focus on defeating Lady Sacrolash first. When in position the primary focus of the raid should be avoiding unnecessary damage caused by

Conflagration; if a player is targeted with Conflagration they need to get out of the group as quickly as possible. For ranged DPS/Healers, they should run away from the group on the ledge toward the entrance of the room, whereas Melee DPS should run away from the stack and anywhere on the lower platform where they are more than 10 yards away from other players while still in range of Healers.
The rest of this fight is very simple. Tanks holding Lady Sacrolash will need to taunt when the other tank is disoriented by

Confounding Blow, players should look to reset their

Dark Touched/

Flame Touched debuffs often by taking the opposite type of damage, and

Pyrogenics must be purged as quickly as possible by members of the raid to minimize damage on the Grand Warlock Alythess tank. The Tank holding Alythess should focus on getting out of the fire and positioning it well first and threat second as there is quite a while to build a healthy threat lead while the raid is burning down Sacrolash.
6.
Other Sunwell Plateau Guides
If you were looking for a full guide for the Sunwell Plateau raid, or would like to know what specializations the loot from Eredar Twins should be prioritized to, see the links below.