Felmyst Encounter Guide: Strategy, Abilities, Loot
Felmyst is the third boss you will encounter in Sunwell Plateau on the Isle of Quel'Danas. While Felmyst is a relatively simple boss it is important that all of her mechanics are handled properly, as one mistake can lead to not only you dying but possibly killing other members of your raid. Check out our in-depth guide below to prepare as much as possible for your encounter with Felmyst.
TABLE OF CONTENTS OF THIS PAGE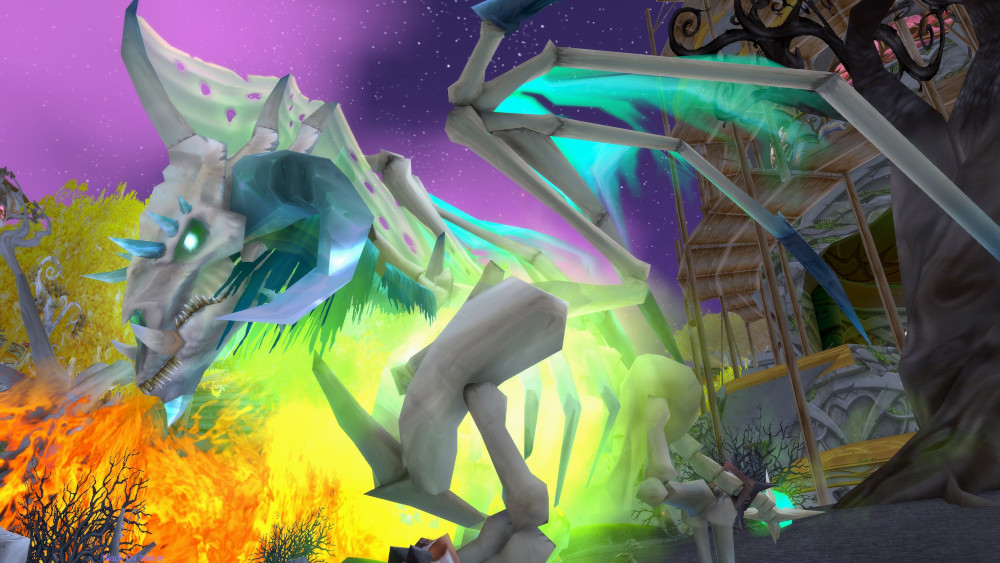 Felmyst is the third boss you will encounter in the Sunwell Plateau raid instance. Felmyst is a unique challenge that will test your Healers' reaction time and your raid's ability to adapt to changing circumstances. Two tanks make this boss considerably easier, though it can be done with one. Protection Paladins are able to trivialize the Unyielding Dead. Check out the mechanics listed below so you will know how to properly handle this boss.
2.
Role-Specific Tips for Felmyst
Have a clear way to see

Encapsulate and be ready to heal the person targeted with it as quickly as possible. Priests of all specs should be ready to cast

Mass Dispel when

Gas Nova is cast.
Prioritize proper positioning above personal DPS on this fight. While there is an enrage it is quite lenient and you can easily kill members of your raid if you mishandle

Encapsulate or

Demonic Vapor.
Be ready to utilize your abilities and consumables to establish snap AOE threat on the Unyielding Dead that will be spawning. Try to coordinate with other members of your raid where you would like the beam kited and where your Healers will be standing so you can have an easier time picking them up.
Demonic Vapor — Felmyst will choose a random player and chase them with a beam that must be kited. The beam deals a massive amount of Nature damage if it hits anyone and will also leave a trail that spawns Unyielding Dead. If any player steps into the trail left by the beam they will take massive Nature damage and spawn additional Unyielding Dead. Felmyst will cast Demonic Vapor twice, back to back.
Fog of Corruption — Felmyst will choose a section of the room, about 1/3rd of the space, and cover it in a green fog. Anyone caught inside of this fog will instantly become mind controlled and start attack the raid, dealing 300% additional damage while under the mind control.
Felmyst can remain almost exactly where it spawns, but should be faced toward the firewall in the back of the room to allow for the most space for your raid to spread and minimize the damage dealt by the other mechanics.
The majority of your time fighting Felmyst will be on the ground so the it is extremely important to have positions figured out going into the fight. Your Tank should be located in front of the boss with an even number of Healers and Ranged DPS on either side of Felmyst to take full advantage of the room to spread and minimize the damage done by mechanics like

Encapsulate. Melee DPS should be behind the boss as Felmyst has no tail swipe like many other dragons.
The focus on the ground should be to dispel

Gas Nova as quickly as possible so make sure your Priests of all specs are ready to

Mass Dispel and there is a Priest in range of every member of the raid. When someone is targeted with

Encapsulate, everyone near the Encapsulated player should move away as quickly as possible to minimize its damage and allow Healers to focus on both the player that is Encapsulated and the Tank.
The air phase of the boss is much more punishing so it is important to stay aware of what mechanics are happening and who they are happening to. The raid should avoid being in the middle of the room as Felmyst will target players with

Demonic Vapor and having it run through the middle of the room can lead to a lot of unnecessary damage, spawning of Unyielding Dead, and will complicate avoiding

Fog of Corruption. Felmyst will cast Demonic Vapor twice and then Fog of Corruption three times. The focus needs to be on avoiding these two mechanics and then DPSing down the Unyielding Dead.
Repeat these two phases until the boss dies and collect your loot!
6.
Other Sunwell Plateau Guides
If you were looking for a full guide for the Sunwell Plateau raid, or would like to know what specializations the loot from Felmyst should be prioritized to, see the links below.