Mokoko Seeds Guide for Lost Ark: Locations and Rewards
This page is intended to be used as the landing page for all of your Mokoko Seed needs. Below you'll find all the information regarding what Mokoko Seeds are, what they give you, and where to find them.
1.
What Are Mokoko Seeds?
Mokoko Seeds are a collectible in Lost Ark that gives your character rewards based upon how many you have found throughout your travels. As it stands, there are a total of 1,235 Mokoko Seeds for you to find. Most will be hidden in plain sight, but quite a few will require you to meet a certain demand to unlock them. Usually, this consists of playing a specific song to unlock a secret path, or waiting for an NPC to move to the right location so an action can be used to gain access to a ledge.
2.
How to Find and Collect Mokoko Seeds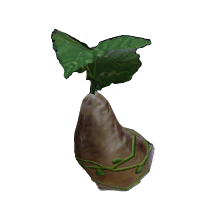 Mokoko Seeds can be identified on the ground by their yellow, bean-like shaped bodies. They are not very big, and they do tend to blend in with the scenery. When you are close to one, a prompt will appear for you to press the G key. This will start a loading bar that when finished will collect the Seed and change its appearance. It will now also appear on your map in the location you found it.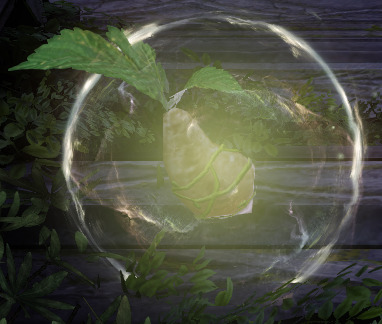 3.
Mokoko Interface and Rewards
By pressing the Alt-J key, you will bring up an interface that can be used to track all collectibles. For the purposes of this page, we will be focusing on the Mokoko Seed portion.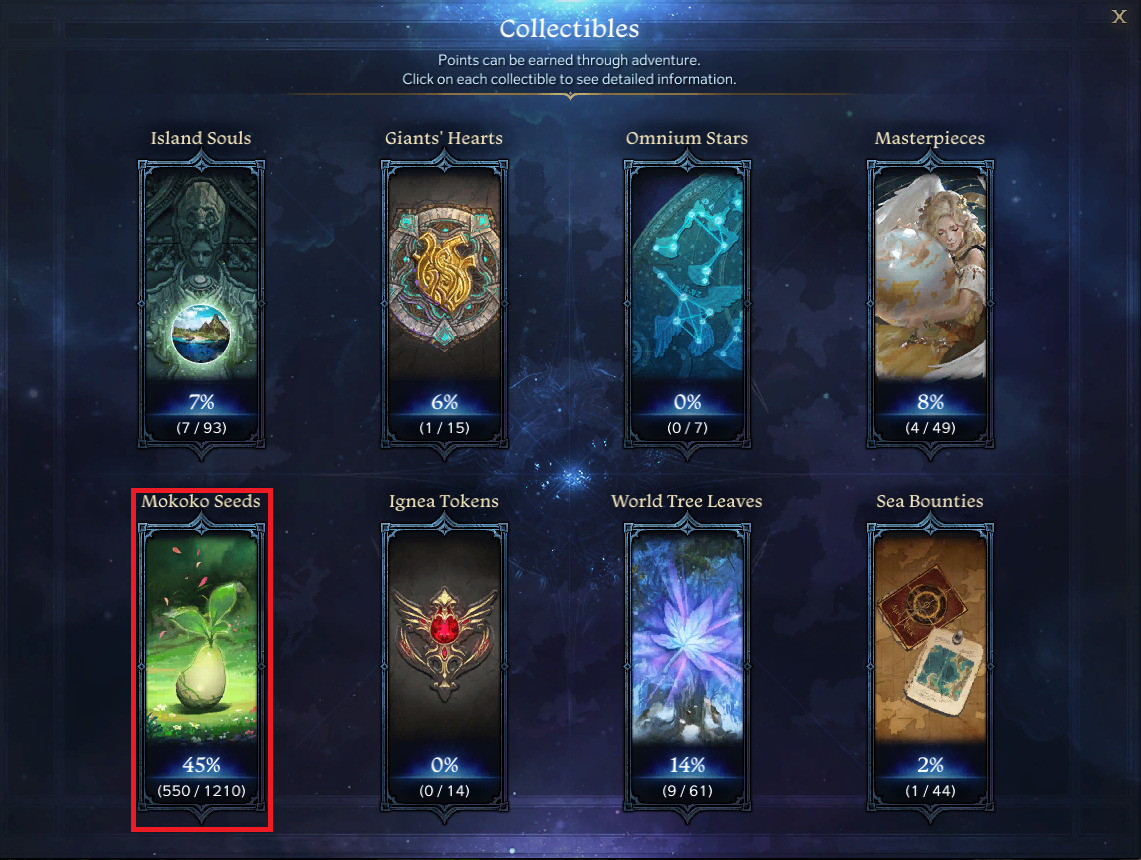 By clicking on the Mokoko tab, it will bring you to a map of Arkesia with the world segregated by area, whether that be continent or ocean. For areas where you have gotten 100% of the Mokoko Seeds, the icon on the area will change to gold.
You can view these segregated portions in even more detail by mousing over the specific spots on the map. This will show you exactly how many Mokoko Seeds you have gotten on each map or each island.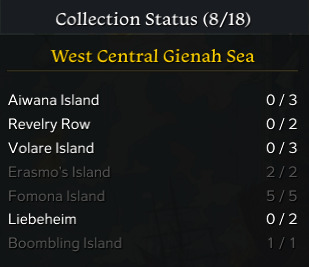 4.
Why Should I Collect Mokoko Seeds?
You may ask yourself what the point is to collect these things. Every collectible in the game has an NPC vendor that will grant you rewards based on how many of a specific item you have obtained. These rewards can range anywhere from crewmates for your ship to permanent stat boosts, to either your personality traits or even your combat main stat. Some of the rewards are just for fun, like the ability to change into a Mokoko Seed.
Unlike most other vendor rewards, there is only one place to obtain the Mokoko Seed rewards, and that is on the island of Tortoyk, where the Mokoko people live. Specifically, you will want to head to Mokoko Village and speak with Mokamoka, the head chief of the Mokoko.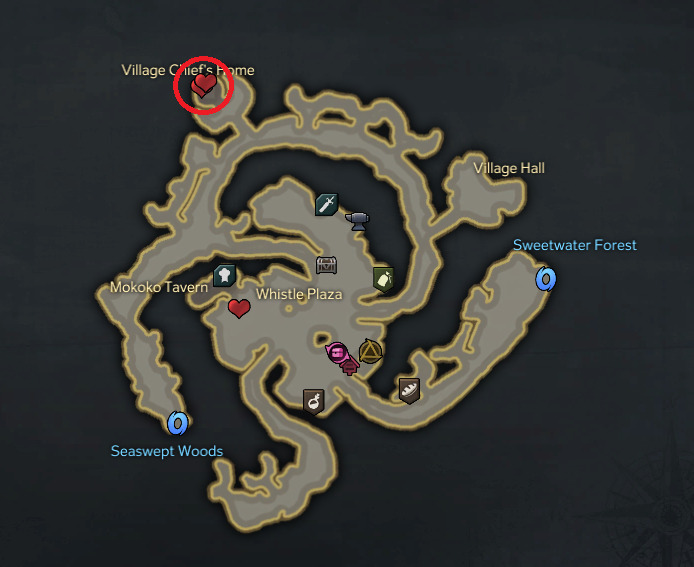 You can view the rewards from either this NPC or by clicking on the "View Rewards" button on the Mokoko Seed Map Interface.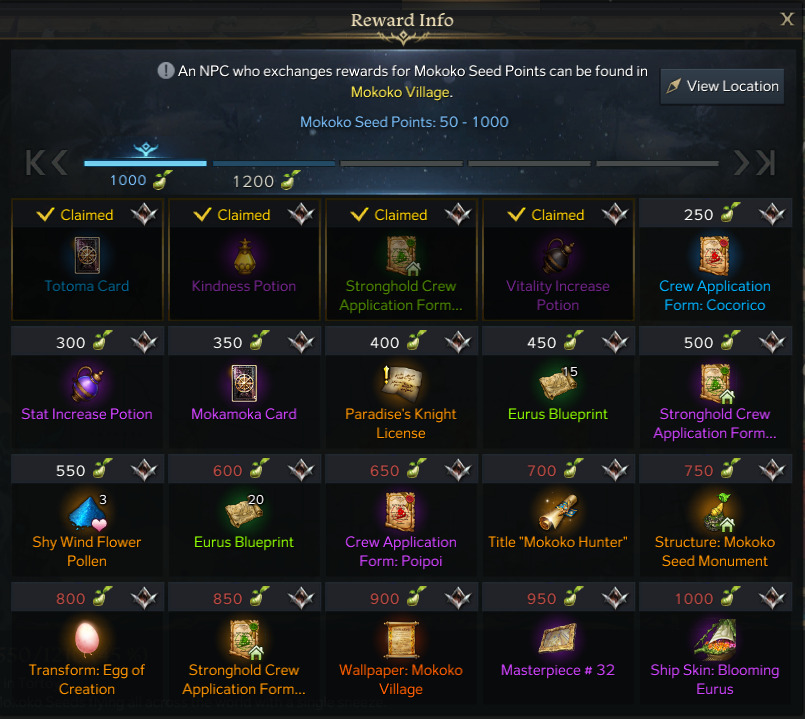 Totoma Card - 50 Mokoko Seeds
Kindness Potion - 100 Mokoko Seeds
Stronghold Crew Application Form: Chicachica - !50 Mokoko Seeds
Vitality Increase Potion - 200 Mokoko Seeds
Crew Application Form: Cororico - 250 Mokoko Seeds
Stat Increase Potion – 300 Mokoko Seeds
Mokamoka Card - 350 Mokoko Seeds
Paradise's Knight License - 400 Mokoko Seeds
15 Eurus Blueprint - 450 Mokoko Seeds
Stronghold Crew Application Form: Mukomuko - 500 Mokoko Seeds
3 Shy Wind Flower Pollen - 550 Mokoko Seeds
20 Eurus Blueprint - 600 Mokoko Seeds
Crew Application Form: Poipoi - 650 Mokoko Seeds
Title: Mokoko Hunter - 700 Mokoko Seeds
Structure: Mokoko Seed Monument - 750 Mokoko Seeds
Transform: Egg of Creation - 800 Mokoko Seeds
Stronghold Crew Application Form: Kind Paruru - 850 Mokoko Seeds
Background: Moki Toki - 900 Mokoko Seeds
Masterpiece #32 - 950 Mokoko Seeds
Ship Model: Blooming Caravel - 1000 Mokoko Seeds
Crew Application Form: Narinari - 1050 Mokoko Seeds
Title: Nice Smelling - 1100 Mokoko Seeds
Masterpiece #44 - 1150 Mokoko Seeds
Mokoko Charm - 1200 Mokoko Seeds
29 Mar. 2022: Page added.
Show more
Show less