Demonology Warlock DPS Rotation, Cooldowns, and Abilities (WoD 6.1.2)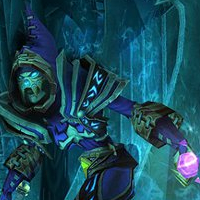 On this page, we list your Demonology Warlock core abilities and how they should be used together (rotation) in World of Warcraft WoD 6.1.2. We also explain when to use your various cooldowns. Then, we go deeper and present all the subtleties that you will need to know if you want to excel at playing a Demonology Warlock.
The other pages of our Demonology Warlock guide can be accessed from the table of contents on the right.
This guide has been reviewed and approved by two prominent Warlock theorycrafters: Gahddo, who maintains the Warlock profiles and rotations in Simulation Craft, and Zagam, our in-house Warlock theorycrafter.
1. Single Target Rotation↑top
Demonic Fury is your Demonology resource and managing it properly is very important. Demonic Fury is consumed when you enter
Metamorphosis, something that you should do every time you deal increased damage (
Dark Soul: Knowledge, trinket procs, boss takes increased damage, etc.). The rest of the time, you need to keep building up Demonic Fury for the next activation of Metamorphosis.
Spending Demonic Fury during
Metamorphosis and building it up outside Metamorphosis is done through two different rotations, which we present next.
For more information on your opening sequence, please refer to our dedicated section.
1.1. Building Up Demonic Fury for Metamorphosis
To build up Demonic Fury, use the following rotation.
If you feel your Demonic Fury generation is not high enough, you can use
Soul Fire on
Molten Core procs. This will increase your Demonic Fury generation and you will have less Molten Core procs to use during Metamorphosis, thus reducing your Demonic Fury consumption. In this case, casting Soul Fire has a higher priority than casting Shadow Bolt.
Hand of Gul'dan usage is modified by your Tier 17 4-piece set bonus. Read our Tier bonuses section for more information.
1.2. Spending Demonic Fury in Metamorphosis
Whenever you are going to deal increased damage for a given time window (
Dark Soul: Knowledge, trinket proc, boss mechanics, etc.), you should enter
Metamorphosis and keep it active until you no longer deal increased damage or until you consume all your Demonic Fury. You can also enter Metamorphosis to burn your excess Demonic Fury, if you get to close to capping it. Finally, if you use
Cataclysm as your Tier 7 talent, you should make sure it is off cooldown before entering Metamorphosis.
While in
Metamorphosis, use the following rotation.
When the target is below 25% health, you will be able to cast
Soul Fire on demand, thanks to
Decimation. In this case, spam
Soul Fire while in
Metamorphosis and cast
Touch of Chaos when you need to extend
Corruption. If your Demonic Fury generation feels too low to spam Soul Fire, you can cast Soul Fire from time to time and spam Touch of Chaos the rest of the time.
Always use a Felguard, your Demonology-specific demon. If you chose
Grimoire of Supremacy as your Tier 5 talent, then use a Wrathguard (the Felguard upgrade).
If
Demonic Servitude is your Tier 7 talent, then use the Doomguard for all situations where you fight less than 9 enemies and the Infernal for more enemies. The only exception is when you use
Grimoire of Service as your Tier 5 talent, because you use this talent for AoE burst damage and the Felguard is better at that than the Infernal.
Remember to turn off your Felguard's
Threatening Presence.
3. Multiple Target Rotation↑top
Against 2 or 3 enemies, stick to your normal rotation and keep
Corruption and
Doom up on all targets. Additionally, use
Command Demon to make your Felguard cast
Felstorm.
Against 3 and 4 enemies, start activating
Immolation Aura during Metamorphosis. See next paragraph's note about
Mannoroth's Fury.
Against 5 or more enemies, start spamming
Hellfire instead of
Shadow Bolt, and use
Soul Fire if you are about to reach 10 stacks of
Molten Core. Note that if
Mannoroth's Fury is active, you need to start spamming
Hellfire instead of
Shadow Bolt as soon as you fight 3 enemies.
Against 8 or more enemies, stop using
Soul Fire.
Chaos Wave is only a DPS gain during Dark Soul and when fighting 2 enemies or more. Chaos Wave is also useful for quickly burning down adds. While Chaos Wave has a 100% chance to proc
Molten Core, you will not use
Soul Fire for AoE damage, so the procs will mostly be wasted. Also, using Chaos Wave will deplete your Demonic Fury too rapidly, so you will generally prefer using
Hand of Gul'dan, which does more damage and generates Demonic Fury. See our Hand of Guldan section for more information.
3.1. Typical Dark Soul Usage with 2+ Targets
After using
Dark Soul: Knowledge in a situation with 2 or more targets, do the following:
use your cooldowns and potions;
enter Metamorphosis;
activate Immolation Aura;
cast Cataclysm;
cast Chaos Wave twice (three times with the Tier 17 4-piece bonus);
consume your procs of Molten Core with Soul Fire;
cast Touch of Chaos.
4. Cooldowns↑top
Dark Soul: Knowledge is your main DPS cooldown. It increases the effects of
Mastery: Master Demonologist by an additional 30% for 20 seconds. Use it on cooldown and always use it when you have enough Demonic Fury to stay in demon form for as much of the 20 seconds as possible. Ideally, you should make it so that you are near full Demonic Fury when Dark Soul comes off cooldown. To do so, you can simply not burn all your Demonic Fury in the preceding Metamorphosis phase.
Imp Swarm is granted by
Glyph of Imp Swarm and offers a nice DPS burst (more on that in the Imp Swarm section). Always use Imp Swarm together with
Dark Soul: Knowledge. The Imps will grant you Demonic Fury that will enable you to stay longer in
Metamorphosis while Dark Soul is active, increasing your DPS as a result. There are a few subtleties regarding Imp Swarm and we advise you to read our Imp Swarm section to find out more.
Summon Doomguard and
Summon Infernal share a cooldown. As such, you will have to decide which of the two you will use. These two abilities are on a 10-minute cooldown, so you will realistically only use them once per fight.
Summon Doomguard is better when fighting 8 enemies or less, while
Summon Infernal is better when fighting 9 enemies or more.
If you choose
Grimoire of Supremacy, as a Tier 5 talent, then Summon Doomguard becomes
Summon Terrorguard and Summon Infernal becomes
Summon Abyssal.
In addition, a number of defensive cooldowns are available to you to compensate for your frequent use of
Life Tap, which is mandatory for Mana management. We detail these cooldowns in a Mana management section.
Finally, your talents give you a number of offensive cooldowns, which we detail in a talent cooldowns section
5. Optional Read: Mastering Your Demonology Warlock↑top
While the priorities we list above will prove sufficient for you to do excellent DPS, there are various other things you should know about playing a Demonology Warlock.
5.1. Metamorphosis and Demonic Fury
Demonic Fury is your Demonology Warlock resource. It will greatly influence your play style as you will build Demonic Fury with your damaging abilities before using
Metamorphosis to gain access to abilities that will consume your Demonic Fury.
Your bar of Demonic Fury has a maximum capacity of 1000. Out of combat, you will rapidly regenerate up to 200 Demonic Fury. Additional Demonic Fury must be generated during combat by using your abilities (all your offensive abilities generate Demonic Fury). In demon form, Demonic Fury decays at a fixed rate of 6 Demonic Fury per second. In addition, many of your abilities are transformed into Demonic Fury-consuming abilities.
When your amount of Demonic Fury reaches below 40, your demon form will automatically be removed. Independently of your amount of Demonic Fury, you can cancel your demon form at any time by using Metamorphosis again.
Metamorphosis transforms some of your abilities. Hover over the links to see how much Demonic Fury each ability generates/consumes.
In addition, you can use
Demonic Leap to enter
Metamorphosis. After transforming you into a demon, it will make you leap forward 15 yards.
5.2. Refreshing Your DoTs
As a Demonology Warlock, between 15% and 20% of your damage comes from your 2 DoTs (
Corruption and
Doom). You must strive to maintain 100% uptime on all of them, which is not difficult. Corruption automatically gets refreshed by
Touch of Chaos. Also, you enter
Metamorphosis often enough to refresh
Doom in time. That said, there are a few general statements we wish to make about refreshing DoTs.
When you refresh a DoT, the remaining duration is added to the new duration, up to 30% of the base duration. So, if a DoT has a base duration of 24 seconds and you refresh it when there are 5 seconds remaining, the new duration will be 29 seconds.
DoTs automatically scale with your statistics, so there is no need to cast them while you benefit from trinket procs or other damage-increasing effects. In other words, snapshotting is gone, so do not bother taking it into account anymore.
5.3. Demons
By default, you can summon one of five demons to help you fight your foes. Except for the Voidwalker, they are all viable for raiding.
You also have two demons that you can use as DPS cooldowns: a Doomguard (
Summon Doomguard) for single-target damage or an Infernal (
Summon Infernal) for AoE damage.
Finally, you have the
Command Demon ability, which, if put on your action bar, will change with the demon you are using:
5.3.1. Grimoire of Supremacy
Grimoire of Supremacy is a Tier 5 talent that improves your demons and gives them better abilities.
The Wrathguard remains the demon with the highest DPS.
Your demon DPS cooldowns are replaced with more powerful versions: a Terrorguard (
Summon Terrorguard) for single-target damage or an Abyssal (
Summon Abyssal) for AoE damage. When using the Terrorguard, it is advised to turn off its
Cripple ability off, as leaving it on is a DPS loss.
Finally,
Command Demon gives you the following abilities:
5.3.2. Demonic Servitude
If you choose
Demonic Servitude as your Tier 7 talent, then Doomguard and Infernal (Terrorguard and Abyssal with
Grimoire of Supremacy) become regular demons that you can summon and dismiss at will. They also gain new abilities that you can control.
Doomguard has
Doom Bolt,
Shadow Lock (a 6-second silence), and
Cripple (a 30-second slow that is channeled). Terrorguard replaces Cripple with
Debilitate (a 30-second root that is channeled). Both versions of the demon cast Shadow Lock with
Command Demon.
Infernal has
Meteor Strike (AoE damage),
Burning Presence (passive tank buff),
Seethe (taunt), and
Torch Magic (purges 1 beneficial effect from 1 enemy or 1 harmful effect from 1 ally). Abyssal replaces Torch Magic with
Blaze Magic, which does the same thing, but on more targets. The
Command Demon for Infernal and Abyssal is Meteor Strike, which is also the ability you get when sacrificing them with
Grimoire of Sacrifice.
The Infernal / Abyssal is a particularly good choice for solo content, thanks to the tanking abilities it receives from
Demonic Servitude.
5.4. Hand of Gul'dan
Your
Hand of Gul'dan spell has a system of 2 charges. When you use the spell, you consume a charge, which will regenerate automatically after 15 seconds. When you are out of charges, you cannot cast
Hand of Gul'dan.
The implication of this system is that you cannot maintain of 100% uptime on the short DoT that Hand of Gul'dan applies on your target. The best you can do is a 40% uptime, and this is what you should be aiming for.
5.4.1. How to Get the Best out of Hand of Guldan
The DoT that
Hand of Gul'dan leaves on your target stacks, but it would be a waste to double-cast Hand of Guldan with 2 charges just to apply the DoT with 2 stacks. What you want to do is to always apply Hand of Guldan when you have 2 charges or one charge, with the second charge becoming available within 4 seconds. This way, when the first Hand of Guldan is about to expire from your target, you can cast it again. It will refresh the DoT on the target, but the new DoT will have 2 stacks and the duration that remain on your first DoT will be added.
Since
Hand of Gul'dan travels quite slowly, you should do the second cast about 3 seconds before the DoT expires.
To sum it up:
cast Hand of Gul'dan;
continue your rotation for 4 seconds;
cast Hand of Gul'dan again.
5.5. Molten Core
Molten Core is the only proc that you should have to watch out for. It has a chance to proc when you deal damage with
Hand of Gul'dan (DoT component) and
Wild Imps, an imp that is summoned (not more often than every 20 seconds) when you deal damage with
Shadow Bolt,
Soul Fire, and
Touch of Chaos.
Chaos Wave damage always trigger Molten Core.
Molten Core stacks up to 10 stacks, which means that if you trigger it again before using it, you will not lose the proc.
Note that the imps from
Imp Swarm will grant you a number of
Molten Core stacks when you use this ability. This gives you a lot of
Soul Fire burst damage, so take this into account when using Imp Swarm.
Finally, your
Shadow Bolt and
Soul Fire spells have a 100% chance to grant you a stack of
Molten Core when the target is below 25% health. This means that you can spam
Soul Fire when the target is below 25% health. This creates Mana problems and you need to
Life Tap often in order to sustain your Soul Fire casts.
5.5.1. More on Imp Swarm
Without
Glyph of Imp Swarm, you generate an average of 6 Imps every 2 minutes.
With
Glyph of Imp Swarm, you generate an average of 4 Imps every 2 minutes while
Imp Swarm is not on cooldown. When you use Imp Swarm, you get 4 Imps, on a 2-minute cooldown.
Glyph of Imp Swarm is not a DPS gain over the entire duration of a fight, but it can help when burst damage is required. In order to get the best out of this glyph, you need to use
Imp Swarm together with
Dark Soul: Knowledge. This way, the Demonic Fury you get from the Imps will enable you to stay longer in
Metamorphosis while you deal increased damage (due to Dark Soul being up).
The cooldown of
Imp Swarm is reduced based upon your haste at the time of casting. This means that, if you cast it when you benefit from
Bloodlust,
Heroism,
Time Warp,
Berserking, etc., the cooldown of Imp Swarm will be significantly shorter. So, do not hesitate to wait a bit for one of these buffs before casting Imp Swarm.
When the cooldown on
Imp Swarm is significantly less than 2 minutes because of a haste buff, you have to delay casting it again until
Dark Soul: Knowledge comes off cooldown. This delay is a slight theoretical DPS loss, but it is more than compensated by the benefits you get from using Imp Swarm and Dark Soul at the same time. Also, while you wait, the off cooldown effect of the glyph can proc a few Imps on its own.
5.6. Advanced Demonbolt Usage
The value of
Demonbolt is measured by its damage/cost efficiency. This efficiency decreases with every additional stack of the debuff it applies on you, because the cost of the spell increases by 100% with every new stack, but its damage only increases by 20%.
After 4 stacks of the debuff,
Demonbolt becomes less efficient than
Touch of Chaos. As a result, you need to stop casting Demonbolt when you reach 4 stacks. Before casting it again, you need to wait for the debuff to drop. Given the 40-second duration of the debuff, this means that you will cast Demonbolt only 4 times per
Metamorphosis.
Even if you can only cast
Demonbolt 4 times per
Metamorphosis, this is enough to deplete most of your Demonic Fury, so you will always spend the vast majority of your Demonic Fury on Demonbolt and
Doom.
Touch of Chaos and
Soul Fire are only used in the case where your Demonbolt debuff has not dropped yet and you are going to cap Demonic Fury. This is why
Molten Core procs should be consumed outside of Metamorphosis when Demonbolt is talented.
Even though
Demonbolt is very important when you choose it as your Tier 7 talent, the top priority during
Metamorphosis remains for you to optimally apply and refresh
Doom. So, the ideal scenario for
Demonbolt is to enter
Metamorphosis every 45 to 50 seconds (accounting for the time it takes to reach 4 stacks of Demonbolt and the time it then takes for these stacks to drop) and spend as much Demonic Fury on it as possible (up to a maximum of 4 casts). When you enter Metamorphosis, refresh Doom as you see fit, either after entering Metamorphis or before leaving it.
5.6.1. Archimonde's Darkness and Dark Soul
The 45 to 50 second interval between each volley of
Demonbolt casts does not work well with
Dark Soul: Knowledge, which you want to activate before casting your Demonbolts, but has a 2-minute cooldown. This is alleviated by both
Glyph of Dark Soul and
Archimonde's Darkness, which is your default Tier 6 talent. Glyph of Dark Soul allows you to cast Dark Soul more often, allowing you to more easily have it up before Demonbolt, while Archimonde's Darkness' charge system makes it easier to delay Dark Soul, which is what you should be doing.
To sum things up, you should always be using
Glyph of Dark Soul when you choose
Demonbolt as your Tier 7 talent.
If Archimonde's Darkness is your Tier 6 talent, you should enter Metamorphosis for Demonbolt as soon as the stacks of the Demonbolt debuff drop. Dark Soul will be available most of the times.
If Archimonde's Darkness is not your Tier 6 talent, then you should enter Metamorphosis for Demonbolt every minute, so that Dark Soul is available.
5.6.2. Burst Damage Considerations
Demonbolt allows Demonology Warlocks to adapt to burst phases more easily. Let us take the example where an extremely high priority add spawns and you are already at 2 stacks of Demonbolt. In this case, you can keep casting Demonbolt past the optimal 4 stacks point. This is better for maximum short-term DPS on the add, but it comes at the price of overall DPS.
5.7. Opening Sequence
precast Soul Fire (i.e., before entering combat);
cast Hand of Gul'dan (right when the boss is pulled);
apply Corruption;
cast Imp Swarm (active Berserking before, if you are a Troll);
cast Hand of Gul'dan;
activate Metamorphosis and use all your cooldowns;
cast Doom;
cast Touch of Chaos;
continue with your regular rotation.
5.8. Mana Management
Life Tap is your main source of Mana regeneration. You will need to use it roughly every 30 to 40 seconds. This ability costs health to use and for this reason, you are given a number of defensive abilities.
You have a total of 6 defensive cooldowns/abilities, 3 of which are granted by talents. You have to make use of them wisely to preserve your health and prevent your casts of Life Tap from giving more work to your healers.
5.9. More on Offensive Cooldowns
In addition to your
Dark Soul: Knowledge,
Summon Doomguard, and
Summon Infernal, you have other offensive cooldowns, the majority of which will depend on your choice of talents. We present them in this section, but first, a we need to say more about your Doomguard and your Infernal.
5.9.1. Doomguard and Infernal
For most situations, summoning a Doomguard is your best choice. In case you are faced with a large number of enemies that you wish to use extra burst on, you should use
Summon Infernal.
Summon Doomguard/
Summon Infernal will summon a Doomguard/Infernal to fight by your side for 60 seconds. The ability has a 10 minute cooldown, meaning that it will realistically only be usable once per fight. Your Doomguard/Infernal's damage will scale dynamically with your own Spell Power and Critical Strike, so any change in your stats after your Doomguard/Infernal has been summoned will affect him.
Ideally, you need to use your Doomguard/Infernal at the pull or when your raid uses
Bloodlust/
Heroism/
Time Warp.
Everything we said in this section is still valid for
Summon Terrorguard and
Summon Abyssal, if you choose
Grimoire of Supremacy as your tier 5 talent.
5.9.2. Offensive Talent Cooldowns
Grimoire of Service is a Tier 5 talent that enables you to summon an additional demon to fight for you for 20 seconds. The demon you summon matters very little for your DPS, so make your choice based on the special ability that each demon casts when summoned. Grimoire of Service should be used on cooldown and preferably when you have a trinket/weapon enchant proc or when you deal increased damage on the boss, as your demon benefits from a number of your stats.
Mannoroth's Fury is a Tier 6 talent that enables you to greatly increase the damage and area of your AoE spells. Use it whenever you need to do heavy AoE damage. It has a 1-minute cooldown, which lets you use it many times a fight.
5.10. Tier 17 Bonuses
The 2-piece bonus spawns a demon pet that casts Soul Fire at your target. It has a 45-second internal cooldown and does not modify your rotation in any way.
The 4-piece bonus gives you an extra charge of
Hand of Gul'dan, which allows you to do the following:
cast Hand of Gul'dan;
continue your rotation for 4 seconds;
cast Hand of Gul'dan again;
continue your rotation for 4 seconds;
cast Hand of Gul'dan again.
This drastically increases the uptime of the Hand of Gul'dan DoT with 2 stacks on your target.
6. Changelog↑top
08 Apr. 2015: Added explanations on the synergy between Dark Bargain and Unending Resolve. Added tips in the demon section.
24 Feb. 2015: Patch 6.1 update. Added information on Chaos Wave using in 2+ target situations.
30 Nov. 2014: Cleared up some confusing remarks about Glyph of Imp Swarm.
18 Nov. 2014: Updated rotation for Level 100 and added explanations regarding Demonbolt and Tier 17 set bonuses.
Latest Warlock Topics
Raid Advice