Croconys Seashore Mokoko Seeds Locations in Lost Ark
This page provides the locations for all Mokoko Seeds in Lost Ark's Croconys Seashore.
TABLE OF CONTENTS OF THIS PAGE
1.
Croconys Seashore Mokoko Seed Locations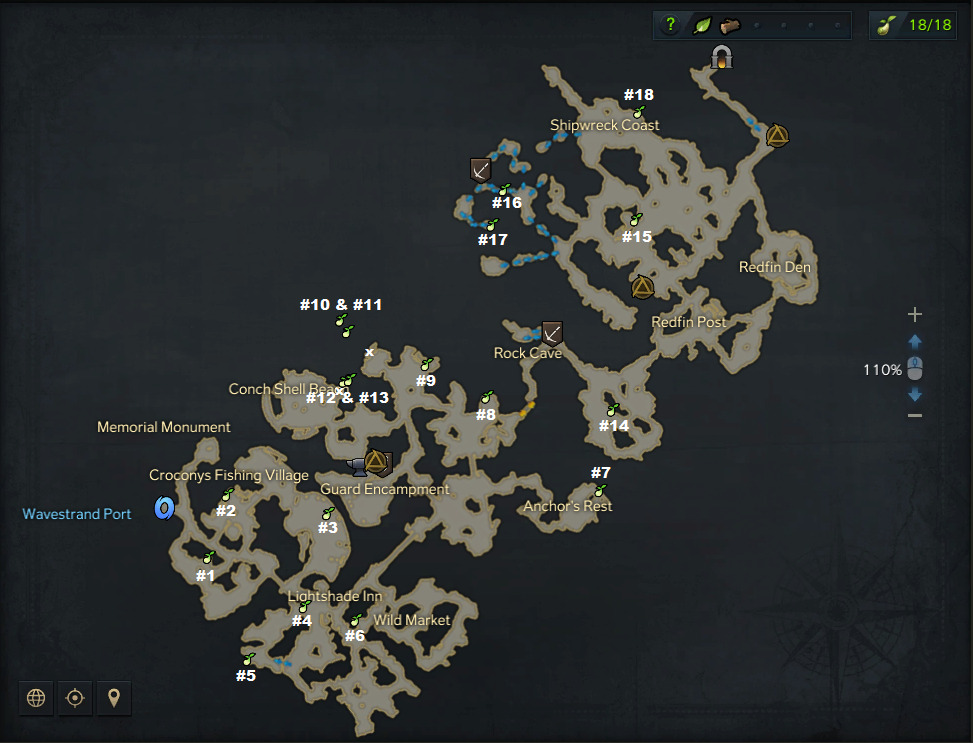 Mokoko Seed #1 is located near some barrels and a palm tree.
Mokoko Seed #2 is located on the fishing dock, near the water wheel.
Mokoko Seed #3 is in the middle of the beach under a grass patch.
The fourth Seed is located betwixt a grouping of palm trees.
Mokoko Seed #5 is obscured from vision by a large tree.
Mokoko Seed #6 is near some barrels of fish.
Mokoko Seed #7 can be found in plain site against a rock wall.
Mokoko Seed #8 can be found under vegetation near a mossy rock wall.
Mokoko Seed #9 is on a wooden balcony.
Mokoko Seeds #10 and #11 are behind a strong barricade. It will break... eventually.
#12 and #13 can be claimed by climbing up a vine wall.
Mokoko Seed #14 can be located under a giant tree.
Mokoko Seed #15 is at the top of a large wooden structure, hidden by ivy.
You will find the 16th Mokoko Seed near the water's edge, obscured from vision by ivy.
The seventeenth Mokoko Seed is next to a treasure chest on a small island.
The last (finally) Mokoko Seed is located at the edge of the beach near a dilapidated boat.
1.1.
East Luterra Open World Mokoko Maps
1.2.
East Luterra Dungeon Mokoko Maps
1.3.
Mokoko Seed Locations
29 Mar. 2022: Guide added.
Show more
Show less