WoW Classic Holy Priest Leveling Talent Build from 1 to 60
1.
Level by Level Rotation, Talents, and Trainer Skills
Move the slider below to make the guide update to your level!
2.
Leveling Talent Tree & Build
Your first talent unlocks at Level 10.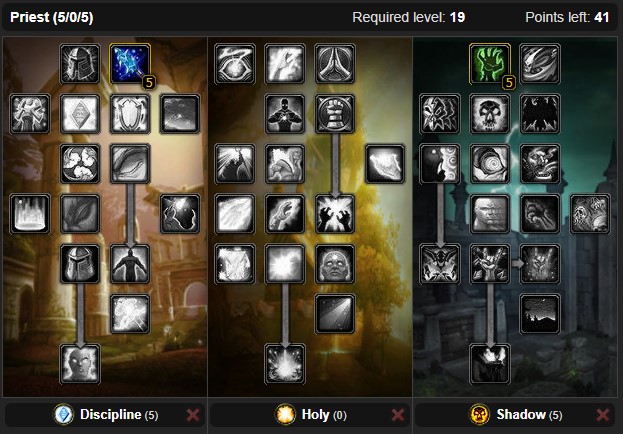 Holy Priest Talents Level 10 to 19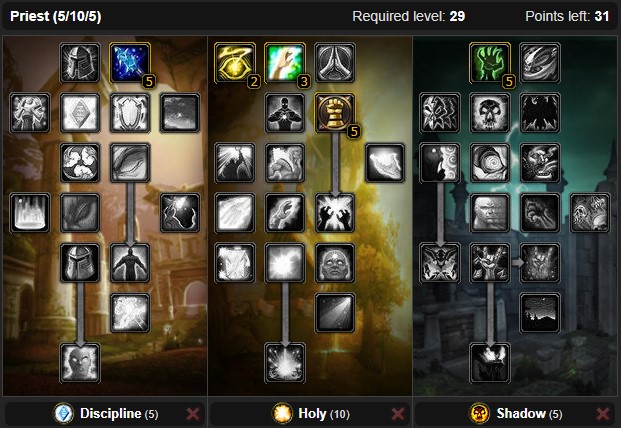 Holy Priest Talents Level 20 to 29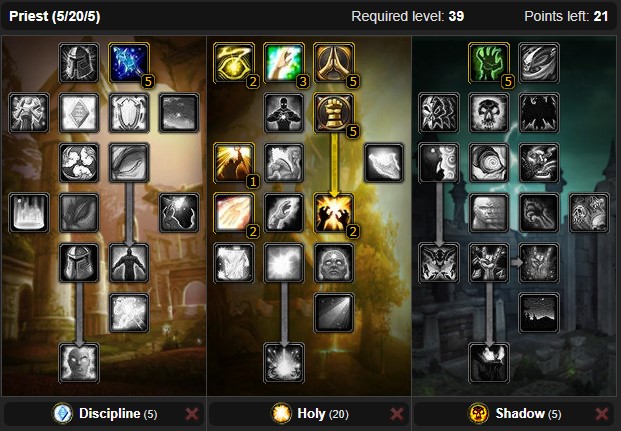 Holy Priest Talents Level 30 to 39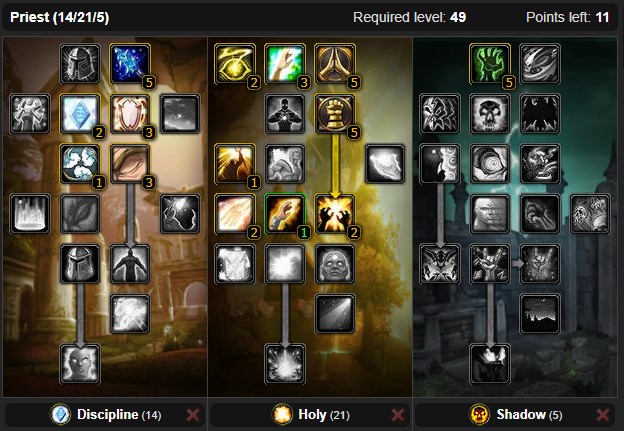 Holy Priest Talents Level 40 to 49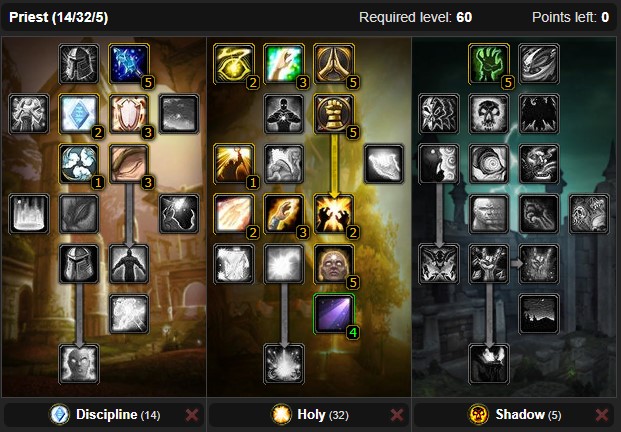 Holy Priest Talents Level 50 to 60
Levels 10 to 14 — 5 points in Wand Specialization
Levels 15 to 19 — 5 points in Spirit Tap
The first 10 points spent in your talent tree are the most important for leveling as any spec and are used all the way to 60.

Spirit Tap provides excellent Mana regeneration while casting, allowing you to continue pulling the next enemy and reducing your downtime.

Wand Specialization buffs your wand damage, which is used for every enemy you are killing. As Holy, you can use your wand to pick off weak enemies in dungeons as well to gain the Spirit Tap bonus for additional Mana regeneration.
Levels 20 & 21 — 2 points in Healing Focus
Levels 22 to 25 — 3 points in Improved Renew
Levels 26 to 29 — 5 points in Divine Fury
Especially early on with tanks not having AoE threat abilities you can often end up with enemies attacking you just due to threat generated from healing.

Healing Focus helps you continue to do your job even while things are attacking you.

Improved Renew buffs Renew which you will be using regularly both in dungeons and to top yourself up while on the go when questing. Finally

Divine Fury not only reduces the cast time of your common healing spells, but also of

Smite for dealing damage while questing.

Holy Nova is not used as a primary damage or healing spell, and is most useful when questing on heavily contested servers to quickly tag enemies before other players.

Searing Light and

Holy Reach give

Smite and

Holy Fire some added damage capability to assist with solo questing.
Dungeons and Healing not your thing? If you find by Level 40 that dungeon healing just is not doing it for you, and you spend most of your time questing solo, consider respeccing to Shadow now for the significant increase your damage dealt. If you are happy with your mix of dungeon healing and some solo questing, continue as you are!
The first two talents

Improved Power Word: Shield and

Improved Power Word: Fortitude both increase the effective health of your allies.

Meditation is a great regeneration talent, and

Inner Focus is also used to save Mana by using it on an expensive heal. Next up start filling out

Improved Healing for the bonus healing.
Advanced usage of

Inner Focus: After not spending Mana for 5 seconds, your character resumes regenerating Mana at full speed, known as the 5-Second-Rule (5SR). Because spells cast using Inner Focus do not cost Mana, that spell cast does not reset the 5SR which can help you regenerate even more Mana before having to cast a spell costing Mana. Typically you will use Inner Focus on

Greater Heal or

Prayer of Healing for maximum benefit.
Levels 50 to 54 — 5 points in Spiritual Guidance
Levels 55 & 56 — 2 points in Improved Healing
Levels 57 to 60 — 4 points in Spiritual Healing

Spiritual Guidance,

Improved Healing and

Spiritual Healing are your final talents that improve the raw healing of your spells.

Spiritual Healing in particular is based off of the spirit you have on your gear, keep this in mind when choosing gear upgrades.
These talents are great if you are mostly soloing and went Holy for added dungeon healing capability. If you are leveling in a group all the way to 60, you might want to play with a pure healing spec instead, such as the ones we list in our Healing Priest Talents page. If you do decide to head down this path, it is still suggested you sacrifice 5 points in

Spiritual Healing and take 5/5

Spirit Tap, and swap 5/5

Unbreakable Will for

Wand Specialization as they are valuable all throughout your leveling journey.
3.
Leveling Rotation (DPS)
Ensure you have Power Word: Fortitude active on yourself before pulling.
Ensure you have Inner Fire active on yourself before pulling.
Cast Power Word: Shield on yourself before pulling.
Cast Holy Fire, ideally with the enemy as far away from you as possible.
Cast Smite as the enemy is running towards you.
Cast Mind Blast
Cast Shadow Word: Pain.
Cast Smite until you go below 25% mana or Improved Power Word: Shield drops off.
Finish the enemy with your melee weapon.
Wand off the remaining health on the enemy while your Shadow Word: Pain keeps ticking.
When played correctly, you should hardly ever have any downtime as a Priest. Playing correctly mostly means finding the right balance between how much Mana and time to spend on your skills, versus using your wand. Most of the time, after your initial casts you just have to apply

Shadow Word: Pain then finish them off with your wand. Your Mana will have started to regenerate again already by the time you are close to killing the mob, and then when it dies,

Spirit Tap will provide you with Mana and health sustain to keep going. That is the ideal order of events, though there will always be different scenarios that you will have to learn to adapt to.
4.
Leveling Rotation (Healing)
At Level 14, you get access to

Cure Disease (and at Level 32 the upgraded version

Abolish Disease) which can be used to remove Disease debuffs from your allies. At Level 18, you can learn

Dispel Magic allowing you to remove Magic debuffs from your allies. While you do not need to remove every disease and magical debuff, there are many that are beneficial to be removed as your Mana allows.
**Note: You should not pre-cast Renew at the start of combat to try and maintain as much time regenerating mana as possible. For example when you need to cast

Heal on the tank, follow up immediately with

Renew and then go back to wanding until more healing is required.
5.
List of Trainer Skills to Buy
The below suggestions focus on the skills that are most important to your leveling, but even still, this is by no means the only way to go about it, since it will vary on how much gold you actually acquire throughout the leveling process. The most important thing (and this can impact your skill buying decisions) is to make sure you have enough gold to buy your first mount as soon as you hit Level 40.
If you want to save a bit of additional gold, once you learn

Holy Fire you can stop learning

Mind Blast and remove it from your rotation. If you plan on AoE farming for gold at level 60 be sure to purchase additional ranks of

Holy Nova.
6.
Holy Priest Quests and Weapons
While leveling, you will need to keep open for opportunities to upgrade your wand as it is a significant part of the damage you deal. You will also need to complete various class quests to unlock priest specific racial abilities.
7.
How to keep evolving your Holy Priest at Level 60
Once you hit maximum level, we suggest you to read the Healer Priest Guide, which covers all there is to know about healing on your Priest at level 60.
Some of the most relevant pages to skim over are as follows.
14 Sep. 2020: Corrected an error with Lesser Heal not being available until level 4.
26 Sep. 2019: Page added.
Show more
Show less
Classic Profession Guides