WoW Classic Shadow Priest Leveling Talent Build from 1 to 60
TABLE OF CONTENTS OF THIS PAGE
1.
Level by Level Rotation, Talents, and Trainer Skills
Move the slider below to make the guide update to your level!
2.
Leveling Talent Tree & Build
Your first talent unlocks at Level 10.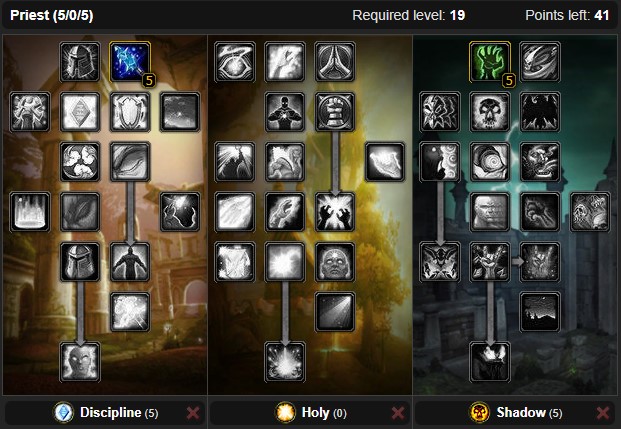 Shadow Priest Talents Level 10 to 19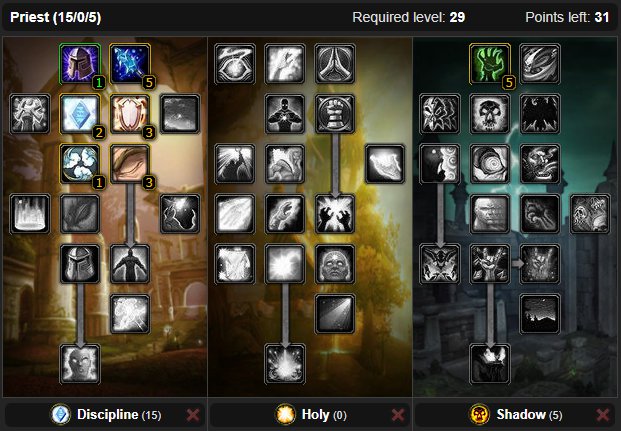 Shadow Priest Talents Level 20 to 29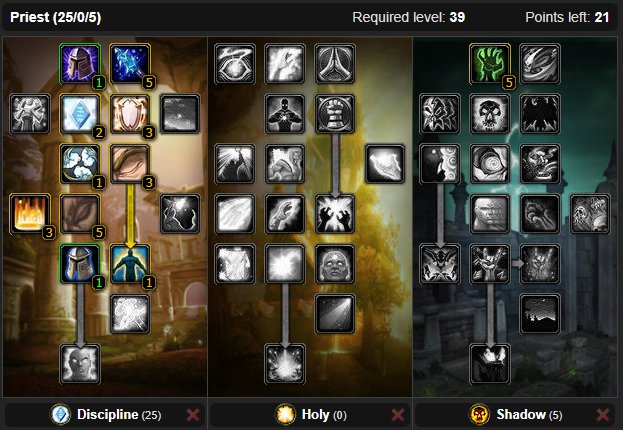 Shadow Priest Talents Level 30 to 39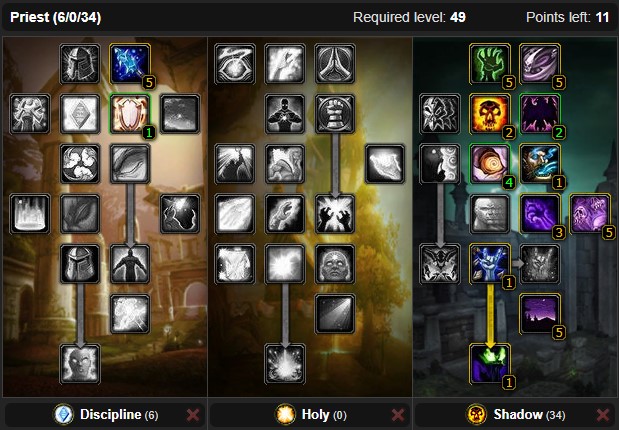 Shadow Priest Talents Level 40 to 49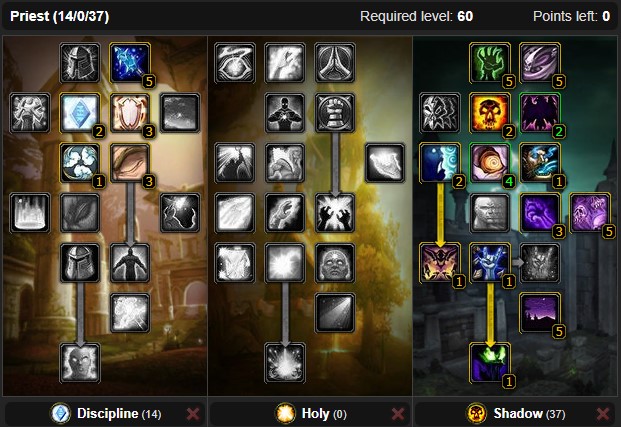 Shadow Priest Talents Level 50 to 60
Levels 10 to 14 — 5 points in Wand Specialization
Levels 15 to 19 — 5 points in Spirit Tap

Spirit Tap and

Wand Specialization are the two most important Priest talents until Level 40. Spirit Tap allows you to continue pulling as your regeneration skyrockets during its effect, which will almost always be up when you are killing enemies thanks to its generous 15-second duration. Wand Specialization improves your Wand damage by a lot, and Wanding will be a huge part of your damage early on.

Improved Power Word: Shield and

Improved Power Word: Fortitude increase your survivability which in turn reduce the amount of time or Mana you need to spend healing yourself.

Inner Focus should be used whenever it is up, and is best used on

Mind Blast to save the most Mana and grant the most damage from the critical effect.

Improved Inner Fire increases your survivability which in turn reduces the amount of time or Mana you need to spend healing yourself.

Mental Agility,

Divine Spirit and

Mental Strength all help sustain your Mana pool leaving you with less downtime.
You should respec to pick up

Shadowform once you hit Level 40, and then afterwards going into the Discipline tree again for

Wand Specialization. Here is how you should use your points until Level 40.

Shadowform along with the other Shadow talents improve your damage output and also provide you with some survivability to help with downtime.

Mind Flay now becomes the spell you damage down enemies with, only stopping to wand when Mana begins to get low.

Vampiric Embrace can provide excellent self healing which is particularly useful for high level or elite mobs you encounter while levelling.
Even though you have shadow talents you can continue to heal dungeons as you still have access to most of the healing spells. If you continue to heal dungeons past Level 55-58 you may want to consider changing to the end-game healing talents discussed on the PvE Talent Builds page.
Picking up

Wand Specialization first improves your wand damage, which is your go-to on low Mana.

Unbreakable Will can be taken instead of

Wand Specialization and can be especially useful if you are leveling on a PvP realm.

Inner Focus is back again, and remains a great tool for using in conjunction with

Mind Blast. The familiar survivability talents from our earlier leveling also make a return. Finishing up the Shadow tree is access to

Silence, which is a great utility spell in both PvE and PvP.
3.
Leveling Rotation (DPS)
Ensure you have Power Word: Fortitude active on yourself before pulling.
Ensure you have Inner Fire active on yourself before pulling.
Cast Power Word: Shield on yourself before pulling.
Cast Holy Fire, ideally with the enemy as far away from you as possible.
Cast Smite as the enemy is running towards you.
Cast Mind Blast
Cast Shadow Word: Pain.
Cast Smite until you go below 25% mana or Improved Power Word: Shield drops off.
Finish the enemy with your melee weapon.
Wand off the remaining health on the enemy while your Shadow Word: Pain keeps ticking.
**Advanced Note: If you cast

Shadow Word: Pain immediately after

Mind Blast at the same time you are running away from your target, you can gain some extra distance while the global cooldown from the Shadow Word: Pain happens. Depending on the distance you create, you can often get a second

Mind Flay cast off before your target reaches you and you begin wanding them.
When played correctly, you should hardly ever have any downtime as a Priest. Playing correctly mostly means finding the right balance between how much Mana and time to spend on your skills, versus using your wand. Most of the time, after your initial casts you just have to apply

Shadow Word: Pain then finish them off with your wand. Your Mana will have started to regenerate again already by the time you are close to killing the mob, and then when it dies,

Spirit Tap will provide you with Mana and health sustain to keep going. That is the ideal order of events, though there will always be different scenarios that you will have to learn to adapt to.
4.
Leveling Rotation (Healing)
While you are primarily a damage dealer as Shadow, you are still more than capable of healing dungeons all the way up to Level 50-55. Even then you can still heal them provided your group understand you will need time between pulls to drink and restore your mana, and are willing to take it a bit slower for your. To help out in case you find yourself healing a dungeon, use the following (make sure to move the level slider at the beginning of the page to make the rotation update accodingly).
At Level 14, you get access to

Cure Disease (and at Level 32 the upgraded version

Abolish Disease), which can be used to remove Disease debuffs from your allies. At Level 18 you can learn

Dispel Magic allowing you to remove Magic debuffs from your allies. While you do not need to remove every disease and magical debuff, there are many that are beneficial to be removed as your Mana allows.
**Note: You should not pre-cast Renew at the start of combat to try and maintain as much time regenerating Mana as possible. For example when you need to cast

Heal on the tank, follow up immediately with

Renew and then go back to wanding until more healing is required.
5.
List of Trainer Skills to Buy
The below suggestions focus on the skills that are most important to your leveling, but even still, this is by no means the only way to go about it, since it will vary on how much gold you actually acquire throughout the leveling process. The most important thing (and this can impact your skill buying decisions) is to make sure you have enough gold to buy your first mount as soon as you hit Level 40.
6.
Shadow Priest Quests and Weapons
While leveling, you will need to keep open for opportunities to upgrade your wand as it is a significant part of the damage you deal. You will also need to complete various class quests to unlock priest specific racial abilities.
7.
How to keep evolving your Shadow Priest at Level 60
Once you hit maximum level, we suggest you to read the Healer Priest Guide, which covers all there is to know about healing on your Priest at level 60.
Some of the most relevant pages to skim over are as follows.
14 Sep. 2020: Corrected an error with Lesser Heal not being available until level 4.
26 Sep. 2019: Page added.
Show more
Show less
Classic Profession Guides