Classic Priest Healer Spec, Builds, and Talents
On this page, you will find out the best PvE talent choices and builds for your Priest Healer in WoW Classic.
If you were looking for TBC Classic content, please refer to our TBC Classic Holy Priest talents.
TABLE OF CONTENTS OF THIS PAGE
1.
Talent Builds for Healing Priests
There are multiple builds for Healing Priests, most of them revolve around utilising a similar set of base talents and then applying the remaining points, depending on the intended utility or role that is desired.
If you were looking for leveling builds, please refer to our leveling guide for Priests.
2.
Important Talents for 'Deep Holy' Priests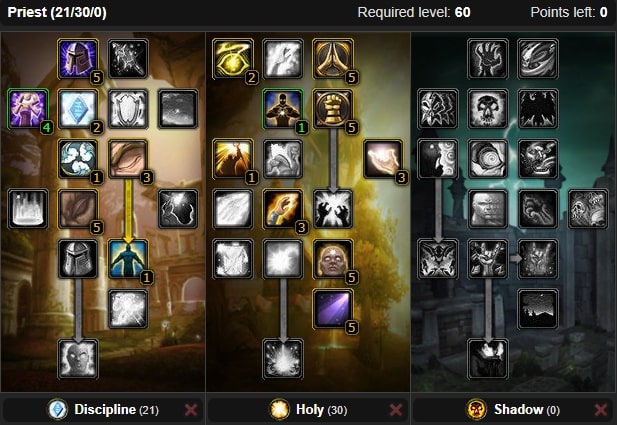 Deep Holy in this context refers to you going deep into the Holy tree to pick up a lot of the healing talents, and it goes all out on maximizing your throughput as a healer. There are several variations you can make on this build and it is by no means the only viable build, but this serves as a good guideline.
3.
Important Talents for 'Deep Discipline' Priests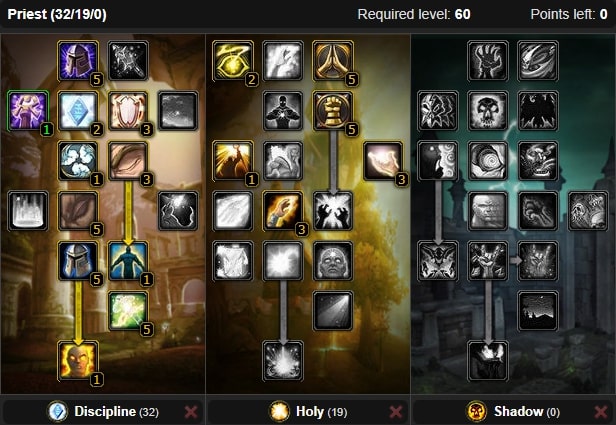 Deep Discipline in this context refers to you going deep into the Discipline tree to focus more on your own damage and, most importantly, gives you the option to pick

Power Infusion. This build is not really recommended early on, as you give up a lot of the healing benefits that going deep into Holy provides. It also does not have a tremendous amount of flexibility in terms of your talent choices. As you and your raid get more gear, this build becomes stronger because you do not have to heal as much, which makes shifting the focus to increasing the DPS of your raid more excusable.
Power Infusion - This is the biggest reason to consider this build. Adding an extra damage cooldown to your raid makes it valuable for fights where it is not so much about the healing, but the DPS required. Be prepared for bribes from your raid to give them Power Infusion!
Divine Spirit - It is important to have at least one Priest in the raid get this, but not all Priests have to get it. Make sure to communicate with your fellow Priests about who has to take it.
Inner Focus - This adds a lot of efficiency to your healing ability every 3 minutes, both in terms of Mana efficiency and raw throughput.
09 Aug. 2019: Guide added.
Show more
Show less
More Classic Priest Guides
More Classic Guides from Other Classes
Classic Profession Guides
Classic Reputation Guides