WoW Classic Protection Warrior Leveling Guide 1-60
On this page, you will find our Level by Level Protection Warrior leveling guide for WoW Classic. Make sure to use the slider to make the guide adapt to your level. Protection has the lowest damage potential of all Warrior specializations, but also the highest defensive power. This makes it great for players who want to focus exclusively on tanking for other players while leveling. For more general leveling information, please refer to our Warrior leveling guide. We also have an Arms Warrior leveling guide and a Fury Warrior leveling guide.
If you were looking for TBC Classic advice, please refer to our TBC Classic Protection Warrior leveling guide.
1.
Protection Warrior Level by Level Rotation, Talents and Trainer Skills
Move the slider below to make the guide update to your level!
1.1.
Talent Tree for Leveling up as an Protection Warrior
Your first talent unlocks at Level 10.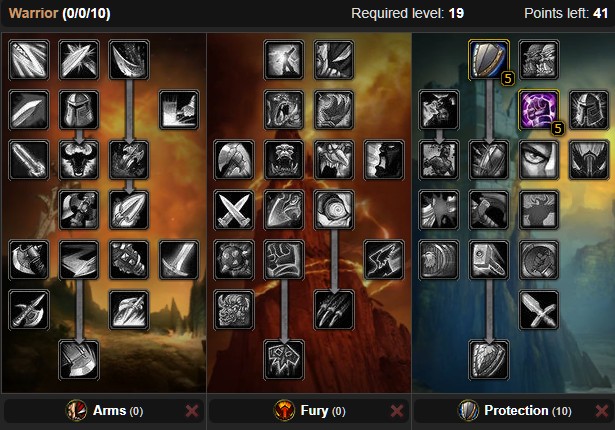 Protection Talents Level 10 to 19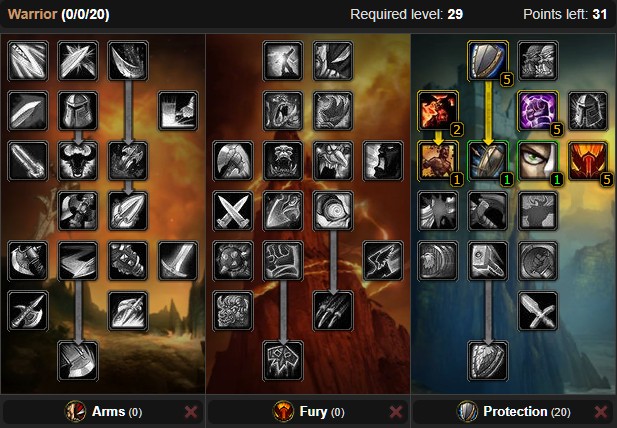 Protection Talents Level 20 to 29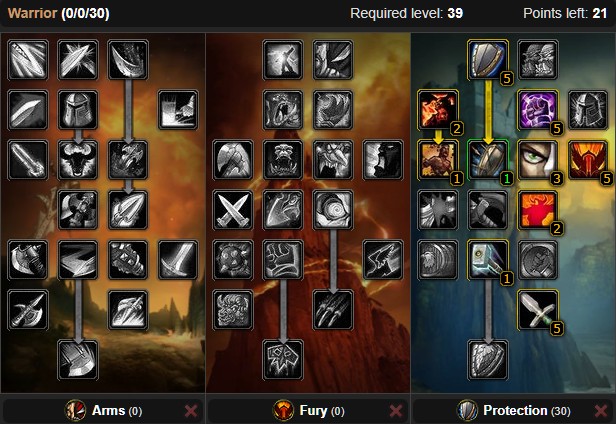 Protection Talents Level 30 to 39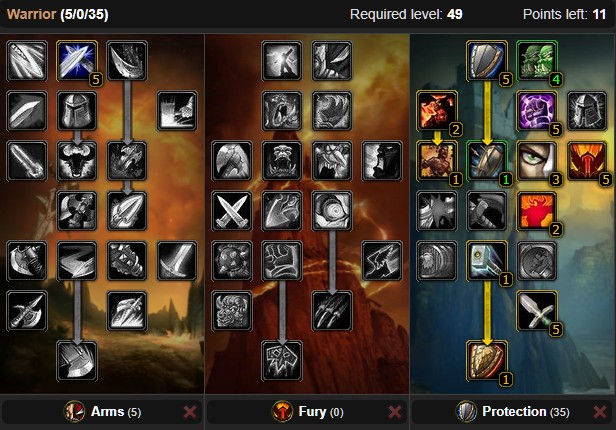 Protection Talents Level 40 to 49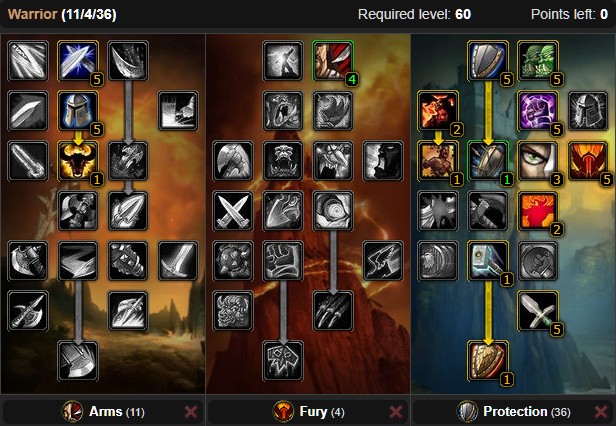 Protection Talents Level 50 to 60
Levels 10 to 14 — 5 points in Shield Specialization
Levels 15 to 19 — 5 points in Toughness

Shield Specialization unlocks

Improved Shield Block and is a decent talent on its own, especially against fast hitting enemies.

Toughness contributes to your hardiness while tanking and is a generally good talent to have as a tank.

Improved Shield Block is a great talent against high level enemies, as it effectively stops them from being able to critical strike or crush you while it is up due to the way the combat table works.

Improved Bloodrage is required in order to reach

Last Stand, which is one of your major defensive cooldowns, and the only one you will have until you unlock

Shield Wall at Level 28. One point into

Improved Revenge allows you to occasionally stun enemies without risking diminishing returns from repeated stuns.

Defiance will improve your threat, which is often hard to maintain for leveling tanks.

Concussion Blow is a nice short cooldown on-demand stun. Getting the remaining points of

Improved Revenge makes its stun very reliable and

Improved Taunt helps you keep solid aggro on the mobs that do not get stunned. Finally,

One-Handed Weapon Specialization is a nice damage (and thus threat) increase.
Level 40 — 1 point in Shield Slam
Levels 41 to 45 — 5 points in Deflection
Levels 46 to 49 — 4 points in Anticipation

Shield Slam will be your main attack from here on out, as it does a solid amount of threat for its Rage cost. Maximizing

Deflection and

Anticipation will make your strong defenses even stronger at this point.
Get the final point in

Anticipation and proceed to maximize

Tactical Mastery, which will allow you to

Intercept without losing all of your Rage.

Anger Management is your final point in the Arms tree and will grant you 1 Rage every 3 seconds, which adds up over time. Finally, get as many points into

Cruelty as possible, to increase your damage and threat output.
Your talents should roughly look like our recommendations, but keep in mind there are plenty of individual points that can be swapped around based on preference. For example, the points in

Improved Revenge can be swapped to

Improved Sunder Armor or

Improved Heroic Strike, if you struggle with Rage, and the missing point on

Cruelty can be obtained from

Improved Taunt.
1.2.
Rotation for Leveling up as an Protection Warrior
You start with a single active ability,

Heroic Strike, which you should use whenever possible. Once you train

Battle Shout, make sure to keep up its buff while fighting.
The absence of

Thunder Clap from the rotation and training list is intended. This skill is great against 3+ targets, especially when you are dungeon leveling with a premade group, in which case it should absolutely be one of your priorities. However, it is also expensive to train its multiple ranks, and its overall threat generation is weak, as it can only be used inside

Battle Stance. Therefore, for the average tank in a pick up group, it will be more effective to do the suggested rotation, instead.

Hamstring kiting, due to its stance requirements, is not as useful while tanking as it is while soloing content. It is still an option to Hamstring and run away if your healer is struggling to keep up with your melee damage intake.
Use Charge to initiate combat whenever possible. Immediately swap to Defensive Stance.
Activate Bloodrage to generate extra Rage if you are currently healthy.
Cast Battle Shout if you miss its buff.
Keep Demoralizing Shout's effect on enemies for its damage reducing debuff.
Spam Battle Shout, while in range of your party members, in order to generate area of effect threat, when needed.
Cast Shield Slam as your main attack.
Cast Revenge whenever you block, dodge or parry.
Use Sunder Armor to build threat.
Queue Heroic Strike whenever you have excess Rage. Keep in mind that what Heroic Strike and Cleave do is replace your next auto-attack with a stronger one that will not grant you any Rage. So their real Rage cost is much higher than what is stated in the tooltip.
Cleave can be used instead of Heroic Strike for Rage dumping on AoE situations.
1.3.
Summary of Trainer Skills for Protection Warrior
2.
Protection Warrior Macros and Addons
By setting yourself up with an upgraded user interface and macros from the get go, you will make your leveling process much easier. Check out our Protection Warrior Macros and Addons guides in the links below for the full list.
3.
Protection Warrior Quests and Weapons
While leveling, you will need to keep open for weapon opportunities. You will also need to complete various class quests for key Protection skills such as

Defensive Stance and

Taunt. To help you with that, we have made two dedicated guides.
4.
Advancing further as a Protection Warrior at Level 60
Once you have tanked your way to 60, we would like to recommend checking out our Tank Warrior Guide, which analyses every aspect of end game tanking at length.
These are the top pages you should consult are as follows.
28 Feb. 2021: Changed the slider starting point to maximum level.
05 Jan. 2020: Added a Macros and Addons section.
21 Sep. 2019: Added a final section with useful links for players who just hit 60.
20 Sep. 2019: Page added.
Show more
Show less
Classic Profession Guides