WoW Classic Restoration Shaman Leveling Guide 1-60
TABLE OF CONTENTS OF THIS PAGE
1.
Level by Level Rotation, Talents, and Trainer Skills
Move the slider below to make the guide update to your level!
2.
Leveling Talent Tree & Build
Your first talent unlocks at Level 10.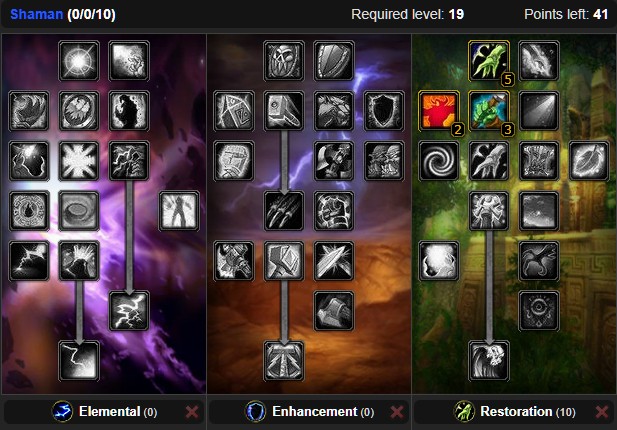 Restoration Shaman Talents Level 10 to 19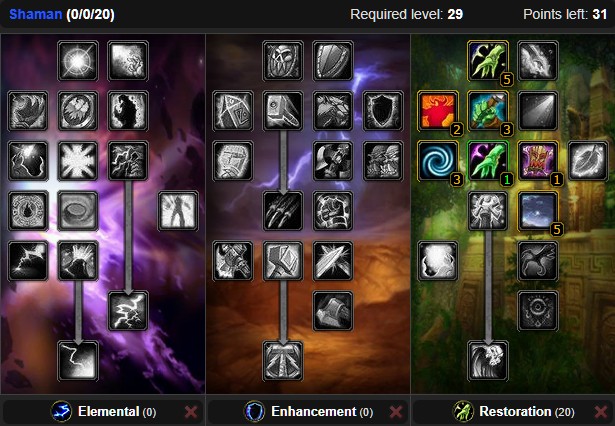 Restoration Shaman Talents Level 20 to 29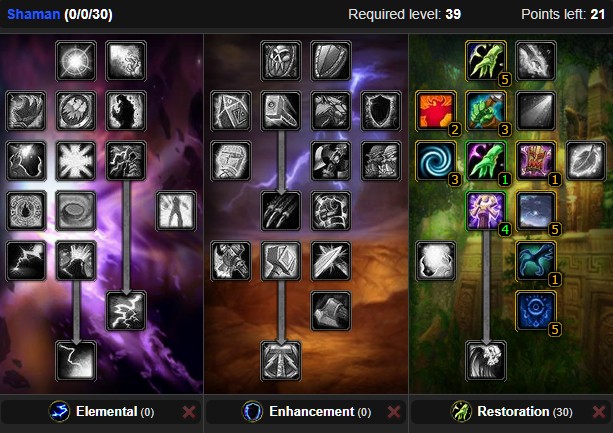 Restoration Shaman Talents Level 30 to 39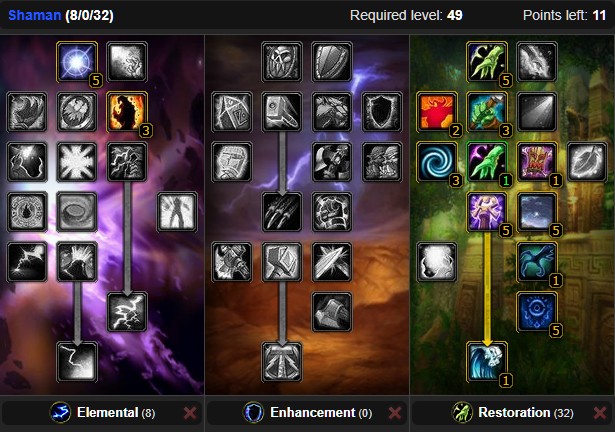 Restoration Shaman Talents Level 40 to 49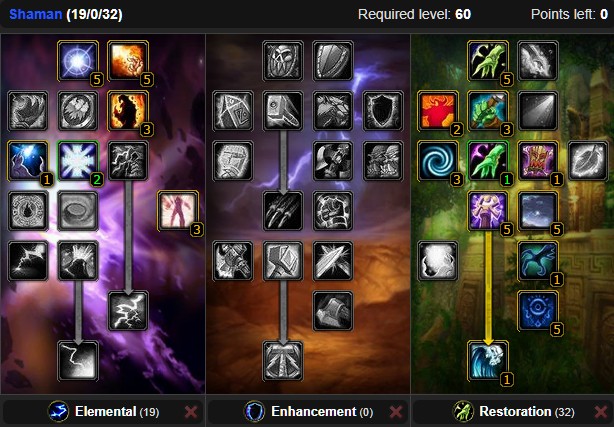 Restoration Shaman Talents Level 50 to 60
Levels 10 to 14 — 5 points in Improved Healing Wave
Levels 15 & 16 — 2 points in Improved Reincarnation
Levels 17 to 19 — 3 points in Ancestral Healing

Improved Healing Wave makes your main healing spell faster to cast. Maximizing

Improved Reincarnation will make you more likely to be able to self-resurrect when needed. Finally,

Ancestral Healing will give a large armor bonus to whoever you critically heal, which is great in dungeons.

Nature's Guidance provides a much needed hit boost, which will increase your damage.

Totemic Mastery improves the range at which your allies can benefit from your totems.

Healing Focus will, for now, provide a small chance not to be interrupted when casting healing spells. Finally,

Tidal Mastery is both a damage and a healing boost.
Level 30 — 1 point in Nature's Swiftness
Levels 31 to 34 — 4 points in Restorative Totems
Levels 35 to 39 — 5 points in Purification

Nature's Swiftness provides a great emergency cooldown that easily save someone's life.

Restorative Totems improves the effect of your

Mana Spring Totem slightly. Finally,

Purification improves your general healing significantly.
Finish

Restorative Totems, and proceed to

Mana Tide Totem, which will give you a burst of Mana regeneration, albeit with a large cooldown.

Convection will make your main damage spells more Mana efficient, allowing you to go longer without drinking, and

Call of Flame will improve your

Searing Totem's damage significantly.
At this point we will be looking to maximize

Concussion to increase damage output,

Elemental Focus for more Mana efficiency when DPSing,

Reverberation for slightly more DPS from shocks and

Elemental Devastation for a slight damage boost to your melee attacks from your shock critical strikes.
These talents are great if you are mostly soloing and went Restoration for added sustainability. If you are leveling in a group, you might want to play with a pure healing spec instead, such as the ones we list in our Restoration Talents page. Also, if you are leveling with a group, remember to buy and use all ranks of

Windfury Totem and

Strength of Earth Totem, which increase leveling speed a lot when used in melee groups.
Good usage of

Earthbind Totem can help you avoid a lot of damage. Place it between yourself and your enemies to slow them and give yourself at least one extra

Lightning Bolt cast before taking any damage.

Windfury Weapon is a strong weapon enchant that can allow you to one shot an enemy out of nowhere, but is generally outclassed by

Rockbiter Weapon during leveling, which does more overall damage and also has less potential to waste damage when an enemy is low health.
4.
List of Trainer Skills to Buy

Strength of Earth Totem,

Windfury Totem and

Ancestral Spirit are examples of very powerful skills that should always be bought if and when you start playing in a group. These skills, among others, will not be listed below because they are of limited usefulness for the average solo / questing player but feel free to buy them if you ever play in a group or do dungeons.
5.
Restoration Shaman Macros and Addons
By setting yourself up with an upgraded user interface and macros from the get go, you will make your leveling process much easier. Check out our Restoration Shaman Macros and Addons guide in the link below for the full list.
6.
Restoration Shaman Quests and Weapons
While leveling, you will need to keep open for weapon opportunities. You will also need to complete various class quests for the baseline totems which allow you to use key totems for Restoration, such as

Mana Spring Totem. To help you with that, we have made two dedicated guides.
7.
How to keep evolving your Restoration Shaman at Level 60
Once you hit maximum level, we suggest you to read the Healer Shaman Guide, which covers all there is to know about healing on your Shaman at level 60.
Some of the most relevant pages to skim over are:
28 Feb. 2021: Changed the slider starting point to maximum level.
05 Jan. 2020: Added a Macros and Addons section.
23 Sep. 2019: Added a final section with useful links for players who just hit 60.
14 Sep. 2019: Guide added.
Show more
Show less
Classic Profession Guides