WoW Classic Single-Target Frost Mage Leveling Talent Build from 1 to 60
On this page, you will find our Level by Level Single Target Frost Mage leveling guide for WoW Classic. Make sure to use the slider to make the guide adapt to your level. Single Target Frost specializes in pulling, controlling and killing single enemies efficiently with

Frostbolt. It can also use area of effect attacks on dungeons or when warranted, but not to the extent of the AoE Grinding Frost Mage. Because it is a very safe, stable spec when leveling, you can expect to make steady progress through Azeroth, even when contested and entering PvP situations regularly. Feel free to also try leveling as an versatile Arcane Mage or as an powerful Fire Mage with our sister guides! For more general leveling information, please refer to our Mage leveling guide.
If you were looking for TBC Classic advice, please refer to our TBC Classic Frost Mage Single-Target leveling guide.
1.
Single-Target Frost Mage Level by Level Rotation, Talents and Trainer Skills
Move the slider below to make the guide update to your level!
1.1.
Talent Tree for leveling up as a Single-Target Frost Mage
Your first talent unlocks at Level 10.
Your talents should roughly look like this, but keep in mind there are plenty of individual points that can be swapped around based on preference. For example, you can consider putting some points into

Winter's Chill instead of going so deep into the Arcane tree.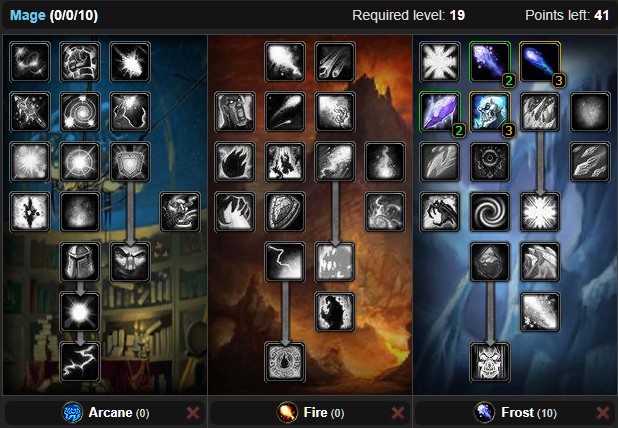 Frost Single-Target Mage Talents Level 10 to 19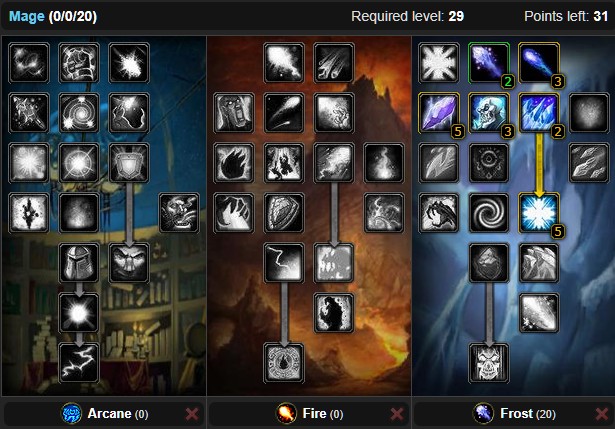 Frost Single-Target Mage Talents Level 20 to 29
Frost Single-Target Mage Talents Level 30 to 39
Frost Single-Target Mage Talents Level 40 to 49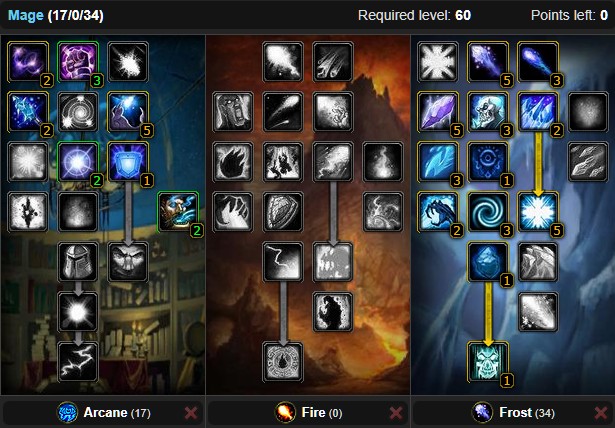 Frost Single-Target Mage Talents Level 50 to 60

Elemental Precision allows you hit enemies much more reliably, which will increase your damage output and reduce your melee damage taken, as it is more likely enemies will get chilled by

Frostbolt.

Improved Frostbolt is a good damage increase with Frostbolt, although it comes at the cost of Mana.

Frostbite will allow you to sometimes freeze enemies instead of rooting them, which has great synergy with

Shatter later on.

Ice Shards is also picked for its

Shatter synergy later on.
Levels 20 to 22 — 3 points in Ice Shards
Levels 23 & 24 — 2 points in Improved Frost Nova
Levels 25 to 29 — 5 points in Shatter
Finish maximizing

Ice Shards and get

Improved Frost Nova in preparation for the big damage increase of

Shatter!

Ice Block allows you to easily survive deadly situations by standing in the block until

Blink is available.

Cold Snap allows you to reset Ice Block and other frost abilities, thus providing a second lease on life when needed. Finish maximizing

Improved Frostbolt and get

Frost Channeling for the Mana efficiency gain. Finally, get some points in

Piercing Ice for a good damage increase.

Ice Barrier is a great way to prevent damage and you should aim to always have it up while fighting. Get the final point into

Piercing Ice for even more damage, and some points into

Arctic Reach for the added range on frost spells, which allows you to pull from far away.

Arcane Subtlety reduces the (frost) resistances of any enemy that happens to have them, and

Arcane Focus reduces the likelihood your

Polymorph and other arcane spells will be resisted. Finally, get one point into

Arcane Concentration for its Mana-saving properties.
Get the remaining points in

Arcane Concentration to maximize its Mana gain,

Arcane Resilience for whenever you are caught by physical attacks,

Wand Specialization for when you are finishing enemies off with your Wand,

Improved Arcane Explosion to improve

Arcane Explosion as a finisher and, as your last two talents before 60,

Arcane Meditation for the minor Mana regeneration.
1.2.
Rotation for leveling up as a Single-Target Frost Mage
Shield skills, such as

Mana Shield, should be kept up as much as possible during battle, in order to minimize the cast time lost to enemy attacks, thus allowing you to finish them faster.
Utility skills, such as

Frost Nova, and AoE skills, such as

Arcane Explosion should be used to keep enemies away from you or finish off packs of enemies, as required.
Since you can make your own food and water with

Conjure Food and

Conjure Water, you will be able to more than make up the gold spent on these skills, by saving on vendor food and water. It is also possible to gain some gold on the side by selling your conjured supplies to other players.
1.3.
Summary of Trainer Skills for Single-Target Frost Mage
2.
Single-Target Frost Mage Macros and Addons
By setting yourself up with an upgraded user interface and macros from the get go, you will make your leveling process much easier. Check out our Single-Target Frost Mage Macros and Addons guide in the link below for the full list.
3.
Single-Target Frost Mage Quests and Weapons
While leveling, you will find or procure many weapon upgrades. You will also have a few class specific quests to complete, mostly for new gear. In order to get you well on your way with both of those aspects of the game, we have prepared two dedicated guides.
4.
Single-Target Frost Mage Level 60 Guides
Now that you arrived at Level 60, check out our DPS Mage Guide, which covers how to play at maximum level in detail.
We would especially recommend you to browse the following pages.
28 Feb. 2021: Changed the slider starting point to maximum level.
05 Jan. 2020: Added a Macros and Addons section.
02 Jan. 2020: Added Mana Shield and tips on when to use it.
09 Dec. 2019: General guide updates and many small typo fixes.
25 Sep. 2019: Page added.
Show more
Show less
Classic Profession Guides