Demon Hunter Shadow Set Dungeon Guide
1.
Overview of The Shadow's Mantle Set Dungeon
The Shadow's Mantle Set Dungeon is located in Act V, Pandemonium Fortress Level 3. You will need to teleport to Pandemonium Fortress Level 2, go through the chain of teleports and platforms leading up to the lower level, and enter it. At the very start of this short ledge leading to Malthael, the Shadow Set Dungeon should spawn if you have the Shadow's Mantle set 6-piece bonus active.
The Shadow's Mantle Set Dungeon's two unique Primary Objectives are to: 1) Chain consecutive bonus damage

Impale hits on 20 different enemies 5 times; and 2) Slow 45 different enemies with your

Shadow Power.
The Shadow's Mantle Set Dungeon is a crypt tileset of lengthy corridors. It basically consists of an entry corridor, followed by two interconnected shapes — a square and a rectangle. The order in which you clear them should not matter, though we generally advise you go through the (lengthier and harder) rectangle path first.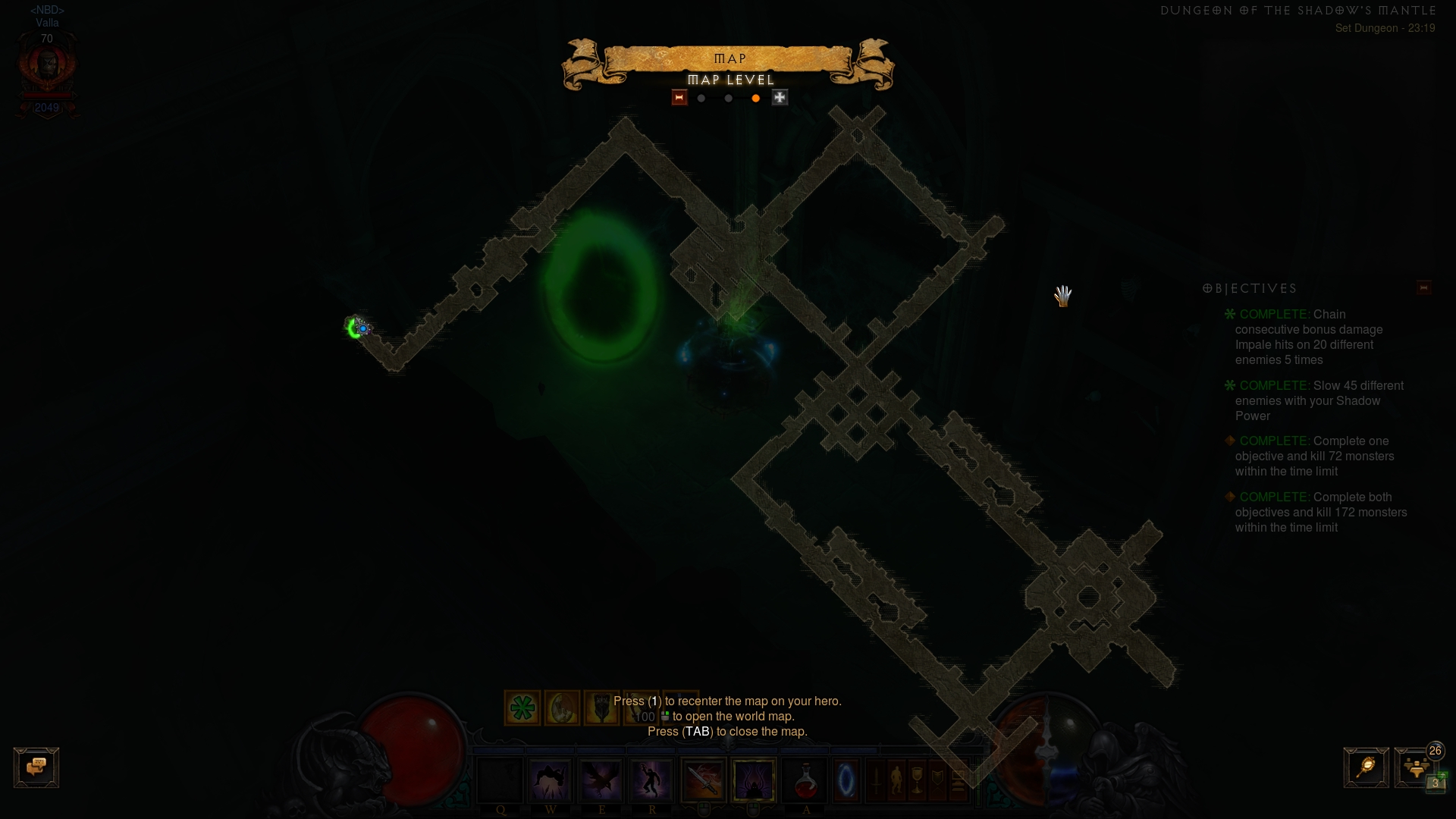 The Shadow Set Dungeon is populated by several kinds of enemies:
Skeletal Raiders, Skeletal Sentries, Tomb Guardians and Returned — numerous, slow moving and harmless trash. They will be the primary targets for both unique Objectives of this dungeon.
Hulking Phasebeast — be careful of the Phasebeast's short and sudden teleports, as they might break your Impale chains. Try to get them point blank as they try to melee you.
Shadow Servants — the unique enemies of the map. They resemble Act 4's Terror Demons, but also have the Arcane and Wormhole affixes. Be careful of their displacement mechanics, which can cause a break in the Impale chain.
2.
Tips for The Shadow's Mantle Set Dungeon
As with most Set Dungeons, a follower is not necessary and might get in the way more than help the situation. Do not be afraid to dismiss your companion.
The most important tip for this Set Dungeon is not to go trigger happy and take your time lining up the shots. Liberal use of point blank shots is also encouraged, as they minimize potential mishaps and will double up for a

Shadow Power activation for the other objective. Beware of the various rubble and walls of the crypt tileset, as are deceptively low but will still cause your

Impale knives to collide and fail the chain.
Try to get the

Shadow Power objective out of the way early — a third of the way into the dungeon and you should be done with it — as it can easily be lost track of. Remember that while the passive bonuses of the skill will be permanent with a single use due to the set bonuses, the slowing effect only occurs on activation. Make sure to re-apply it in the thick of enemies to get the

Night Bane slow kicking in.
With all the careful sniping you have to do in this dungeon, you will have to forego many Impale build staples — especially

Holy Point Shot, whose shotgun spread will automatically fail each attempt to start the chain. Other less obvious exclusions are the popular

Ricochet and

Overpenetration runes on

Impale, as well as skills like

Vengeance and

Fan of Knives. On the flip side, some enemies will help out the sniping objective — the shielded skeletons will net you two

Impale hits.
3.
Build for The Shadow's Mantle Set Dungeon
Slot
Pieces
Stat Priority
Head

Dexterity
Critical Hit Chance
Socket
Impale %
Vitality

Shoulders

Dexterity
Vitality
Cooldown Reduction
Area Damage

Torso

Dexterity
Vitality
3 Sockets
Elite Damage Reduction
All Resistance

Wrists

Dexterity
Critical Hit Chance
Physical %
Vitality

Hands

Dexterity
Critical Hit Damage
Critical Hit Chance
Attack Speed

Waist

Dexterity
Vitality
All Resistance
Life %
Freeze on Hit (Secondary Stat)

Legs

Dexterity
2 Sockets
All Resistance
Vitality

Feet

Dexterity
Impale %
Vitality
All Resistance

Ring #1

Socket
Critical Hit Damage
Critical Hit Chance
Cooldown Reduction
Flat Damage

Ring #2

Socket
Critical Hit Damage
Critical Hit Chance
Cooldown Reduction
Flat Damage

Amulet

Socket
Critical Hit Damage
Critical Hit Chance
Physical %

Weapon

Damage Range
Dexterity
Socket (preferably from Ramaladni's Gift)
% Damage
Attack Speed

Off-hand

Any quiver except Holy Point Shot

Dexterity
Critical Hit Chance
Attack Speed
Impale %
To help you with farming the gear you need for your builds, we have two very useful guides that you can access by clicking the links below: a Salvage Guide to help you quickly check whether or not you can safely salvage a piece of gear and a Legendary Farming Guide to help you efficiently farm legendaries and set items.
| Slot | Gems |
| --- | --- |
| Jewelry | |
| Helm | |
| Torso and Pants | |
| Weapon | |
02 Mar. 2018: Added guide.
Show more
Show less