Witch Doctor Arachyr Set Dungeon Guide
1.
Overview of the Spirit of Arachyr Set Dungeon
The Spirit of Arachyr Set Dungeon is located in Act II, Dahlgur Oasis. This is one of the harder Set Dungeons to find, so take the waypoint to that location and start backtracking towards the entry point (the Manajuma set plus

Angry Chicken form will help immensely with this). Once you reach the beginning of the zone, Path to the Oasis, turn around and start following the left wall of the Dahlgur Oasis. In the second larger clearing, near a small pond, the portal to the Arachyr Set Dungeon will appear if you have the iSpirit of Arachyr 6-piece bonus active.
The Spirit of Arachyr's two unique Primary Objectives are to: 1) Lick 30 enemies with

Hex

Toad of Hugeness; and 2) Kill every elite while it is webbed by Spider Queen and being bitten by

Piranhas.
The Spirit of Arachyr Set Dungeon is a very short sewer tileset that connects two corridors, roughly q- and t-shaped, respectively. A proven attempt path is to clear the left corridor first, since it naturally loops and leads into the one on the right.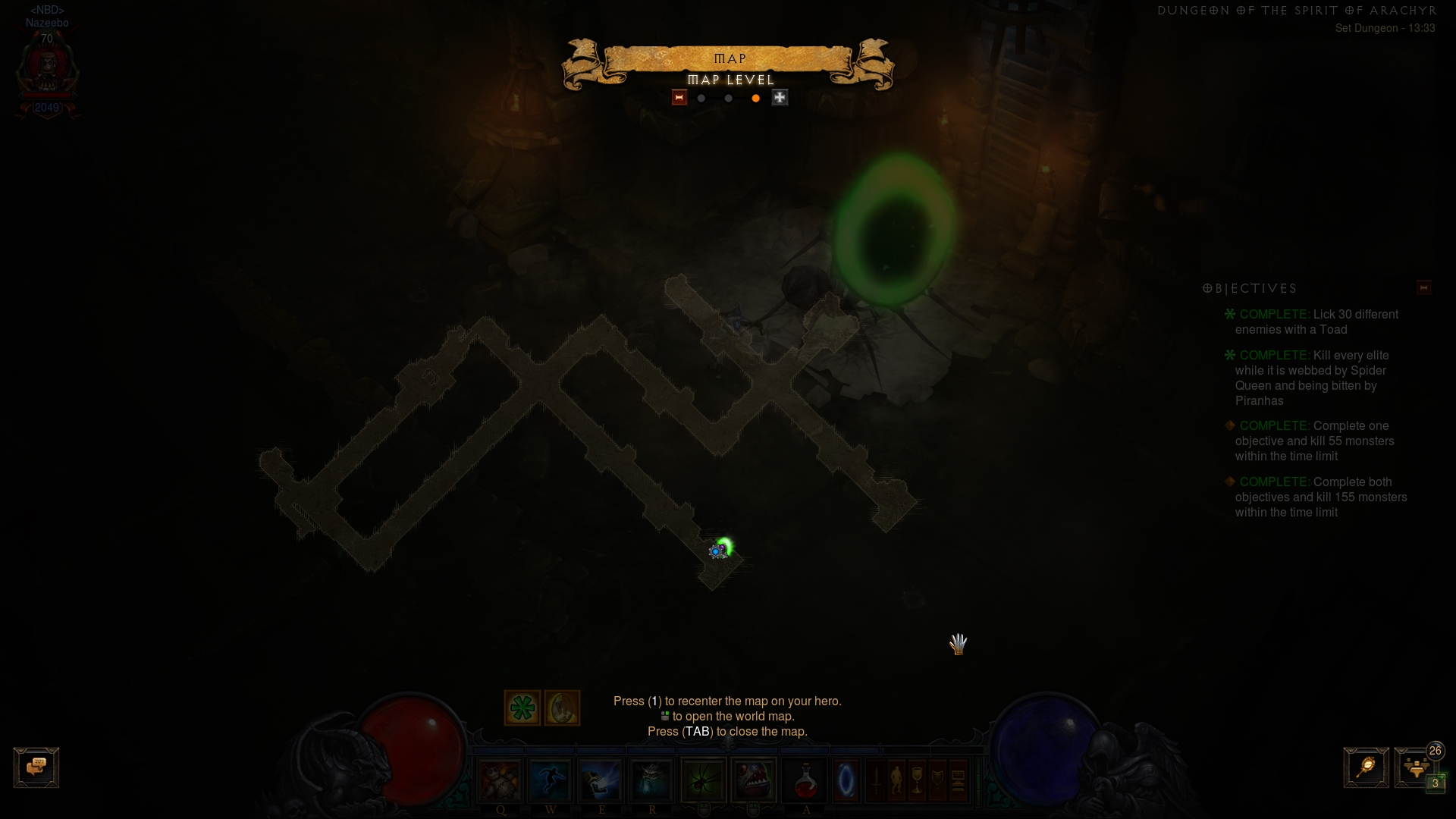 The Spirit of Arachyr Set Dungeon is populated by the following enemy types:
Bone Warriors and Accursed — while the former are slow and the latter are fast, one thing remains a fact for both trash types: they will be the catalyst to the completion of the 1st Objective.
Servant of Arachyr — the unique enemies of the map. They resemble Act III's Herald of Pestilence trash, but also has the Thunderstorm affix. While they have decent damage potential, their susceptibility to crowd control and the Objectives of this Set Dungeon should mean they never get to hit you.
2.
Tips for the Spirit of Arachyr Set Dungeon
Try to get the "toad licking" Objective done as soon as possible, since the enemies in this Set Dungeon are not as abundant as in others, and are farily low health — meaning, any properly geared Arachyr WD will likely oneshot them. In order to bring out the

Toad of Hugeness (given to you for free by the 4-piece bonus), you will want to cast your

Hex

Angry Chicken near an enemy pack and then run out, detonating it outside the range of enemies. This way, you will both avoid oneshotting the trash and you will give the toad time to do the licking. Note that the Spider Queen that accompanies you due to the 2-piece bonus is also fairly powerful and can kill off trash before the toad — but is thankfully under the control of your

Corpse Spiders. Simply drag her away from the trash by detonating at a safe distance and spamming

Corpse Spiders near yourself.
Once you get the first Objective out of the way, you can start cleaning up with all the firepower at your disposal. Keep in mind however, that you need to kill all 5 elites on the map with a combo of

Corpse Spiders and

Piranhas. When you spot an elite on the horizon, simply pre-detonate your

Angry Chicken form, toss a

Corpse Spiders jar on top of the elite from a distance and immediately CC them in place with a

Piranhas

Piranhado. A sufficiently powerful Arachyr WD will have no problem oneshotting the elite in one combo.
3.
Build for the Spirit of Arachyr Set Dungeon
Slot
Pieces
Stat Priority
Head

Intellect
Critical Hit Chance
Socket

Shoulders

Intellect
Vitality
Area Damage
Life %

Torso

Intellect
3 Sockets
Vitality
Elite Damage Reduction

Wrists

Poison %
Intellect
Vitality
Critical Hit Chance

Hands

Intellect
Critical Hit Chance
Critical Hit Damage
Area Damage

Waist

Intellect
Vitality
Life %
Armor

Legs

Intellect
2 Sockets
Vitality
Armor

Feet

Intellect
Vitality
Armor
Firebats %

Ring #1

Critical Hit Chance
Critical Hit Damage
Socket
Area Damage

Ring #2

Critical Hit Chance
Critical Hit Damage
Socket
Area Damage

Amulet

Poison %
Critical Hit Chance
Critical Hit Damage
Socket

Weapon

Damage range
Intellect
Socket (preferably from Ramaladni's Gift)
Area Damage

Off-hand

Damage range
Intellect
Critical Hit Chance
Area Damage
Vitality
To help you with farming the gear you need for your builds, we have two very useful guides that you can access by clicking the links below: a Salvage Guide to help you quickly check whether or not you can safely salvage a piece of gear and a Legendary Farming Guide to help you efficiently farm legendaries and set items.
05 Mar. 2018: Added guide.
Show more
Show less