Wizard DMO Set Dungeon Guide
1.
Overview of the Delsere's Magnum Opus Set Dungeon
The Delsere's Magnum Opus Set Dungeon is located in Act III, the Skycrown Battlements. Take the act's town waypoint (Bastion's Keep Stronghold) and walk to the northeast, exiting through the drawbridge and then taking the right entrance to the Skycrown Battlements. Progress through the zone, walking along the right side edge of the walls. At the first major corner, the entrance of the DMO Set Dungeon will open if you have the DMO set 6-piece bonus active.
The Delsere's Magnum Opus' two unique Primary Objectives are to: 1) Simultaneously catch 20 different enemies in a cast of

Slow Time 4 times; and 2) Reflect 200 projectiles.
The Delsere's Magnum Opus Set Dungeon is a sizable Ruins of Corvus tileset, made of a large, roughly rectangular loop of twisting rooms, with a single dead end offshoot halfway through the dungeon. A proven attempt path is to clear the first half of the rectangle, either going counter- or clockwise, finishing off the dead end branch, and then returning to finish the remainder of the rectangle.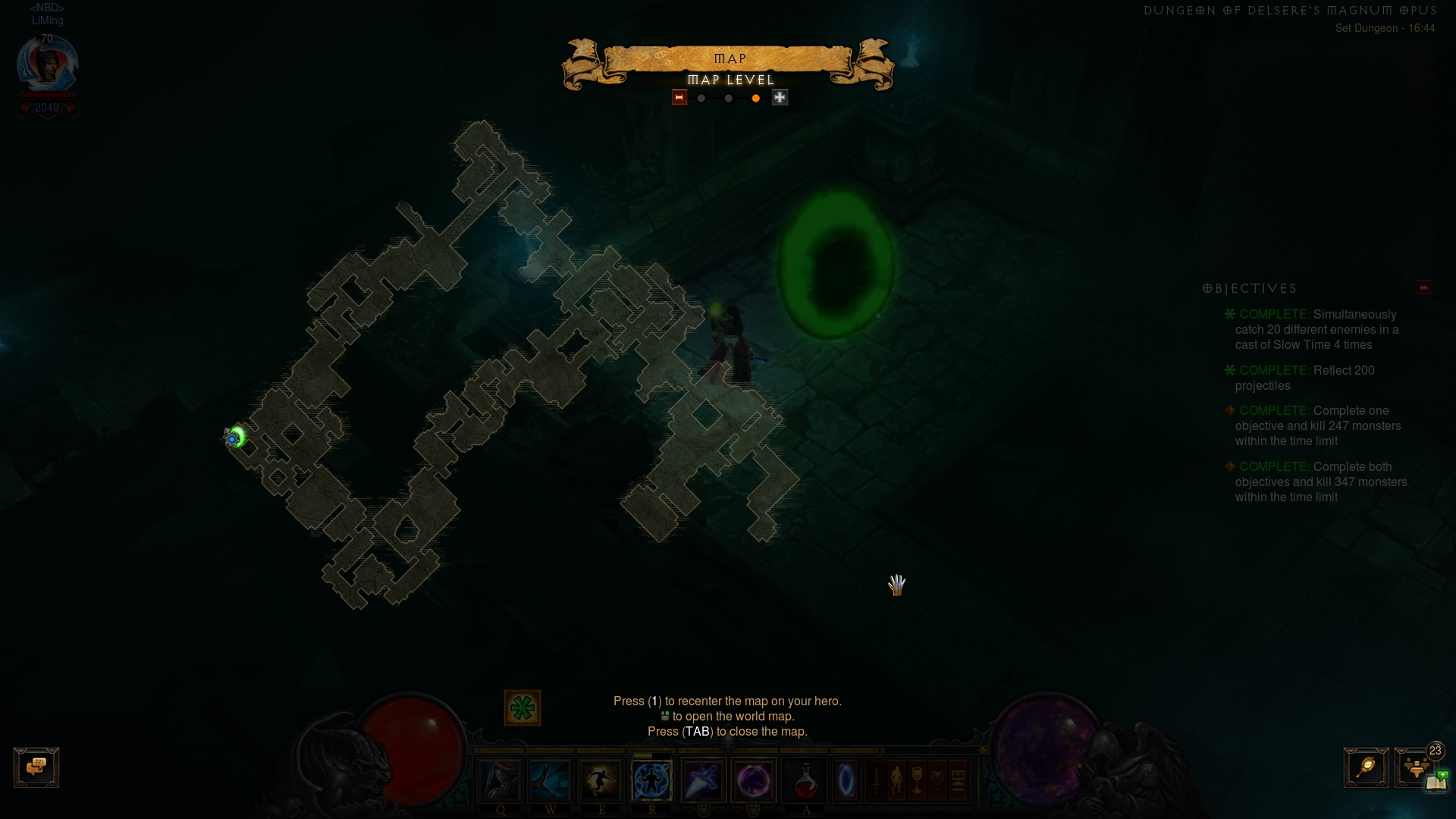 The Delsere's Magnum Opus Set Dungeon is populated by the following enemy types:
Scarabs, Flesh Gorgers — while one is small and the other is larger sized trash, they share a common purpose: padding the numbers on the "enemies caught in Slow Time" Objective. Scarabs are more valuable in that regard, since they come in larger batches and are easily herded.
Sand Wasps, Naja Beetles, Moon Clan Impalers — all three types come in large packs and fire projectiles: ideal to try and get the two Objectives going at once.
Opus Radical — the unique enemies of the map. They resemble Act III's Blood Clan Mauler trash, but also have the Frozen affix. Their elemental affix is fairly dangerous, so counter them with gear choices and try to eliminate them on sight.
2.
Tips for the Delsere's Magnum Opus Set Dungeon
DMO is arguably the most annoying of the Wizard set dungeons, as its success is influenced by factors outside of your control — namely, the way RNG distributes the monster packs (Set Dungeons' layout and composition is uniform, but monster placement is random). The Scarabs and Sand Wasps trash that are most helpful in completing the two Objectives (especially the harder

Slow Time one) spawn in packs of just-below-20 all too often. As a rule of thumb, if you do not get 2 out of 4 20-man hits by the time you get to the offshoot corridor, just restart the dungeon to avoid frustration.
The DMO Set Dungeon is also, unfortunately, of the type that benefits from nerfing your build and toning down your damage. Having the your grouping skill (most likely

Black Hole

Supermassive) oneshot the dungeon's trash before you get a chance to use

Slow Time on them will screw up the 1st Objective, so take some simple steps to lower your damage to the 800k-1 mil point. This is most easily achieved by dropping excess offense jewelry and legendary gems. Seemingly helpful items like

Ranslor's Folly should also be avoided, since they tend to overbuff your damage. If possible, try to have all the DPS under your direct and easiest control, i.e. by focusing on

Spectral Blade and using

Fragment of Destiny. Other very helpful items for the dungeon are the craftable

Cosmic Strand offhand (for a free

Wormhole rune on

Teleport) and

Talisman of Aranoch (for immunity to the Cold damage of elites).
Sand Wasps will be the most helpful enemy type for the projectile reflection Objective, so try to conserve them for a second or two before a fight — giving them a chance to release their barrage of slow moving shots. Spread a few

Slow Times around the battlefield, and rack up the score on the 2nd Objective before you decimate their ranks.
3.
Build for the Delsere's Magnum Opus Set Dungeon
Slot
Pieces
Stat Priority
Head

Intelligence
Socket
Critical Hit Chance
Vitality

Shoulders

Intelligence
Vitality
Area Damage
Life %
Armor

Torso

Intelligence
3 Sockets
Vitality
Reduced damage from Elites
Armor

Wrists

Intelligence
Critical Hit Chance
Lightning Damage
Vitality
Armor

Hands

Intelligence
Critical Hit Chance
Critical Hit Damage
Area Damage
Vitality

Waist

Intelligence
Vitality
Spectral Blade %
Life %

Legs

Intelligence
2 Sockets
Vitality
Spectral Blade %

Feet

Intelligence
Vitality
Armor
Movement Speed

Amulet

Socket
Critical Hit Damage
Critical Hit Chance
Lightning Damage
Intelligence

Ring #1

Socket
Critical Hit Damage
Critical Hit Chance
Area Damage
Intelligence

Ring #2

Socket
Critical Hit Damage
Critical Hit Chance
Area Damage
Intelligence

Weapon

High Damage Range
Socket (preferably from Ramaladni's Gift)
Intelligence
% Weapon Damage
Area Damage
Vitality

Off-hand

High Damage Range
Intelligence
Crit Chance
Area Damage
To help you with farming the gear you need for your builds, we have two very useful guides that you can access by clicking the links below: a Salvage Guide to help you quickly check whether or not you can safely salvage a piece of gear and a Legendary Farming Guide to help you efficiently farm legendaries and set items.
09 Mar. 2018: Added guide.
Show more
Show less