Support Necromancer BiS Gear, Gems, and Paragon Points
Below, we detail the items and gems that you should use for your Support Necromancer in Diablo 3 and why. We also list your paragon points and Kanai's Cube items. Updated for Patch 2.7.5 and Season 28.
TABLE OF CONTENTS OF THIS PAGE
1.
Best in Slot Gear and Alternatives
In a typical support build fashion, the Support Necromancer adopts a mixture of sets and utility legendaries to maximize Toughness and ability uptime. Your stat goals for items across the board are high Cooldown Reduction and Attack Speed, along with a healthy dose of Pickup Radius to assist your

Frailty range. With high CDR rolls on every piece that can get it (shoulders, gloves, belt, weapon, offhand, all jewelry pieces), your

Flawless Royal Diamond in the helm,

Gogok of Swiftness, the Cain and Captain Crimson sets and Paragon points, it should not be much trouble to reach the 70-75% + CDR range, which trivializes all downtimes in the build. Increasing Attack Speed is a trickier subject, considering breakpoints of Corpse consumption for

Corpse Lance. To put it in simpler terms, reaching the easily attainable 1.75 attacks per second breakpoint means you will shoot out 5

Corpse Lances per click, for a total of 25% crit chance on your target. Two clicks up that value to 50%, which should be the reasonable baseline for permanent crits by your DPS teammates.
In terms of actual pieces worn, it is recommended that you mix two pieces of the Pestilence Master's Shroud set (

Pestilence Gloves and

Pestilence Defense) with two pieces of the craftable Captain Crimson's Trimmings set (

Captain Crimson's Thrust and

Captain Crimson's Silk Girdle). This will ensure you get the valuable automatic

Corpse Lance per consumption, as well as a slew of support-synergistic CDR and toughness bonuses from the craftable set.
Not responsible for damage dealing in any way, the Support Necromancer can focus on pure utility in the jewelry.

Obsidian Ring of the Zodiac is a powerful tool for this cooldown-heavy build: benefiting greatly from the

Death Nova spam, it allows for permanent uptime of the spec-defining

Land of the Dead. In your remaining slot, you should take the revamped

Oculus Ring — it now provides up to the impressive 85% multiplicative damage buff in a circular area for your DPS party members to stand in. While its wording is vague, it does trigger off assists, and will thus work on support characters.
To complete the jewelry, you have a number of options for the amulet slot. The default recommendation is the pickup radius-extending

Rondal's Locket, though you have other interesting options — like

Halcyon's Ascent, whose unique crowd control power triggers on enemies in your large perma-LotD radius and applies the

Strongarm Bracers damage increase for your allies in return. Other notable options include a well rolled

Hellfire Amulet of Intelligence (with good passives like

Draw Life,

Rathma's Shield, etc.), or any of the immunity amulets (

Xephirian Amulet,

Countess Julia's Cameo, etc.)
With Cooldown Reduction as one of the deciding factors in the utility you bring to the group,

Leoric's Crown and

In-geom are unsurprising inclusions to the build. The unique property of

Leoric's Crown ideally doubles the effectiveness of the slotted

Flawless Royal Diamond, while

In-geom cuts cooldowns by 10 seconds per slain elite pack, chaining very effectively in speed farming.

Steuart's Greaves will ensure this positioning and speed-dependent build stays ahead of the pack, while two final defensive pieces round out your gear:

Aquila Cuirass will cut incoming damage in half while at high resources, while

Stormshield will provide a massive bulwark and a stat stick that can be dedicated almost entirely on toughness stats, plus the necessary CDR. Its unique melee damage reduction property rolls with up to 30%, almost balancing out the DR deficiencies of the frail Necromancer class.
Slot
Pieces
Stat Priority
Head

Vitality
Socket
Life %
Pickup Radius
Intelligence

Shoulders

Vitality
Cooldown Reduction
Pickup Radius
Secondary Resist

Torso

Vitality
3 Sockets
Secondary Resist
Pickup Radius
Reduced damage from Elites
Life %

Wrists

Vitality
Secondary Resist
Intelligence
Armor

Hands

Vitality
Cooldown Reduction
Attack Speed
Secondary Resist

Waist

Vitality
Life %
Armor
Pickup Radius

Legs

Vitality
2 Sockets
Secondary Resist
Armor
Pickup Radius
Intelligence

Feet

Vitality
Armor
All Resistance
Pickup Radius
Intelligence

Amulet

Socket
Cooldown Reduction
Attack Speed
Vitality
Secondary Resist

Ring #1

Socket
Cooldown Reduction
Attack Speed
Vitality
Secondary Resist

Ring #2

Socket
Cooldown Reduction
Attack Speed
Vitality
Secondary Resist

Weapon

Cooldown Reduction
Attack Speed
Vitality
Intelligence
Socket (preferably from Ramaladni's Gift)
Life per Hit (optional)

Off-hand

Vitality
Cooldown Reduction
Crit Chance
All Resistance
Intelligence
To help you with farming the gear you need for your builds, we have two very useful guides that you can access by clicking the links below: a Salvage Guide to help you quickly check whether or not you can safely salvage a piece of gear and a Legendary Farming Guide to help you efficiently farm legendaries and set items.
1.1.
Season 28: Altar of Rites
Season 28 comes with the theme of the Altar of Rites — a powerful new account-wide and Season-specific progression system that brings tremendous offensive and defensive buffs to every seasonal character. For virtually all builds and players of all skill levels — from casual to advanced — we recommend progressing through the Altar tree using the path outlined below. The suggested path is geared towards maximum quality of life first, then amplifying damage, and then mopping up the tree with defensive and edge case utility nodes.
Note that while they require reaching them with a Seal, Legendary Potion Powers are not part of the Seal cost system; Potions unlock with a separate resource called Primordial Ashes, obtained from salvaging Legendary or Set items of Primal (red bordered) quality. Upgrade them as soon as possible, and in the order shown below (courtesy of Caleko's Altar of Rites planner).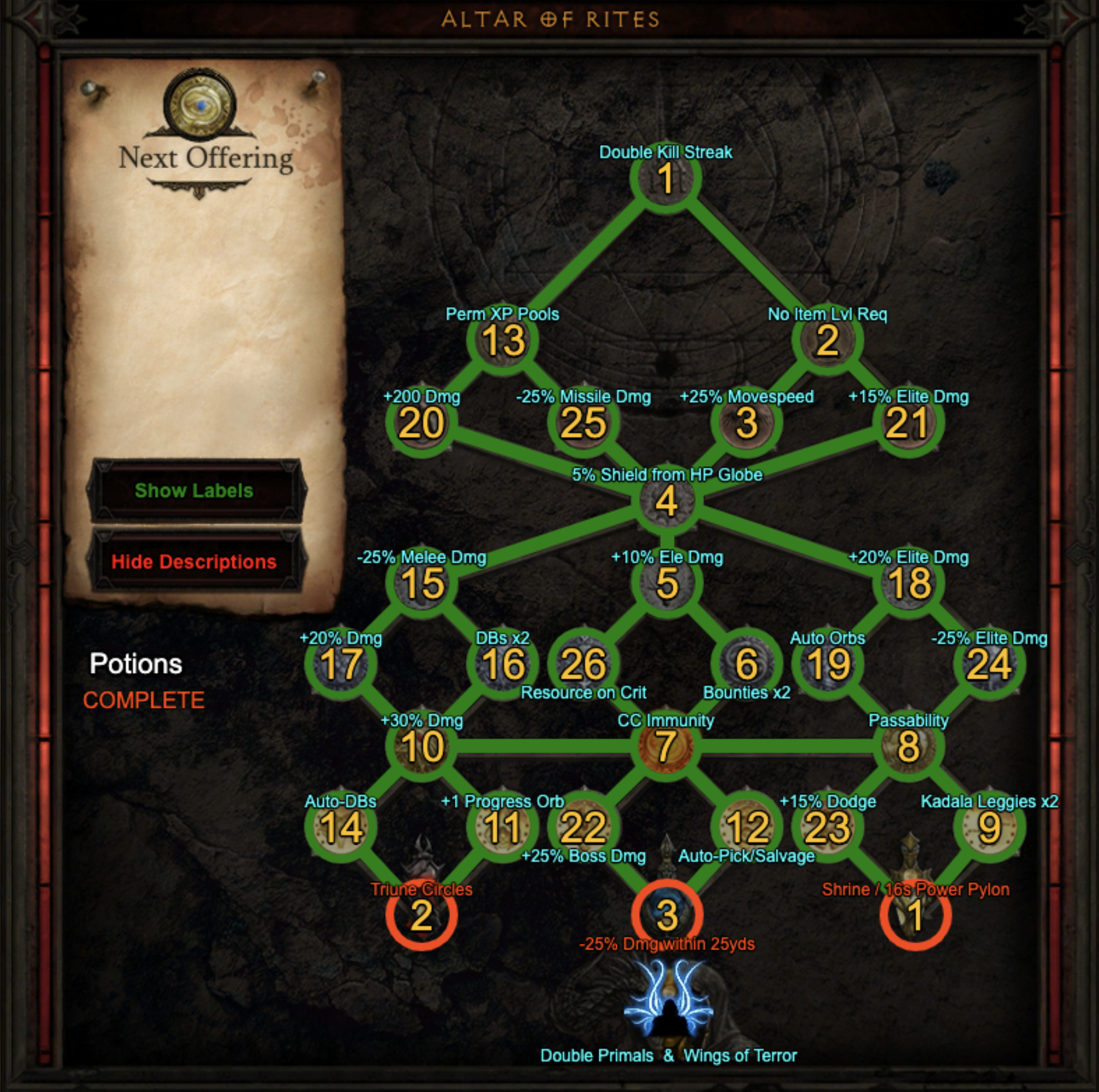 You can read more on the Altar of Rites, Seals and Legendary Potion Powers in our dedicated Altar of Rites Mechanics guide.
Slot
Paragon Points
Core

Movement Speed up to 25% cap
Vitality
Intelligence
Maximum Essence

Offense

Cooldown Reduction
Attack Speed
Critical Hit Chance
Critical Hit Damage

Defense

Armor
Life %
All Resistance
Life Regeneration

Utility

Globe Radius
Life on Hit
Resource Cost Reduction
Area Damage (skip)

Iceblink serves a twofold purpose: first, it adds a potent, scaling slow effect to the cold rune

Brittle Touch; and second, it offers a reliable source of 10% additional party-wide Crit Chance through its level 25 property.

Gogok of Swiftness synergizes well with the build, indirectly providing the entire party with more damage by increasing your essential Cooldown Reduction, as well as substantial personal Toughness from the Dodge bonuses.
The recommended gem for your third and final jewelry slot is

Gem of Efficacious Toxin, for the party-wide damage increase against — and reduced damage from — enemies affected by its poisonous DoT.
For more information about gems, please refer to our guide on gems.
Cubing the

Messerschmidt's Reaver is arguably one of the strongest effects you can have in speedruns — reducing cooldowns by 1 second per slain enemy, and triggering off assists (and thus working with a support build). Note that once you grow confident in your cooldown management, you can cube the unusual

Ahavarion, Spear of Lycander in this slot, which grants helpful Shrine effects to the group even in Greater Rifts; its utility will be greatly extended by the worn

Gloves of Worship.
Stored in the Cube,

Nemesis Bracers will provide the group with an extra elite spawn at every shrine — an indispensable time saving bonus during speed farming.

Briggs' Wrath will serve as an excellent monster pulling tool for the convenience of your DPS teammates.
The Kanai's Cube can be used for much more than simply extracting Legendary powers from items. Please refer to our Kanai's Cube guide for more information.
22 Feb. 2023: Added Season 28 Altar of Rites recommendations.
26 Aug. 2022: Added Season 27 Angelic Crucible recommendations.
14 Apr. 2022: Guide reviewed for Season 26.
08 Dec. 2021: Added Season 25 Soul Shard recommendations.
22 Jul. 2021: Added S24 Ethereal recommendation.
01 Apr. 2021: No changes required for Season 23.
19 Nov. 2020: Revision of base item recommendations, alongside advice for Season 22 changes.
02 Jul. 2020: Minor fixes and clarifications for Season 21.
12 Mar. 2020: Updated gear recommendations to fit the current meta.
22 Nov. 2019: Reviewed for Season 19.
12 May 2019: Guide was archived for Season 17 to reflect it falling off the meta.
18 Jan. 2019: Information was reviewed and approved for Season 16 with no changes required.
Show more
Show less
Builds from Other Classes