LoD Thorns Skeletons Necromancer BiS Gear, Gems, and Paragon Points
Below, we detail the items and gems that you should use for your LoD Thorns Skeletons Necromancer in Diablo 3 and why. We also list your paragon points and Kanai's Cube items. Updated for Patch 2.7.5 and Season 28.
TABLE OF CONTENTS OF THIS PAGE
1.
Best in Slot Gear and Alternatives
As this is a Legacy of Dreams setup, you have considerable freedom in picking out the rest of your gear slots. As a rule of thumb, focus on Thorns, Increased Attack Speed and Cooldown Reduction and remember the setup's requirement for ancient items, as well as its restriction on other set bonuses. You can run individual set pieces with beneficial stats, as long as they do not form any set bonus. Always keep in mind Thorns' inability to crit, and try to avoid or roll off Crit Chance and Crit Damage stats whenever possible.
The Legacy of Dreams power allows you to run any legendary item combination while not losing out on the damage amplification and reduction associated with the traditional 6-piece sets. You can obtain this power in two ways; the older way is equipping the two rings —

The Wailing Host and

Litany of the Undaunted — as your only active set bonus. The newer (and more powerful, since it also opens your ring slots for legendary jewelry) method is the

Legacy of Dreams legendary gem.
In a setup with

Legacy of Dreams, you will be wearing your two best rolled rings between

Unity,

Convention of Elements and

Krysbin's Sentence, and cubing the worst rolled one.

Convention of Elements will provide a massive damage increase during the Physical cycle of its rotation, with an improved uptime compared to other classes due to the Necromancer's three element rotation.

Krysbin's Sentence is a Necromancer-specific item that amplifies damage as long as you apply a hard crowd control — in this case, through

Command Golem

Bone Golem. Lastly,

Unity will cut incoming damage in half when paired with another on the follower, plus an immortality relic for them (i.e.

Enchanting Favor). The recommended amulet is

The Flavor of Time, whose revised legendary power now doubles the duration of Pylons — an extremely potent power that, with careful timing, can turn the progressively harder fights in Greater Riftsgreatly in your favor.
An ancient

Andariel's Visage is your ideal option for the helm, providing an extra source of Physical elemental damage to the build. The helm also naturally rolls with Increased Attack Speed, which greatly benefits the minion-based nature of the build. The build lacks a mandatory synergistic item for the shoulder slot, but you can find minor utility in the cheat-death proc of

Pauldrons of the Skeleton King (still, any well-rolled ancient item will do).
The remainder of your equipment can be roughly split into four categories, each featuring two items with a similar purpose: golem items, defensive items, utility items, and your weapon-and-offhand damage items.
Slot
Pieces
Stat Priority
Head

Intelligence
Physical Damage % (if Andariel's Visage)
Increased Attack Speed (if Andariel's Visage)
Socket
Thorns (Secondary stat)
Vitality

Shoulders

Intelligence
Command Skeletons %
Thorns (Secondary stat)
Vitality
Life %

Torso

Intelligence
3 Sockets
Command Skeletons %
Thorns (Secondary stat)
Vitality
Armor

Wrists

Intelligence
Physical Damage %
Thorns (Secondary stat)
Vitality

Hands

Intelligence
Increased Attack Speed
Thorns (Secondary stat)
Cooldown Reduction
Vitality

Waist

Intelligence
Thorns (Secondary stat)
Vitality
Armor
Life %

Legs

Intelligence
2 Sockets
Thorns (Secondary stat)
Vitality
Armor

Feet

Intelligence
Thorns (Secondary stat)
Vitality
Armor
All Resistance

Amulet

Socket
Intelligence
Physical Damage %
Increased Attack Speed
Thorns (Secondary stat)

Ring #1

Socket
Intelligence
Attack Speed
Thorns (Secondary stat)
Cooldown Reduction

Ring #2

Socket
Intelligence
Attack Speed
Thorns (Secondary stat)
Cooldown Reduction

Weapon

Intelligence
Socket (preferably from Ramaladni's Gift)
Increased Damage vs. Elites
Increased Attack Speed
Vitality

Off-hand

Intelligence
Command Skeletons %
Increased Damage vs. Elites
Thorns (Secondary stat)
Vitality
To help you with farming the gear you need for your builds, we have two very useful guides that you can access by clicking the links below: a Salvage Guide to help you quickly check whether or not you can safely salvage a piece of gear and a Legendary Farming Guide to help you efficiently farm legendaries and set items.
1.1.
Season 28: Altar of Rites
Season 28 comes with the theme of the Altar of Rites — a powerful new account-wide and Season-specific progression system that brings tremendous offensive and defensive buffs to every seasonal character. For virtually all builds and players of all skill levels — from casual to advanced — we recommend progressing through the Altar tree using the path outlined below. The suggested path is geared towards maximum quality of life first, then amplifying damage, and then mopping up the tree with defensive and edge case utility nodes.
Note that while they require reaching them with a Seal, Legendary Potion Powers are not part of the Seal cost system; Potions unlock with a separate resource called Primordial Ashes, obtained from salvaging Legendary or Set items of Primal (red bordered) quality. Upgrade them as soon as possible, and in the order shown below (courtesy of Caleko's Altar of Rites planner).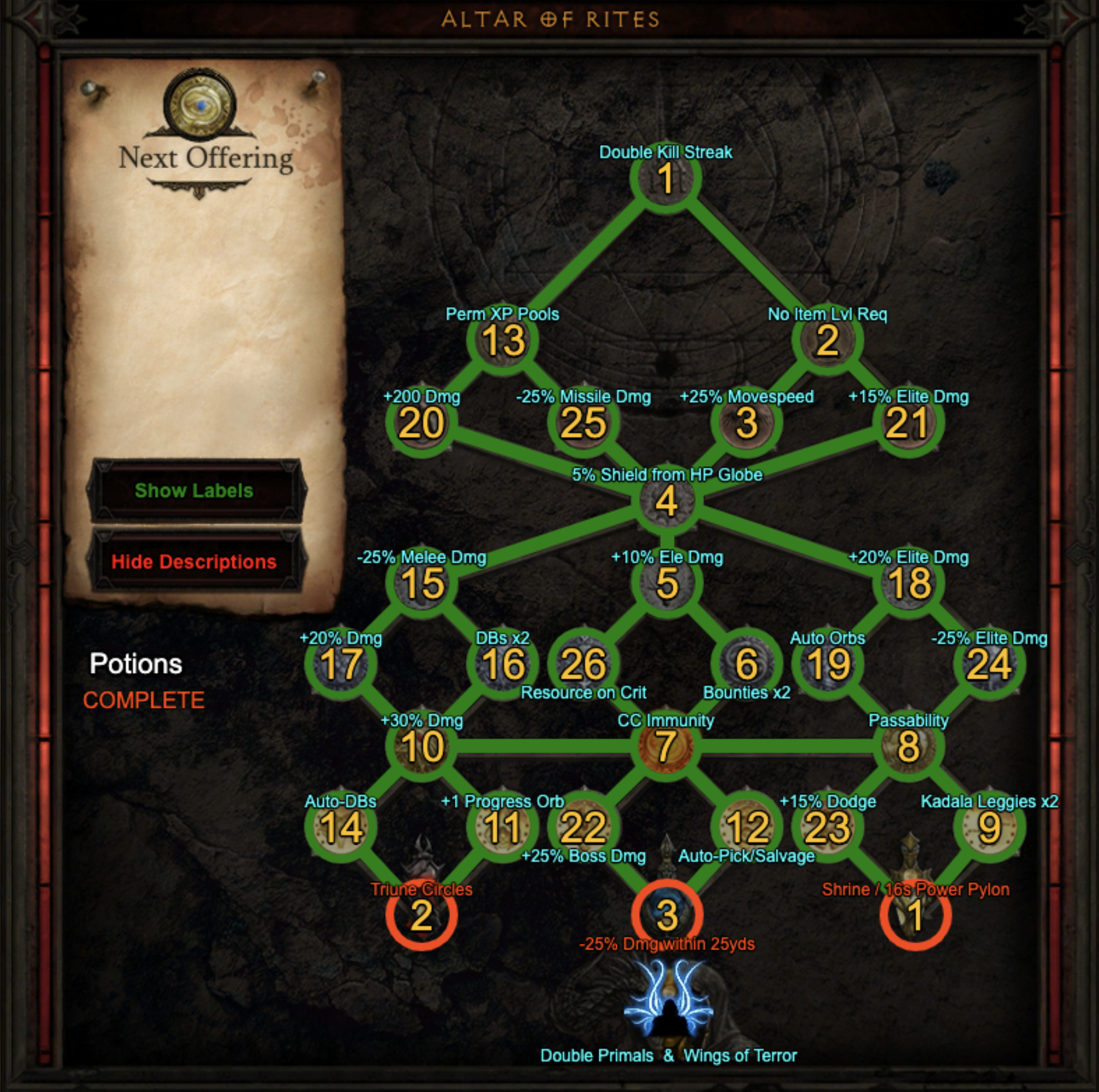 You can read more on the Altar of Rites, Seals and Legendary Potion Powers in our dedicated Altar of Rites Mechanics guide.
Slot
Paragon Points
Core

Movement Speed up to 25% cap
Intelligence
Vitality
Maximum Essence

Offense

Attack Speed
Cooldown Reduction
Critical Hit Damage
Critical Hit Chance

Defense

Armor
Life %
All Resistance
Life Regeneration

Utility

Life on Hit
Resource Cost Reduction
Area Damage
Globe Radius

Boyarsky's Chip is a straightforward addition to a Thorns build with its massive, dedicated increase to said stat.

Enforcer is a pet-oriented gem that both increases your summons' damage multiplicatively and lessens the damage they take. This secondary bonus grows in value during Greater Rift progression, where summons start taking considerable amounts of damage and die on a regular basis.
Your final slot is best occupied by the

Legacy of Dreams legendary gem, which provides a scaling bonus for each legendary item equipped, as long as you have no set bonuses equipped. This bonus is multiplied for Ancient or Primal quality items, and when the gem is maxed out, it matches the Legacy of Nightmares (

The Wailing Host and

Litany of the Undaunted rings) set bonus. This potent bonus allows you to play around with all your gear slots for synergistic legendary powers at the cost of a gem slot.
For more information about gems, please refer to our guide on gems.
Your weapon slot in Kanai's Cube should be taken by

Trag'Oul's Corroded Fang, a one-handed scythe that scales your damage multiplicatively against enemies afflicted by your curses. Considering the curse-heavy nature of the build, this is one of the strongest multipliers you can add to the build. Note that this item is interchangeable with

Spear of Jairo, depending on your worse rolled item.
To complement the constant movement of the build,

Hexing Pants of Mr. Yan are added to the armor slot of the Cube to provide an extra additive damage increase. Keep in mind its damage decreasing property while stationary, and strive to be on the move at all times. Also, if you opt for a

Stone Gauntlets-wearing version of this build,this slot needs to be taken by the CC-removing

Ice Climbers effect (or you wear the

Ice Climbers, and cube

Illusory Boots here.)
Your jewelry Cube slot should be taken by the rotation-based elemental damage multiplier of

Convention of Elements. Note that its Physical cycle affects Thorns damage (and thus, you will be aiming for optimal positioning of your pets in the thick of the fight during this cycle), as well as the shortened rotation of CoE on Necromancers overall — since the class only has three sources of elemental damage. These factors combined make it an optimal choice for the slot.
The Kanai's Cube can be used for much more than simply extracting Legendary powers from items. Please refer to our Kanai's Cube guide for more information.
The recommended follower for this build during solo GR progression is the Enchantress, due to her cooldown reduction- and increased attack speed bonuses, both of which are helpful to the needs of an attack speed- and CDR-heavy build such as this one.
For more information regarding followers, we advise you to read our Follower Guide, which contains detailed advice for choosing the skills and the gear of your follower.
Your recommended potion is

Bottomless Potion of the Tower, whose Armor-increasing properties complement the naturally high All Resistances stat of Necromancers (due to Intelligence scaling Resistances) for optimal survivability.
22 Feb. 2023: Added Season 28 Altar of Rites recommendations.
26 Aug. 2022: Added Season 27 Angelic Crucible recommendations.
14 Apr. 2022: Guide reviewed for Season 26.
08 Dec. 2021: Added Season 25 Soul Shard recommendations.
22 Jul. 2021: Added S24 Ethereal recommendation.
01 Apr. 2021: Added follower recommendation.
19 Nov. 2020: Added S22 Cube recommendation.
02 Jul. 2020: No changes required for Season 21.
12 Mar. 2020: Revised jewelry options and added non-Golem gearing alternatives for Season 20.
22 Nov. 2019: Reviewed for Season 19.
23 Aug. 2019: Item recommendations have been revised for Season 18.
23 May 2019: Minor fixes to the guide.
17 May 2019: Guide was reviewed and approved for Season 17.
12 May 2019: Guide was revised with additional recommendations for Season 17's LoN buff.
27 Mar. 2019: Guide added.
Show more
Show less
Builds from Other Classes