LoD WoL Monk BiS Gear, Gems, and Paragon Points
Below, we detail the items and gems that you should use for your LoD WoL Monk in Diablo 3 and why. We also list your paragon points and Kanai's Cube items. Updated for Patch 2.7.5 and Season 28.
TABLE OF CONTENTS OF THIS PAGE
1.
Best in Slot Gear and Alternatives
As this is a Legacy of Dreams-based spec, the rest of your gear slots will be comprised entirely of legendary items. As a rule of thumb, focus on synergistic stats like Crit Chance and Damage, Area Damage, and Wave of Light skill %, and remember the rings' requirements for ancient items, as well as their restriction on other set bonuses. You can temporarily run individual set pieces with beneficial stats, as long as they do not form any set bonus. You will roughly be aiming to hit around the ~35% Cooldown Reduction point and the ~40% Resource Cost Reduction point for optimal split between skill and Spirit availability.
The Legacy of Dreams power allows you to run any legendary item combination while not losing out on the damage amplification and reduction associated with the traditional 6-piece sets. You can obtain this power in two ways; the older way is equipping the two rings —

The Wailing Host and

Litany of the Undaunted — as your only active set bonus. The newer (and more powerful, since it also opens your ring slots for legendary jewelry) method is the

Legacy of Dreams legendary gem.
In a setup with

Legacy of Dreams, you will be wearing your two best rolled rings and cubing the third between

Convention of Elements,

Unity, and

Obsidian Ring of the Zodiac.

Obsidian Ring of the Zodiac is crucial to the build due to its cooldown reducing mechanics, which tirelessly chip away at your

Epiphany downtime.

Convention of Elements simply provides a massive damage increase during the Fire or Lightning elemental damage (depending on your chosen WoL rune) cycle of its rotation.

Unity will cut incoming damage in half when paired with another on the follower, along with an immortality relic for them (i.e.

Enchanting Favor); at the highest tiers of character progression, you can drop

Unity for an

Oculus Ring.
You have two viable options for the amulet slot; either using

Squirt's Necklace for an additional damage multiplier, or a

Hellfire Amulet of Dexterity for a synergistic fifth passive like

Near Death Experience. The former favorite

The Flavor of Time should now be slotted on your follower, and its power will be transferred to your character via the Emanate mechanics.
The mandatory head piece for the build is

Tzo Krin's Gaze — the Spirit Stone that turns

Wave of Light into a ranged skill (though in this LoD setup you will be fighting at a relatively close range), and amplifies its damage by up to 150% as a free fifth affix.
Your ideal shoulder is the protective

Lefebvre's Soliloquy, which greatly reduces damage taken for 5 seconds after casting

Cyclone Strike. The length of this buff matches the one from

Bindings of the Lesser Gods, so you will do well to make a habit of applying

Cyclone Strike at regular intervals.
A duo of Fire elemental damage boosting items take up some of your armor pieces.

Cindercoat and

Blackthorne's Jousting Mail are able to bring up to 20% Fire elemental damage each, greatly amplifying your main damage dealer.

Cindercoat brings Resource Cost Reduction value to the build, which eases the strain on your Spirit spending from the gluttonous

Wave of Light. (If you opted for a Lightning WoL version of this build, wear

Aquila Cuirass instead.)

Blackthorne's Jousting Mail provide an elemental damage increase, which is fairly unique for the slot — as long as it does not form its set bonus with another Blackthorne item, thus breaking the LoD bonus, this will be your best-in-slot piece.

Stone Gauntlets (either worn or cubed) are one of the most effective protective pieces in the game, bumping your armor in 50% increments as you get hit, but with a similarly stacking mobility penalty — a downside you will be completely negating with the crowd control immunity while

Epiphany is active.
You have two important bracers in the LoN WoL build; simply wear the one you rolled better and cube the other.

Pinto's Pride is a

Wave of Light-specific bracer that doubles as a damage amplifier and a tool for crowd control, slowing enemies by the impressive 80% when struck with a pillar. Helping you keep foes in check,

Pinto's Pride also gives you a vital, effortless proc for

Bane of the Trapped.

Bindings of the Lesser Gods greatly amplify your

Mystic Ally damage against enemies affected by

Cyclone Strike, which curiously interacts with your

Rabid Strike-spawned mimic for a massive boost to your overall DPS.
The best-in-slot belt for the build when pushing Greater Rifts is the glass cannon favorite,

The Witching Hour. What this belt lacks in unique properties, it makes up in unique rolls: it is the only item in the slot that can roll Attack Speed and Critical Damage. Both stats are immensely beneficial to your damage output, so seek as close to the maximum 7 IAS and 50 Crit Damage as you can.

The Crudest Boots make a natural fit for the resource demands of the build, doubling your

Mystic Ally summons and thus increasing the effectiveness of

Air Ally to 8 Spirit per Second and 200 Spirit per activation. The damage increase to Allies applies to the

Rabid Strike clone — turning this build into an impromptu summoner, as the clone will deliver the bulk of your damage.

Kyoshiro's Blade is a crucial piece of a

Wave of Light setup by bringing another 150% damage multiplier to the skill, and spiking your damage even further when fighting 3 or fewer enemies — indispensable versus Champions and Rift Guardians. Your other weapon will be

Rabid Strike, and with your high

Epiphany uptime plus the buffs available to the "clone" from the weapon (

Bindings of the Lesser Gods amplifies its damage, as well as

Enforcer) you will greatly increase your overall output.
1.1.
Desired Stats, Breakpoints and Other Notes
The build requires the standard investments in skill damage across the gear pieces that can roll the stat (helm and boots in this case, with the added benefit of

Tzo Krin's Gaze rolling with Wave of Light damage as an innate roll). Aside from that, it requires as much Area Damage as you can fit (ideally 130%+) while still maintaining a high investment in Cooldown Reduction, which is by far the hardest and most demanding utility roll; try to obtain 55%+, achievable with a CDR roll on the shoulder, gloves, both your weapons, plus a Diamond in the helm, maxed out CDR Paragons and

Beacon of Ytar in your passives.
For Defense stats, aim for a life pool between 600-700k; dropping as much as you can for offense as you grow accustomed to the build. You will mostly sustain through Life per Hit on gear, with one high roll in your setup (i.e. bracer or weapon).
All augmentations on gear should be done with your main stat, Dexterity.
Note that the stat suggestions below portray an ideally rolled item with stats listed in relative order of importance. The first four of them are main stats, and the latter two — secondary stats. If your item lacks and is unable to be rerolled into the primary stats outlined below, especially for a stat higher on the list, strongly consider its replacement. Perfecting Secondary stats is mostly a case of hyper-optimization and is not a case for discarding an item, except where noted.
Slot
Pieces
Stat Priority
Head

Dexterity
Socket
Critical Hit Chance
Wave of Light Damage %
Physical or Lightning Resistance (Secondary Stat)
Pickup Radius (Secondary Stat)

Shoulders

Dexterity
Cooldown Reduction
Area Damage
Resource Cost Reduction
Physical or Lightning Resistance (Secondary Stat)
Health Globe Healing Bonus (Secondary Stat)

Torso

Dexterity
3 Sockets
Vitality
Reduced damage from Elites
Physical or Lightning Resistance (Secondary Stat))
Melee or Missile Damage Reduction (Secondary Stat)

Wrists

Dexterity
Critical Hit Chance
Fire or Lightning Damage %
Life per Hit or Vitality
Physical or Lightning Resistance (Secondary Stat)

Hands

Dexterity
Dexterity (replaced by Area Damage at High Paragons)
Critical Hit Chance
Critical Hit Damage
Cooldown Reduction
Physical or Lightning Resistance (Secondary Stat)
Pickup Radius (Secondary Stat)

Waist

Dexterity
Critical Hit Damage (if The Witching Hour)
Attack Speed (if The Witching Hour)
Vitality
Physical or Lightning Resistance (Secondary Stat)
Life per Kill (Secondary Stat)

Legs

Dexterity
2 Sockets
Fire Damage %
Vitality
Physical or Lightning Resistance (Secondary Stat)
Life per Kill (Secondary Stat)

Feet

Dexterity
Wave of Light Damage %
Vitality
Armor
Physical or Lightning Resistance (Secondary Stat)
Health Globe Healing Bonus (Secondary Stat)

Amulet

Socket (guaranteed)
Critical Hit Damage
Critical Hit Chance
Fire or Lightning Damage %
Physical or Lightning Resistance (Secondary Stat)
Melee or Missile Damage Reduction (Secondary Stat)

Ring #1

Socket
Critical Hit Damage
Critical Hit Chance
Average Damage

Ring #2

Socket
Critical Hit Damage
Critical Hit Chance
Average Damage

Weapon #1

High Weapon Damage
Dexterity
Socket (preferably from Ramaladni's Gift)
Damage %
Area Damage or Life per Hit
Life per Kill (Secondary Stat if LpH not present)

Weapon #2

High Weapon Damage
Dexterity
Socket (preferably from Ramaladni's Gift)
Damage %
Area Damage or Life per Hit
Life per Kill (Secondary Stat if LpH not present)
To help you with farming the gear you need for your builds, we have two very useful guides that you can access by clicking the links below: a Salvage Guide to help you quickly check whether or not you can safely salvage a piece of gear and a Legendary Farming Guide to help you efficiently farm legendaries and set items.
1.1.1.
Season 28: Altar of Rites
Season 28 comes with the theme of the Altar of Rites — a powerful new account-wide and Season-specific progression system that brings tremendous offensive and defensive buffs to every seasonal character. For virtually all builds and players of all skill levels — from casual to advanced — we recommend progressing through the Altar tree using the path outlined below. The suggested path is geared towards maximum quality of life first, then amplifying damage, and then mopping up the tree with defensive and edge case utility nodes.
Note that while they require reaching them with a Seal, Legendary Potion Powers are not part of the Seal cost system; Potions unlock with a separate resource called Primordial Ashes, obtained from salvaging Legendary or Set items of Primal (red bordered) quality. Upgrade them as soon as possible, and in the order shown below (courtesy of Caleko's Altar of Rites planner).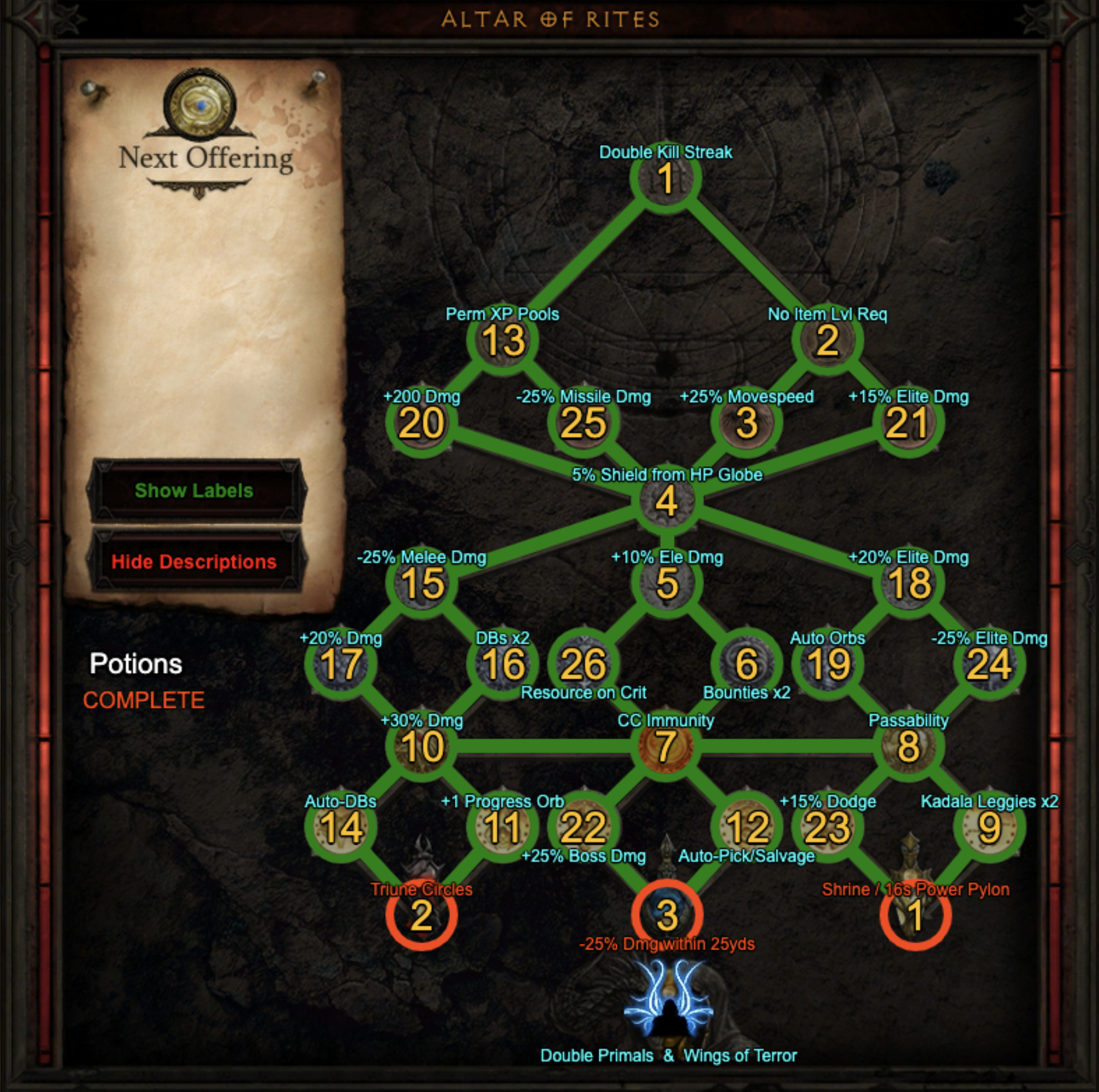 You can read more on the Altar of Rites, Seals and Legendary Potion Powers in our dedicated Altar of Rites Mechanics guide.
In the Core section, max out Movement Speed to the 25% cap. Normally this is done by dumping the first 50 Core Paragon points into Movement Speed, but if your boots have an imperfect roll with Movement Speed as a stat that you cannot replace, adjust the necessary point investment accordingly by simply subtracting your roll from the 25% max. After that dump as much as you comfortably can into Dexterity, but feel free to invest into Vitality if you feel yourself lacking in toughness, or Maximum Spirit if you want to play around with a bigger resource pool.
In the Offense section, max out Cooldown Reduction, Crit Chance, Crit Damage, and Attack Speed, in that order. In Defense, prioritize All Resistance, then Life %, then Armor, and finish off with Life Regeneration. In Utility, build up Resource Cost Reduction and Area Damage first, then finish off with Life on Hit and Gold Find.
Slot
Paragon Points
Core

Movement Speed up to 25% cap
Dexterity
Maximum Spirit (up to personal preference)
Vitality

Offense

Cooldown Reduction
Critical Hit Damage
Critical Hit Chance
Attack Speed

Defense

All Resistance
Armor
Life %
Life Regeneration

Utility

Resource Cost Reduction
Area Damage
Life on Hit
Gold Find

Enforcer brings a multiplicative damage increase to pets, which curiously interacts with the

Rabid Strike Ally-like clone and makes this gem highly desirable for the setup.

Bane of the Stricken builds up your damage multiplicatively in prolonged fights and has a level 25 bonus specifically targeting Rift Guardians; this gem is designed to assist AoE heavy builds in their struggle against single target, high HP enemies. The Wave of Light Monk does better than most builds in single target situations but still benefits decently from the gem — a testament to its quality.
Your final slot is best occupied by the

Legacy of Dreams legendary gem, which provides a scaling bonus for each legendary item equipped, as long as you have no set bonuses equipped. This bonus is multiplied for Ancient or Primal quality items, and when the gem is maxed out, it matches the Legacy of Nightmares (

The Wailing Host and

Litany of the Undaunted rings) set bonus. This potent bonus allows you to play around with all your gear slots for synergistic legendary powers at the cost of a gem slot; in the older LoN setup, this socket would be occupied by either

Bane of the Trapped or

Zei's Stone of Vengeance.
When it comes to gear gems, you will start out progression by slotting the highest available level of Emeralds in the chest and pants sockets. Ideally, these will all be

Flawless Royal Emeralds as soon as possible. As you grow in Paragon (bulking up Dexterity in the Core section) and aim for higher tier and more dangerous GRs, you will transition those gems into the defensive

Flawless Royal Diamond. There is no specific breakpoint where you do that; the rule of thumb is to make the change as soon as you feel the lack of toughness impede your progress. Since this is a fairly cooldown-dependent build, slot a

Flawless Royal Diamond in your helm. In your weapons, use a

Flawless Royal Emerald for the Crit Damage boost.
For more information about gems, please refer to our guide on gems.
For Greater Rift progression, the weapon slot will be taken by the

Incense Torch of the Grand Temple, as its resource cost reduction bonuses soften the restrictive price of

Wave of Light.
As previously mentioned, your armor slot will be taken by your weaker roll between

Pinto's Pride and

Bindings of the Lesser Gods. Both bracers are crucial to the playstyle, and one must be worn, while the other — cubed.

Obsidian Ring of the Zodiac is an important piece of the setup, as its cooldown reduction power is the only reliable way to bring

Epiphany's cooldown to permanent uptime.
The Kanai's Cube can be used for much more than simply extracting Legendary powers from items. Please refer to our Kanai's Cube guide for more information.
The recommended follower for this build during solo GR progression is the Scoundrel due to his powerful crit buff, allowing you brief windows of extra damage that are well suited to the strengths of this build.
For more information regarding followers, we advise you to read our Follower Guide, which contains detailed advice for choosing the skills and the gear of your follower.
The preferred potions for this build are

Bottomless Potion of Kulle-Aid (allowing you to break down Waller affixes that impede your

Wave of Light damage) and

Bottomless Potion of the Tower, whose Armor-increasing properties complement the naturally high All Resistances stat of Monks (due to

Harmony) for optimal survivability.
22 Feb. 2023: Added Season 28 Altar of Rites recommendations.
26 Aug. 2022: Added Season 27 Angelic Crucible recommendations.
14 Apr. 2022: Guide reviewed for Season 26.
08 Dec. 2021: Guide revised and added Season 25 Soul Shard recommendations.
21 Jul. 2021: Added Ethereal weapon recommendation for Season 24.
01 Apr. 2021: Minor gear revision and added follower recommendation.
16 Nov. 2020: Added S22 Cube recommendation.
01 Jul. 2020: No changes required for Season 21.
12 Mar. 2020: No changes necessary for Season 20.
21 Nov. 2019: Enriched the Gear page with additional explanations and improved stat table. Updated for Season 19.
25 Sep. 2019: Minor corrections to the item table.
23 Aug. 2019: Revised item recommendations for Season 18.
16 May 2019: Guide added.
Show more
Show less
Builds from Other Classes