Deathwing, Dragonlord — Neutral Card
Table of Contents
Deathwing, Dragonlord is a neutral minion. This card was introduced with Whispers of the Old Gods and can now only be obtained through crafting. Below the card images, you will find explanations to help you use the card optimally in every game mode of Hearthstone.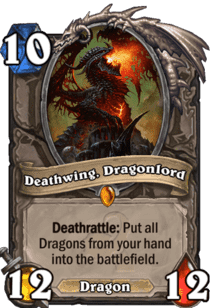 Deathwing, Dragonlord is one of the most powerful effects in the entire game, allowing you to summon a huge presence of Dragons from hand in a single turn. However, the card is extremely slow, and any deck that relies on this strategy will be punished very heavily by Aggro decks. On top of this, in order to have Dragons in your hand on turn 10 to pull out with Deathwing, Dragonlord, you will have had to have not played them on previous turns, which is somewhat counterintuitive.
Deathwing, Dragonlord can be used as a win condition in a very slow Dragon based deck, but you will probably find that a deck of this type will get punished much too hard by Aggro in Constructed to prove viable.
Deathwing, Dragonlord is no longer available in Arena.