Prince Kael'thas Boss Guide for Book of Heroes (Jaina)
Prince Kael'thas is the seoncd boss in the Jaina Proudmoore chapter of the Book of Heroes Solo Adventure. In this guide, you will learn strategy tips and tricks to help you defeat the boss.
TABLE OF CONTENTS OF THIS PAGE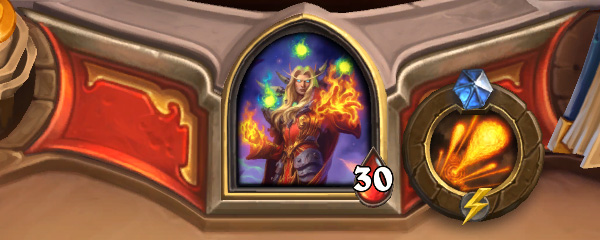 Prince Kael'thas uses a fire-themed deck consisting of various fire minions like Fire Fly and Firebrand as well as fire spells like Fireball and Flamestrike. The boss uses the Firemancy Hero Power to slowly fill its deck with Fireballs.
You will be provided with frost-themed Mage deck consisting of powerful cards like Blizzard and Iceball in addition to the Iceblast Rank 2 Hero Power.
In your Mulligan you should look for solid early-game cards like Gray Cat and Frostbolt.
Although the boss has a very intimidating Hero Power, it will rarely take it into consideration as part of its strategy. As such, you should utilise a control-heavy style of removing any minions the boss plays onto the board, using your notable Iceblast Rank 2 Hero Power to help when possible. While doing this, the boss will continually use its own removal spells and Fireballs to clear your board rather than simiply rushing you down. Eventually you should be able to out-value the boss and grind it down as it eventually get stuck with a deck full of Fireballs that will only be used to clear your board.
4.
Next Boss: Prince Arthas
15 Sep. 2020: Guide added.
Show more
Show less