Reno Jackson — Neutral Card
Table of Contents
Reno Jackson is a neutral minion. This card used to be obtained in the League of Explorers Mountain solo adventure, but is now only obtainable through crafting (unless you purchased the first wing of the League of Explorers before the expansion was removed from the shop, in which case, you can still purchase the rest of the expansion). Below the card images, you will find explanations to help you use the card optimally in every game mode of Hearthstone.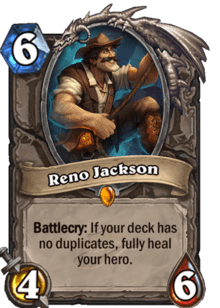 Reno Jackson is a unique card in Hearthstone that has an effect based on remaining cards in your library. It can cause a lot of confusion on what it requires to activate, you can have double copies of cards in your deck, but you must draw at least one of them before Reno will activate. It should also be noted that Reno does not have the yellow border around it to indicate it is active like other Battlecry cards, so you must keep track of your deck manually.
In Constructed, Reno Jackson can be used in most classes in what are known as "Highlander" decks which feature 30 unique cards. It can also be used in some slow decks like Freeze Mage, still including double copies of cards, but relying on drawing the majority of your deck to activate it.
Reno Jackson is no longer available in Arena.