Dragon Consort — Paladin Card
Table of Contents
Dragon Consort is a Paladin-only minion. This card used to be obtained in the Blackrock Mountain solo adventure, but is now only obtainable through crafting (unless you purchased the first wing of Blackrock Mountain before the expansion was removed from the shop, in which case, you can still purchase the rest of the expansion). Below the card images, you will find explanations to help you use the card optimally in every game mode of Hearthstone.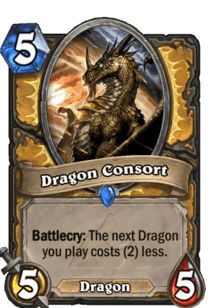 Dragon Consort is one of the many new Dragon cards introduced in the Blackrock Mountain expansion. Due to it being a Paladin class card, it makes Paladin a likely home for any eventual Dragon themed decks.
In Constructed, Dragon Consort will be the basis of any Paladin based Dragon deck, and may even be powerful enough to see play in more general Midrange Paladin decks. A 5 Mana 5/5 still trades effectively against common minions in the game, and the effect is extremely beneficial to your late-game.
Dragon Consort is no longer available in Arena.