Anodized Robo Cub — Druid Card
Table of Contents
Anodized Robo Cub is a Druid-only minion. This card was introduced with Goblins vs Gnomes and can now only be obtained through crafting. Below the card images, you will find explanations to help you use the card optimally in every game mode of Hearthstone.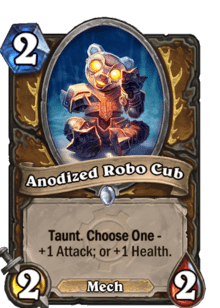 Anodized Robo Cub is a very versatile card. 2/3 or 3/2 are the preferred stats depending on the situation. Since this card is able to be either in reaction to these situations, and has the added bonus of Taunt, it is a very strong card.
In Contructed, Anodized Robo Cub will work best in a Druid deck that aims to play a consistent curve of minions starting in the early game, or in a Mech synergy deck. In a more Ramp focused Druid deck, this card will be less appropriate since you will usually aim to play Wild Growth or Innervate on turn 2 instead.
Anodized Robo Cub is no longer available in Arena.