Ethereal Conjurer — Mage Card
Table of Contents
Ethereal Conjurer is a Mage-only minion. Below the card images, you will find explanations to help you use the card optimally in every game mode of Hearthstone.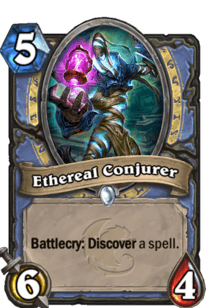 Ethereal Conjurer is a very threatening minion that serves the additional purpose of gaining you additional resources. Mages have a lot of valuable spells, which makes its Discover effect quite valuable. However, its 3 Health is extremely poor and will lead to it being removed easily quite often.
In Constructed, Ethereal Conjurer does not see too much play, but it can be used in a Tempo Mage deck to function similarly to additional copies of Azure Drake.
Ethereal Conjurer is no longer available in Arena.