Majordomo Executus — Neutral Card
Table of Contents
Majordomo Executus is a neutral minion. This card used to be obtained in the Blackrock Mountain solo adventure, but is now only obtainable through crafting (unless you purchased the first wing of Blackrock Mountain before the expansion was removed from the shop, in which case, you can still purchase the rest of the expansion). Below the card images, you will find explanations to help you use the card optimally in every game mode of Hearthstone.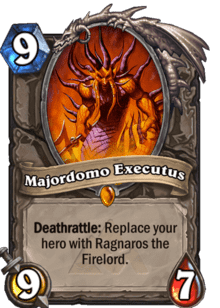 Majordomo Executus is a unique card that introduces only the second effect that replaces your Class's Hero with a new form. In this case, Ragnaros the Firelord. The Ragnaros form has 8 health, and can use a 2 Mana Hero Power to deal 8 damage to a random enemy, much like the Ragnaros the Firelord card itself.
Majordomo Executus is for the most part too fragile to be played in Constructed. Due to how common Big Game Hunter is, you will often be in a situation where your opponent can easily clear Majordomo Executus and then have enough damage to kill your Ragnaros the Firelord form, before you are ever able to use its power.
Majordomo Executus is no longer available in Arena.