Stormforged Axe — Shaman Card
Table of Contents
Stormforged Axe is a Shaman-only weapon. Below the card images, you will find explanations to help you use the card optimally in every game mode of Hearthstone.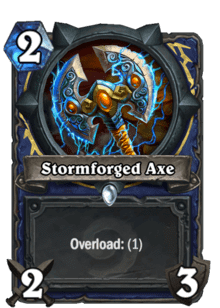 Stormforged Axe is an excellent value early-game card that can provide you with a lot of board control throughout the early turns.
Stormforged Axe is a reasonable card in Constructed, but since most early-game minions commonly used in Constructed are resistant to removal through Deathrattles or Divine Shields, it is not as effective as it once was.
Stormforged Axe is fantastic in Arena. 3/2 minions are extremely common in Arena, so Stormforged Axe can single-handedly destroy the opening of an opponent who has kept 2 3/2 minions to play with The Coin.