Warpath — Warrior Card
Table of Contents
Warpath is a Warrior-only spell. This card was introduced with The Witchwood and can now only be obtained through crafting. Below the card images, you will find explanations to help you use the card optimally in every game mode of Hearthstone.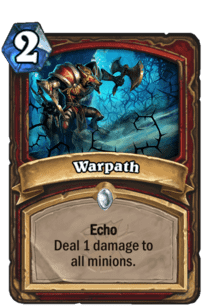 Warpath is a Warrior spell that benefits from the Echo effect to allow it to be played multiple times in the same turn. The ability to trigger multiple Whirlwind effects in the same turn can be used both offensively to get huge value from minions such as Rotface, or defensively to deal huge amounts of AoE damage to the board.
In Constructed, Warpath is ideal for slower Warrior decks, offering a strong Whirlwind effect for synergies whilst also being able to fill the role of a strong AoE effect.
In Arena, Warpath is a solid card. Despite potentially having a high Mana Cost, AoE and board clear effects are always highly desirable in Arena.