Cat Trick — Hunter Card
Table of Contents
Cat Trick is a Hunter-only spell. This card can be obtained in the One Night in Karazhan solo adventure. Below the card images, you will find explanations to help you use the card optimally in every game mode of Hearthstone.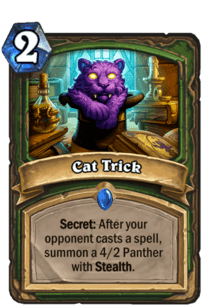 If triggered, Cat Trick represents tremendous value as a 4/2 Stealth minion for 2 Mana. This means that opponents have to tread very carefully when facing a Secret early in the game. If Cat Trick is played before the opponent has played The Coin, it can disrupt the opponent's curve. If it is triggered early, the 4/2 minion can do a large amount of damage very quickly, and can be difficult to recover from. It is worth noting that Cat Trick can also be a defence against AoE spells, as the minion is generated after the spell has resolved.
Secret Hunter and Spell Hunter decks often need to play many Secrets, which makes Cat Trick an almost automatic inclusion in such decks. Not only is the 4/2 Stealth minion valuable, but the Secret is almost certain to trigger against most decks. There is great synergy between Secrets and strong cards such as Eaglehorn Bow, Cloaked Huntress, and Lesser Emerald Spellstone. In Spell Hunter decks, minion-generating spells are at a premium, which means Cat Trick is extremely well suited to the job.
Cat Trick is no longer available in Arena.