King Krush — Hunter Card
Table of Contents
King Krush is a Hunter-only minion. Below the card images, you will find explanations to help you use the card optimally in every game mode of Hearthstone.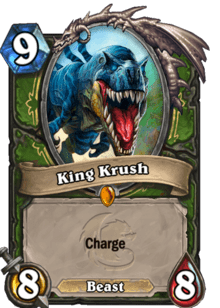 King Krush may appear to be a very powerful card, however it is outclassed in most situations by other alternatives. As a source of Charge damage, it is less efficient than Arcane Golem or Leeroy Jenkins, while as a removal tool there are many better options available.
King Krush is simply too expensive to fill a role in any high level Constructed deck. As a source of direct damage, it suffers from being too expensive, meaning you are unable to use your Hero Power in the same turn. Leeroy Jenkins offers the same 8 damage for 7 Mana once you add in a Hero Power as well.
King Krush is a more reasonable pick in Arena than in Constructed, since you can more often effectively use it as a trading tool in the late-game. However, there will still quite often be a more valuable pick from 3 Legendary options.