Chief Inspector — Neutral Card
Table of Contents
Chief Inspector is a neutral minion. This card was introduced with from The Witchwood and can now only be obtained through crafting. Below the card images, you will find explanations to help you use the card optimally in every game mode of Hearthstone.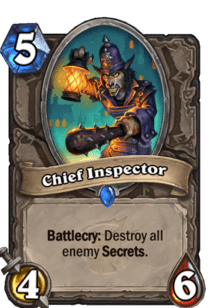 Chief Inspector is an anti-Secret tech card. It is the heir to Eater of Secrets after Whispers of the Old Gods rotated from Standard, which has the advantage of being 1 Mana cheaper than Chief Inspector for Wild decks.
Chief Inspector is a tech card for Secret-heavy metagames. If you need a card to destroy enemy Secrets in Standard, Chief Inspector is your only option.
A 5 Mana 4/6 is not awful in the Arena, and there is a reasonable chance that Chief Inspector will be able to nab a Secret or two during an Arena run. Though he is far from a high pick, you could certainly do worse.