Muster for Battle — Paladin Card
Table of Contents
Muster for Battle is a Paladin-only spell. This card was introduced with Goblins vs Gnomes and can now only be obtained through crafting. Below the card images, you will find explanations to help you use the card optimally in every game mode of Hearthstone.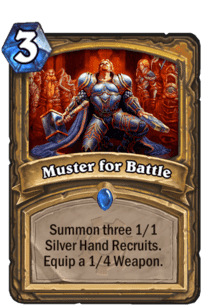 Muster for Battle is a strong early game card in a class that was lacking in that area before Goblins vs Gnomes. It can function as a strong answer to early aggression as well as providing multiple possible targets for a turn 4 Blessing of Kings in an Aggro or Midrange deck.
Muster for Battle is an extremely strong card that will be included in most Paladin decks. It provides a strong board presence even on its own, and when combined with cards like Blessing of Kings, Quartermaster, or Bolvar Fordragon it can represent very strong value.
Muster for Battle is no longer available in Arena.