Embrace the Shadow — Priest Card
Table of Contents
Embrace the Shadow is a Priest-only spell. This card was introduced with Whispers of the Old Gods and can now only be obtained through crafting. Below the card images, you will find explanations to help you use the card optimally in every game mode of Hearthstone.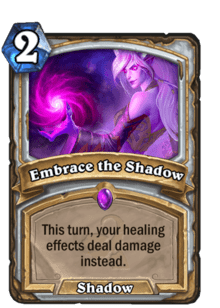 Embrace the Shadow is a powerful Combo card that can be used to activate burst damage Combos with Priest much more cheaply than the usual Auchenai Soulpriest.
In Constructed, Embrace the Shadow can be used in a Control Priest deck that tries to build up a hand containing this card Prophet Velen and various burn cards. After discounting them with Emperor Thaurissan this will enable a huge burst damage turn, similar to the strategy of Freeze Mage.
Embrace the Shadow is no longer available in Arena.