Purify — Priest Card
Table of Contents
Purify is a Priest-only spell. This card can be obtained in the One Night in Karazhan solo adventure. Below the card images, you will find explanations to help you use the card optimally in every game mode of Hearthstone.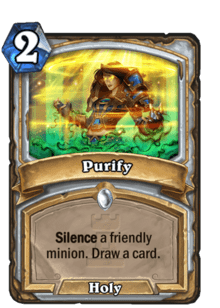 Purify is not a particularly competitive card, but can still be effective in some fun decks that aim to use minions with negative effects such as Ancient Watcher and Eerie Statue. It can also be used alongside Barnes to return your summoned minion to its full stats.
In Constructed Purify is not a card that you will see in high level decks too often. It is mostly reserved for fun decks that aim to combine it with cards like Ancient Watcher and Eerie Statue. In the future however, if more cards like these are released then it can potentially become a strong card.
Purify is not available in Arena