Fiendish Circle — Warlock Card
Table of Contents
Fiendish Circle is a Warlock-only spell. Below the card images, you will find explanations to help you use the card optimally in every game mode of Hearthstone.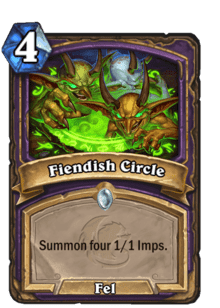 The ability to create four minions from a single card makes Fiendish Circle enticing in token and demon-based Warlock decks. Unfortunately, the rotation of Crystalweaver means that there is no great way to take advantage of the four bodies created by Fiendish Circle in standard.
4 Mana for 4 1/1s would be excellent if there was another card to take advantage of the 4 bodies, but such a card does not exist at the moment. As is, the 1/1s can be easily swept up by a Defile and pollute the demon pool for Bloodreaver Gul'dan.
4 Mana for 4/4 worth of stats is fairly reasonable for most Arena decks. Though Fiendish Circle is far from a high priority pick, it is at worst a replacement-level card in the Arena.