Anyfin Can Happen — Paladin Card
Table of Contents
Anyfin Can Happen is a Paladin-only spell. This card used to be obtained in the League of Explorers Mountain solo adventure, but is now only obtainable through crafting (unless you purchased the first wing of the League of Explorers before the expansion was removed from the shop, in which case, you can still purchase the rest of the expansion). Below the card images, you will find explanations to help you use the card optimally in every game mode of Hearthstone.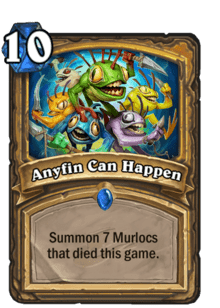 Anyfin Can Happen is a unique card that is easy to dismiss at first. Although it may seem out of place since Murloc decks are generally aggressive and do not want to carry a 10 Mana card, it does open up some unique possibilities.
In Constructed, Anyfin Can Happen can be played in a Murloc Paladin deck alongside Murloc Knight and other Murloc cards. Alternatively, it can be played as a finisher in a more standard Paladin deck. By including only specific Murlocs like Old Murk-Eye, Murloc Warleader, Bluegill Warrior, and Grimscale Oracle in your deck, you can use this card to activate a one turn kill.
Anyfin Can Happen is no longer available in Arena.