Fel Warlock Troll Cloth Transmog (Legion 7.2)
Table of Contents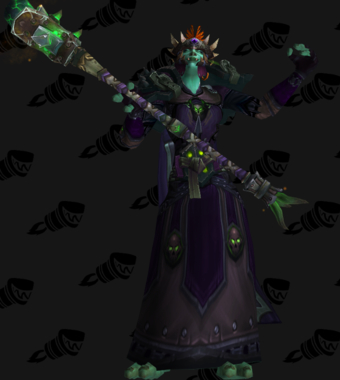 Warlocks dance like they just don't care... that they're burning folks with felfire. The queen of fel reigns here with just the delicate mix of skulls and chains, using fel infused filigree for that "I reek of death" look.
What they are wearing:
Head:

Felsoul Cowl

;
Shoulders:

Felfume Mantle

;
Cloak:

Runescribed Gronncloak

;
Chest:

Relentless Gladiator's Felweave Raiment

;
Shirt:

Green Martial Shirt

;
Hands:

Relentless Gladiator's Felweave Handguards

;
Waist:

Shadowfel Cord

;
Feet:

Felcast Sandals

;
Staff:

Drakebinder Greatstaff

.
12 May 2017: Added Fel Warlock Troll cloth transmog.
+ show all entries
- show only first 2 entries