Professions Stats and Gear Guide for Dragonflight
On this page, you will learn about the new Profession stats, which show up on Profession gear, and how they influence the various Dragonflight professions.
TABLE OF CONTENTS OF THIS PAGE
1.
Why Crafting Stats in Dragonflight?
Each crafting recipe in Dragonflight has a Recipe Difficulty, which influences how difficult it is to craft this recipe at its highest quality potential. As you can see in the image below, the Expected Quality bar starts out low, from your baseline profession skill, and gives you an idea of the quality outcome of crafting the item under the current conditions.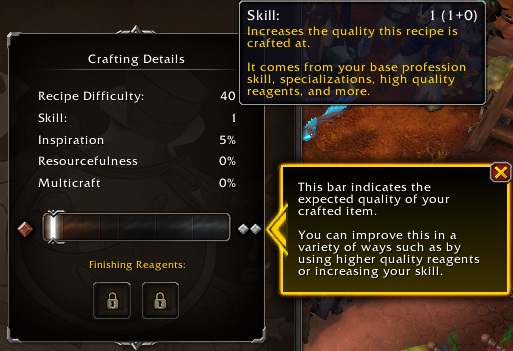 The potential quality of the crafting item can be improved with profession gear (which have profession stats on them), specialization bonuses, the quality of the materials used to craft and other special items. This page will focus on profession stats and gear.
2.
Stats for Crafting Professions
There are four new stats for crafting professions, which can show up on your crafting gear (which can be crafted, see the profession gear section below):
Multicraft provides a baseline (increasable by talents) chance to craft 1 to 2.5 times more items than the usual items a craft produces. A Multicraft proc on a craft that produces 2 items will grant between 1 and 5 extra items, for example;
Resourcefulness provides a chance to use fewer tradeable crafting reagents when crafting;
Inspiration provides a baseline (increasable by talents) chance to craft a recipe with bonus skill (33% of Recipe Difficulty for crafts with 3 levels of quality, 16.7% for crafts with 5 levels of quality) added on;
Crafting Speed increases your craft speed, allowing you to finish your crafts faster.
These stats, when activated, will show up on your Crafting Results panel, as displayed below: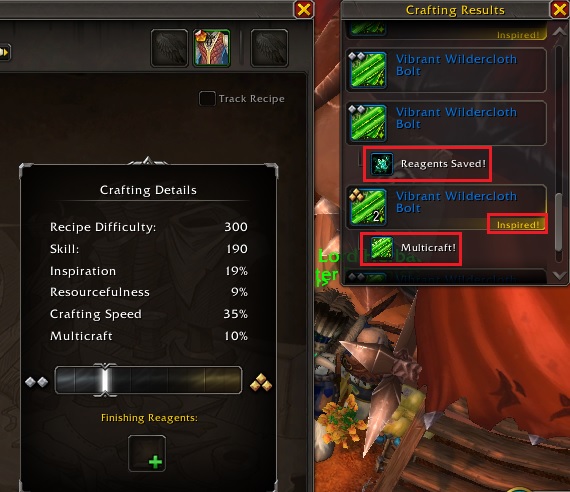 Although some crafted items benefit from all 4 stats, most only benefit from some of them, which means you should avoid the unused stats when focusing on crafting those items. As a rule of thumb:
Crafted gear does not use Multicraft;
Gear without Quality does not use Inspiration;
Resourcefulness and Crafting Speed can be used for almost all crafts available, but there are multiple exceptions, such as Reclaim Concoctions from Alchemy, which do not use Resourcefulness.
3.
Stats for Gathering Professions
There are three new stats for gathering professions, which can show up on your gathering gear:
Perception increases your chance to find rare reagents when gathering;
Deftness increases your gathering speed;
Finesse provides a chance to get more of whatever you are gathering. Thus, if you are fishing for Magma Thresher, procs will grant you more of them on each reel.
The amount of stats you have and their effects are displayed in your Gathering Journal, as displayed below: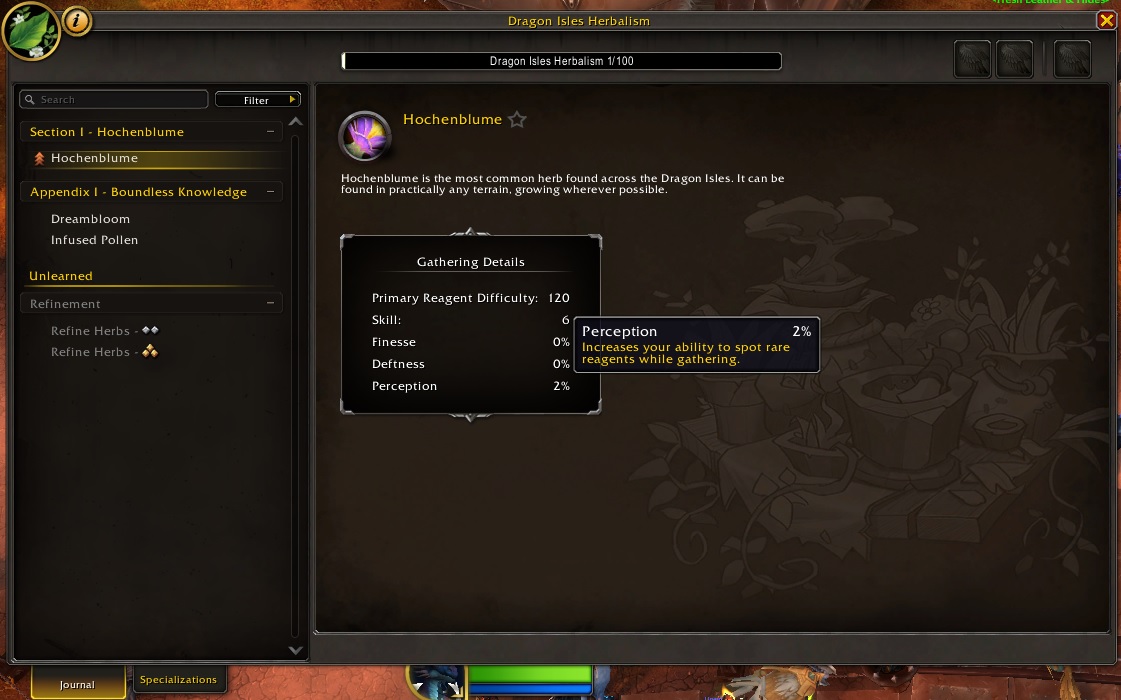 Most activities you do as a gatherer can benefit from all three stats, but you should fine tune the amount you aim for each depending on your goals, especially Perception and Finesse, which serve opposite goals in either giving you more rare materials not related to what you are gathering or more of the basic material you are gathering.
The table below lists all of the profession gear in the game, with their source.
27 Nov. 2022: Page added.
Show more
Show less