Gnome Ram Tank Monk Leather Transmog (Legion 7.2)
Table of Contents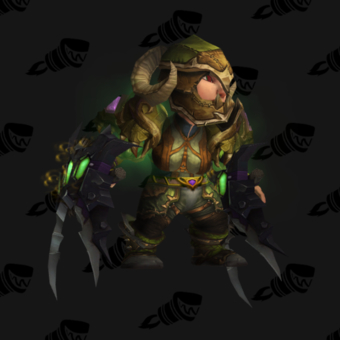 This is the last thing you want rolling towards you. This gnome monk will head butt you in the groin without a thought. But she's so adorable you just have to laugh and pat her on the head right before she head butts you again.
What they are wearing:
Head:

Cluster of Stars

;
Shoulders:

Shoulderpads of the Searing Kiss

;
Chest:

Yeti-Hide Chestguard

;
Shirt:

Common Brown Shirt

;
Hands:

Deviate Scale Gloves

;
Waist:

Belt of Natural Power

;
Legs:

Leggings of Late Blooms

;
Feet:

Stutterstep Treads

;
Fist Weapons:

Prideful Gladiator's Render

;
Alternate Fist Weapons:

Tia-Tia, the Scything Star

.
12 May 2017: Added Gnome Ram Tank Monk leather transmog.
+ show all entries
- show only first 2 entries