Coren Direbrew (Grim Buzzler) Guide with Cheap Decks for Blackrock Mountain
Table of Contents
Coren Direbrew (in the Grim Guzzler) is the first boss of the Blackrock Depths, the first wing of Blackrock Mountain. In this guide, you will learn how to use cheap decks to defeat Coren in both Normal and Heroic modes.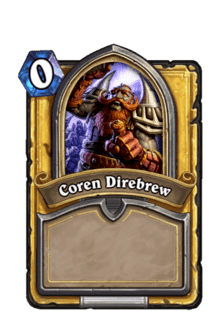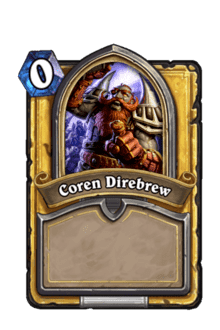 1.
Health, Hero Power, Cards, Etc.
Normal
Heroic
Health
30
30 (+15 Armor)
Hero Power

Pile On!

costs 0 mana, is on auto-cast, and puts a minion from each deck into the battlefield.

Pile On!

costs 0 mana, is on auto-cast, and puts two minions from Coren's deck and one minion from your deck into the battlefield.
Deck
2.
Strategy and Deck Building
Beating Coren in Normal mode is quite easy, even with basic cards. You simply need to pack your deck with big minions (about 20 of them) and then fill the rest of the deck with damage or controls spells.
In Heroic mode, Coren is quite a challenge and probably the hardest boss of the wing. Pile On! allows him to summon 2 minions every turn while it only summons 1 for you. Most of Coren's minions are high-value minions, so you need to find a way to use this Hero Power to your own advantage, as you otherwise run the risk of getting quickly overwhelmed.
The main idea behind beating Coren in Heroic mode is to use large minions that do not have a Battlecry and support them with spells, in order to help swing the game your way. You should mulligan for removal and buff spells. Do not hesitate to concede and restart if your starting hand has minions or if the early turns did not go in your favor. Navigating the early turns really is the key to defeating Coren.
To help you build your decks and defeat Coren in both modes, here are decks we defeated him with:
03 Apr. 2015: Added deck list for Heroic mode.
+ show all entries
- show only first 2 entries