High Justice Grimstone (Dark Iron Arena) Guide with Cheap Decks for Blackrock Mountain
Table of Contents
High Justice Grimstone (in the Dark Iron Arena) is the second boss of the Blackrock Depths, the first wing of Blackrock Mountain. In this guide, you will learn how to use cheap decks to defeat Grimstone in both Normal and Heroic modes.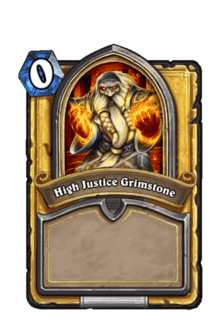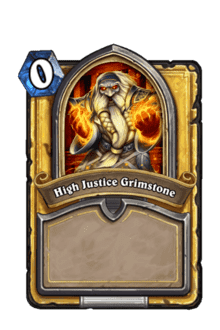 1.
Health, Hero Power, Cards, Etc.
2.
Strategy and Deck Building
Grimstone's deck may seem daunting at first, but it contains no spells and there only are a couple of minions that he can play in the early turns. In addition, the deck features no taunt. So, you need to take advantage of these weaknesses by building a fast deck that will outrun Grimstone's. Classes like Druid, Mage, or Rogue, who can easily deal with the 1/1 Dark Iron Spectators created by Grimstone's Hero Power definitely have an advantage here.
In Normal mode, any aggressive Basic deck can defeat Grimstone. In Heroic mode, things are made more difficult by the fact that Grimstone starts out with 4 Mana Crystals, which means that he does not have the slow start he does in Normal mode. As a result, the best strategy is to simply draw a lot of minions and have AoE spells to help clear the board, until he eventually dies or runs out of steam.
To help you build your decks and defeat Grimstone in both modes, here are decks we defeated him with:
03 Apr. 2015: Added deck list for Heroic mode.
+ show all entries
- show only first 2 entries